Cuisinart cookware has been a part of my kitchen for years. As a restaurant chef with more than ten years of experience, I have tried different cooking tools and equipment to create tasty dishes. In this post, I will be reviewing Cuisinart Chef's Classic 7-Quart Enameled Cast Iron Dutch Oven.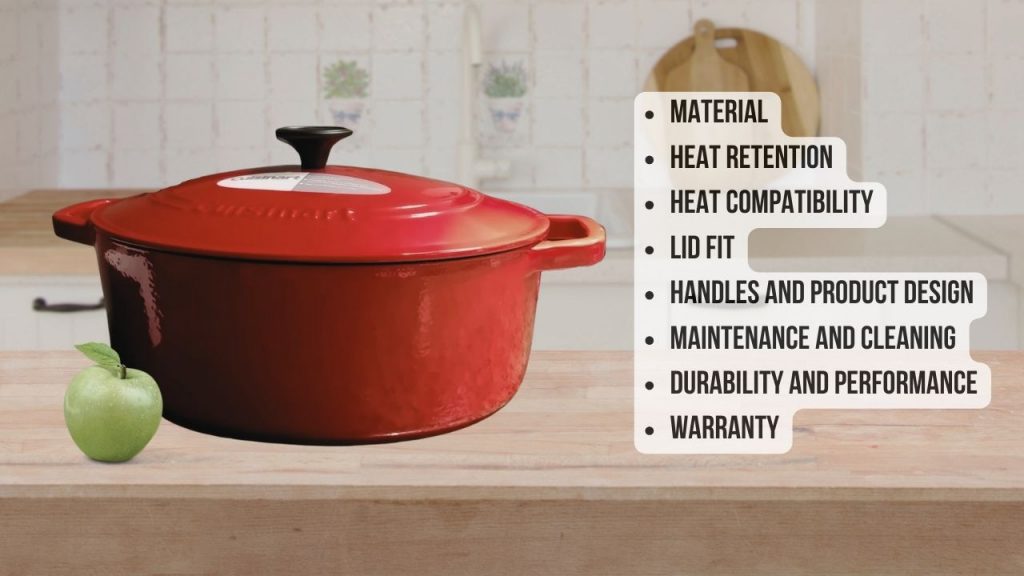 I decided to test this dutch oven by cooking Red Wine Braised Short Ribs. I considered the following parameters in our test process:
Material

Heat retention

Heat compatibility

Lid fit

Handles and product design

Maintenance and cleaning

Durability and performance

Warranty
Check out my detailed Cuisinart Dutch Oven Review below.
Materials of Cuisinart Dutch Oven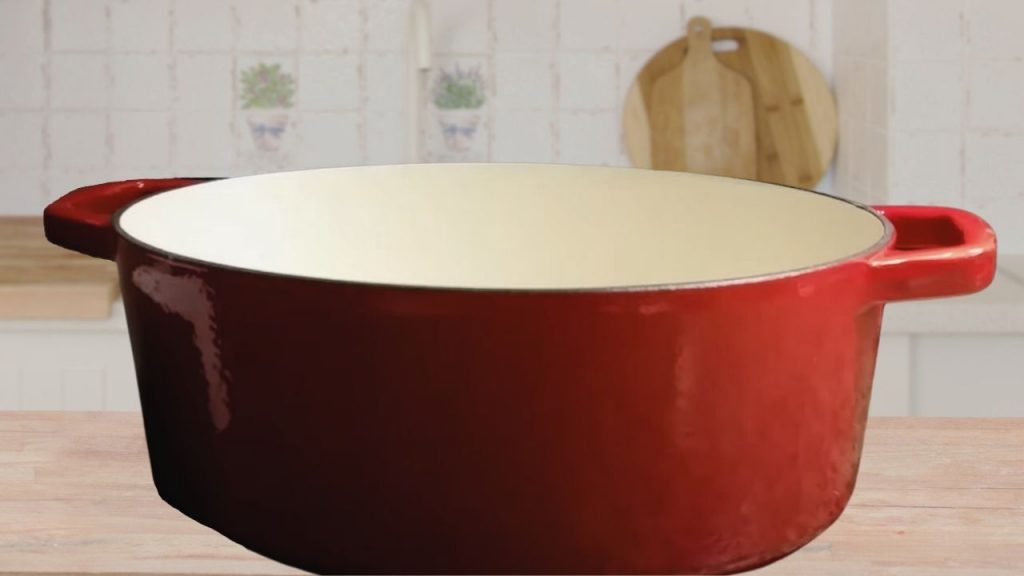 The Cuisinart Dutch Oven boasts exceptional durability as it is crafted with high-quality cast iron. The oven's thick walls and heavy-duty construction ensure even heat distribution, making it perfect for slow-cooking dishes like our short ribs.
The porcelain enamel interior is an ideal cooking surface. It doesn't impart any flavors or odors to your food. Hence, your dishes will taste just as they should, without any unwanted aftertastes or lingering smells from previous dishes. This material makes this dutch oven ideal for various cooking methods, simmering sauces, slow-cooking stews, or braising short ribs, as we did in our test. 
The exterior of the Cuisinart Dutch Oven is coated with a porcelain enamel finish, enhancing its aesthetic appeal and providing outstanding durability. The rich colors are eye-catching and resistant to chipping and fading. I have used mine for over six months, and it still looks vibrant.
Heat Retention
One thing that I find remarkable about Cuisinart Dutch Oven is its heat retention. Once the oven reaches the desired temperature, it maintains it consistently.
Heat retention is crucial for achieving tender, succulent short ribs, which we were able to accomplish with our Red Wine Braised Short Rib.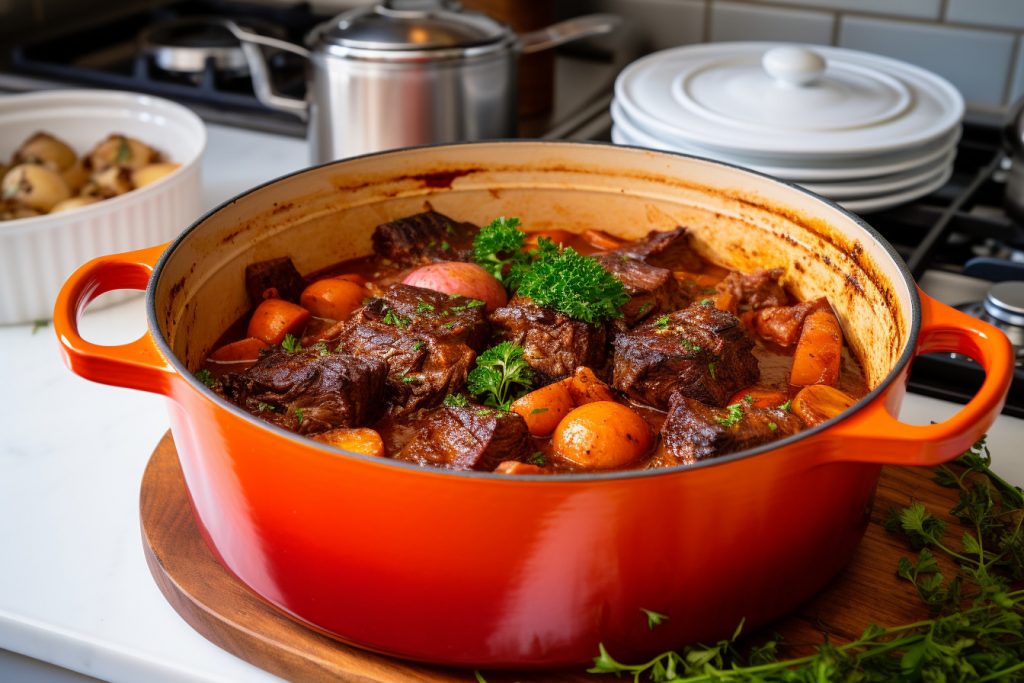 Heat Compatibility
The Cuisinart Dutch Oven is designed to be induction stovetop compatible. Its versatility extends to the stovetop, where it provides excellent heat distribution for browning our short ribs to perfection.
Once we achieved that mouthwatering sear, we seamlessly transferred the dutch oven to the oven for the slow braising process.
Moreover, Cuisinart Dutch Oven is also broiler-safe. You can finish cooking your dishes under the broiler to achieve that irresistible caramelization on the surface, all within the same cookware.
Lid Fit of Cuisinart Dutch Oven
Unlike many other dutch ovens in the market, the Cuisinart Dutch Oven has a domed lid. This design choice is not only visually appealing but also functional.
The domed lid allows for better circulation of steam and moisture within the pot, which is particularly advantageous when preparing slow-cooked dishes like our Red Wine Braised Short Ribs. The shape of the lid helps ensure that the condensation evenly drips back onto the cooking food, enhancing its flavor and tenderness.
Handles and Product Design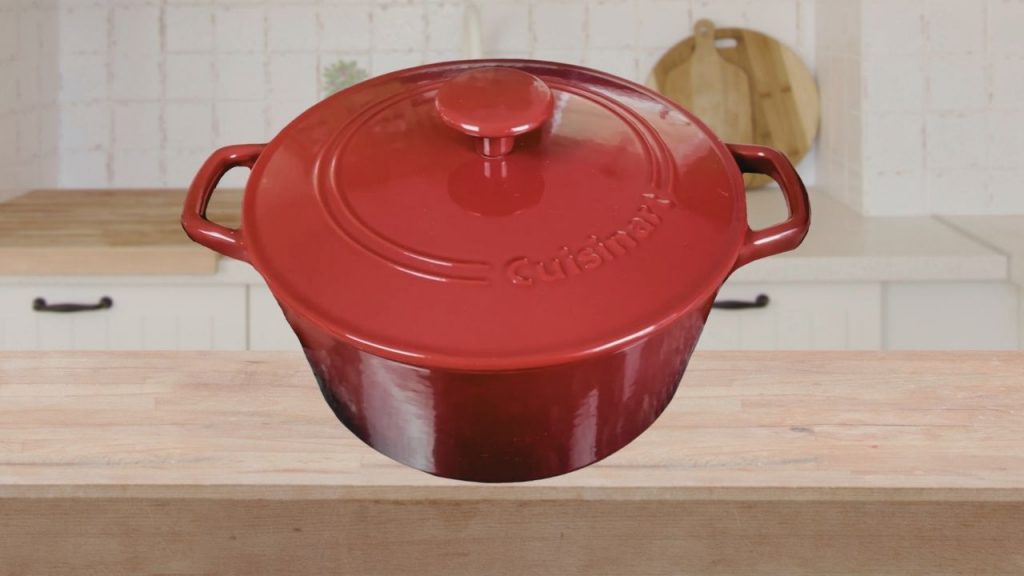 The Cuisinart Dutch Oven features loop-style handles that are both squared and narrow in shape. These handles give the dutch oven a distinctive and modern appearance. 
However, there is a limited space between the side of the dutch oven and the inner rim of the handle. Hence, it is a bit challenging to grip the handles securely with oven mitts or towels.
Cuisinart Dutch Oven's Maintenance and Cleaning
Cleaning the dutch oven was easy since it has an enameled interior. It is also dishwasher safe, so it is convenient to clean. However, I still prefer handwashing my dutch ovens because I am meticulous in maintaining my cookware. I noticed that stubborn stains on the Cuisinart Dutch Oven required a bit of extra effort to remove.
Durability and Performance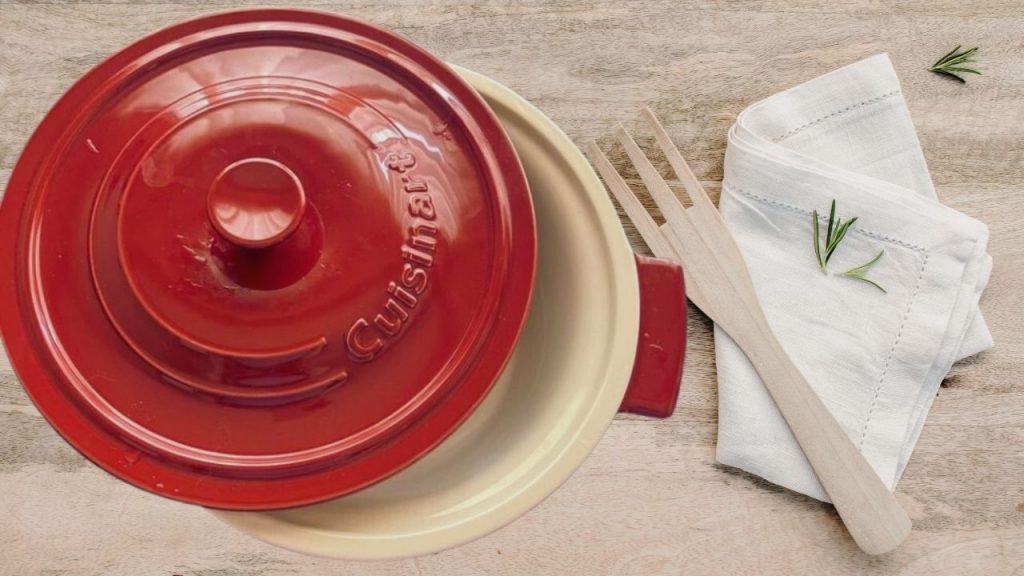 So far, I can say that the Cuisinart Dutch Oven is durable. It is made of robust and versatile materials.
After using it for a long time now, the pot is still in its pristine condition. I am looking forward to using it for more years.
When it comes to performance, this dutch oven is at par with other top brands. It can retain heat well and is also compatible with various heat sources. 
Cuisinart's Warranty
Cuisinart offers a limited lifetime warranty on their dutch Oven. However, it is essential to note that the warranty doesn't cover wear and tear or damage from misuse. 
Sizes, Shapes, and Colors Available
Cuisinart Dutch Oven is available in different shapes, sizes, and colors. 
| | | |
| --- | --- | --- |
| Shape | Sizes | Colors |
| Oval | | |
| Round | | |
Drawbacks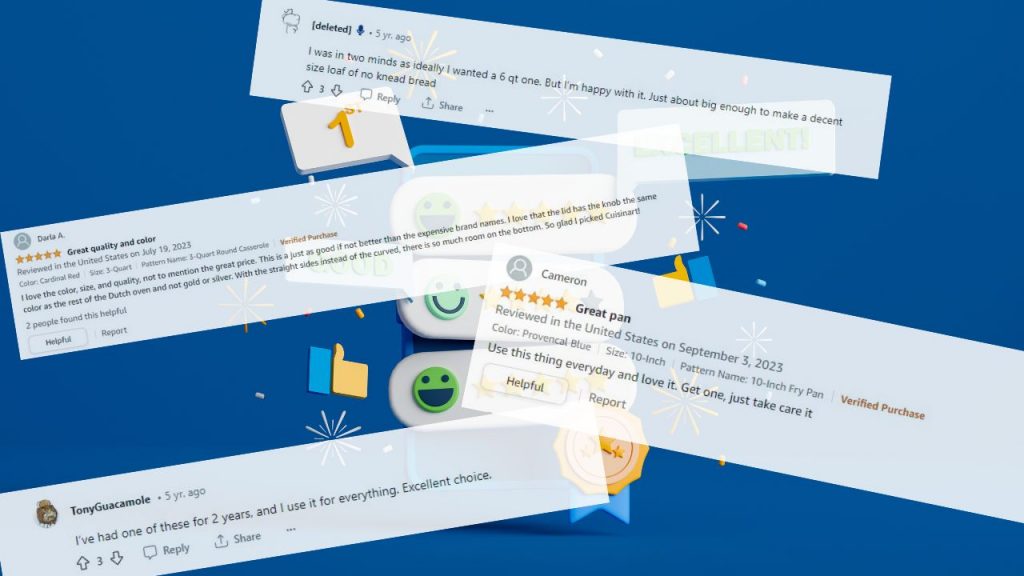 One of the most common issues with the Cuisinart Dutch Oven that I found on Amazon and Reddit is that the enamel can chip relatively easily. There have been instances where customers received dutch ovens with enamel already chipped or damaged during shipping.
While chipped enamel may not directly impact the cookware's performance, it can be unsightly and cause concerns about long-term durability.
Additionally, chipped enamel can lead to rusting over time, especially if it exposes the cast iron beneath. It's worth noting that while enamel can chip, proper care and maintenance can mitigate this issue.
Some users also say that the off-white interior is prone to staining, as with most light-colored surfaces. While the stains don't affect the Cuisinart Dutch Oven's functionality, they can be challenging to remove and may affect the interior's aesthetics over time. 
If you are not fond of keeping out stains, you can check other brands that feature dark or black interiors, which are less susceptible to staining. 
Lastly, the loop-style side handles of the Cuisinart Dutch Oven have a narrow design. This design choice can be difficult when handling the dutch oven, particularly when wearing bulky oven mitts or using potholders. A more ergonomic and user-friendly handle design would improve the overall handling experience and safety.
Nevertheless, the positive features of the Cuisinart Dutch Oven supersede its drawbacks. There are a lot of positive reviews about Cuisinart Dutch Oven. People included it in its of the 9 best dutch ovens. In one of their articles, the Food & Wine website also named Cuisinart the best-value dutch oven.
Conclusion
After extensively testing the Cuisinart Dutch Oven, I can confidently say that it's a versatile and capable piece of cookware. Its cast iron construction and porcelain enamel interior ensure excellent heat retention and even heat distribution.
To sum up, here are the pros and cons of Cuisinart Dutch Oven.
Pros:
Durable and high-quality material

Functional lid fit

Elegant Design

Impressive performance
Cons:
Enamel Chipping

Staining

Handle Design
I was particularly impressed with its heat compatibility, allowing seamless transitions between various heat sources, from induction stovetops to broilers.
The one area where I found room for improvement is the handle design. The loop-style handles can be challenging to grip, especially when wearing bulky oven mitts. An ergonomic handle design would enhance the overall handling experience and safety, especially considering the dutch oven's substantial weight.
As a seasoned chef, I conclude that the Cuisinart Dutch Oven is a solid choice for home chefs looking to invest in versatile and high-performing cookware. This dutch oven is worth buying and is an excellent kitchen addition.