As a seasoned restaurant chef with over two decades of experience, I've always believed that having the appropriate cookware can make a huge difference in the kitchen. A dutch oven is a must-have tool for both professional and home cooks. However, dutch ovens come with a hefty price tag. I was looking for affordable dutch ovens when I first came across the AmazonBasics Enameled Cast Iron Dutch Oven.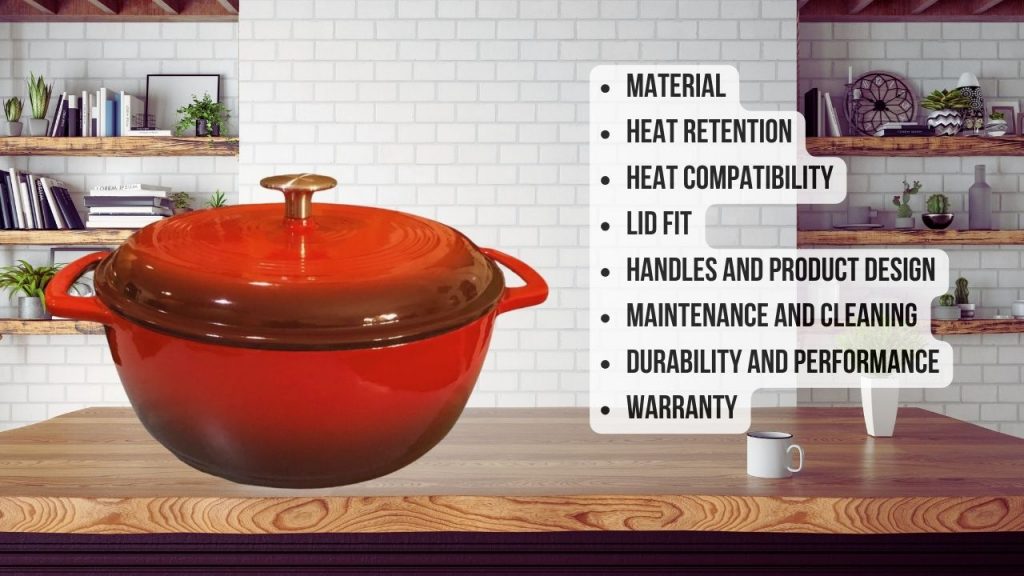 I couldn't resist testing it to see what this dutch oven could do. I approached this one with a critical eye, judging it on several key parameters:
Material

Heat retention

Heat compatibility

Lid fit

Handles and product design

Maintenance and cleaning

Durability and performance

Warranty
Like I usually do with my previous reviews, I made a Red Wine Braised Short Rib to put this dutch oven to the ultimate test. Check out my in-depth Amazon Basics Dutch Oven Review down below.
Materials of AmazonBasics Dutch Oven
The AmazonBasics Dutch Oven is constructed from high-quality cast iron. The material is a crucial factor when it comes to dutch ovens, as it directly affects heat distribution and retention.
Cast iron, an excellent heat conductor, ensures even cooking and retains heat exceptionally well. I was pleased with the choice of material for the AmazonBasics Dutch Oven, as it's a classic and reliable option.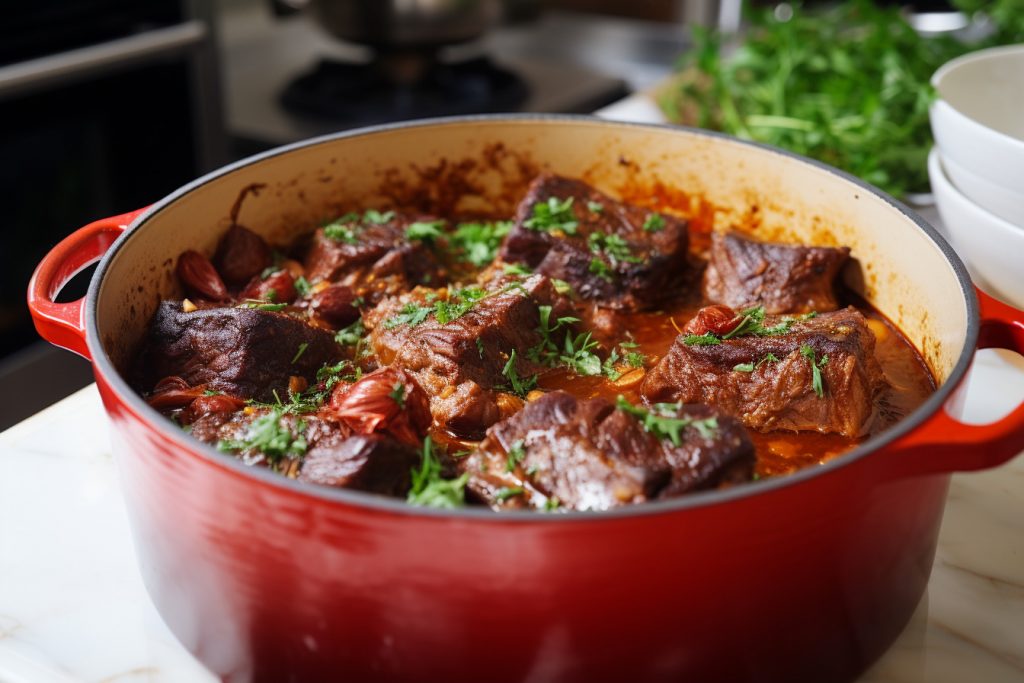 Heat Retention
The actual test of a dutch oven lies in its ability to maintain a consistent cooking temperature. I put the Amazon Basics Dutch Oven through its paces by preparing Red Wine Braised Short Ribs, which demand long hours of slow cooking. The dutch oven passed with flying colors, effortlessly holding a steady temperature throughout the cooking process. I was impressed that my dish resulted in melt-in-your-mouth short ribs that were tender and succulent.
Testing Heat Compatibility
A dutch oven should be versatile enough to use on various heat sources. I appreciated that the AmazonBasics Dutch Oven is compatible with all types of stovetops, including induction, making it a versatile choice for any kitchen. It is also oven-safe up to 400 degrees Fahrenheit, which is a bit low compared to other dutch ovens that are oven-safe up to 500 degrees Fahrenheit and more.
Lid Fit of AmazonBasics Dutch Oven
The lid fit of a dutch oven is vital for trapping moisture and flavor during slow-cooking processes. The AmazonBasics Dutch Oven comes with a snug-fitting lid, which is supposed to seal in the moisture and aroma.
However, I noticed that steam leaks from the lid while cooking. Steam leaks may affect the result of a dish. Thankfully, my Red Wine Braised Short Ribs still turned out flavorful and succulent.
Handles and Product Design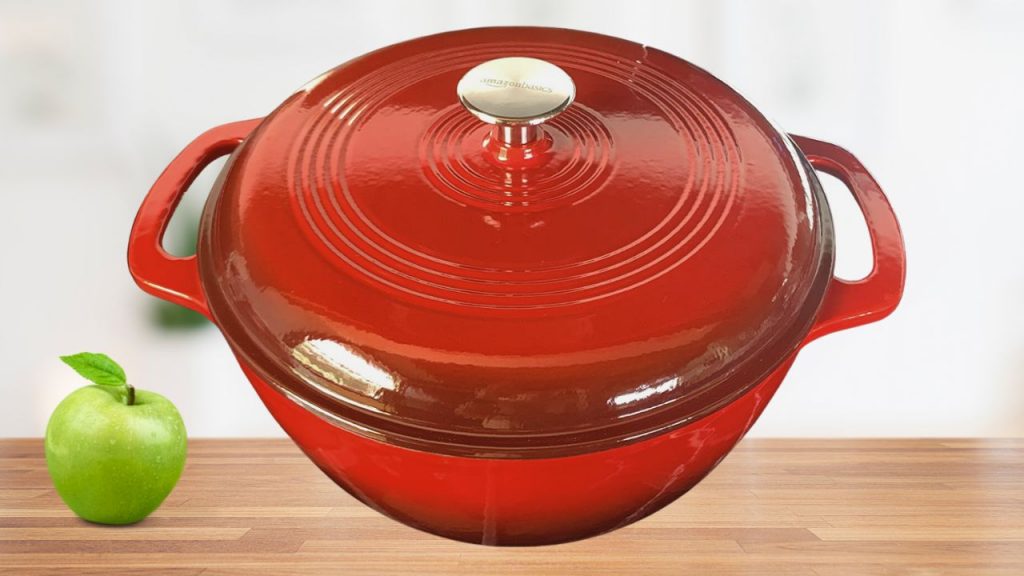 The AmazonBasics Dutch Oven features sturdy, oversized handles, making it easy to move even when filled with heavy braise. However, it can be a bit heavy to move around for some people. My sister tried to use this dutch oven once, and she had difficulty maneuvering to lift the pot. She did not want to try to use it again.
Overall, the AmazonBasics Dutch Oven's design is classic and elegant. It looks lovely on our dining table when serving dishes but is not as grand as the other well-known dutch ovens.
AmazonBasics Dutch Oven's Maintenance and Cleaning
The manufacturers of the AmazonBasics Dutch Oven recommend hand washing the pot as it is not dishwasher safe.
I always handwash my dutch ovens regardless of whether they are dishwasher-safe or not. But, this one seems a bit of work to clean. I have to soak it for a long time and scrub it numerous times before the food residue goes off.
If you do not like spending too much time washing your pans and pots, I say you pass on the AmazonBasics Dutch Oven.
Durability and Performance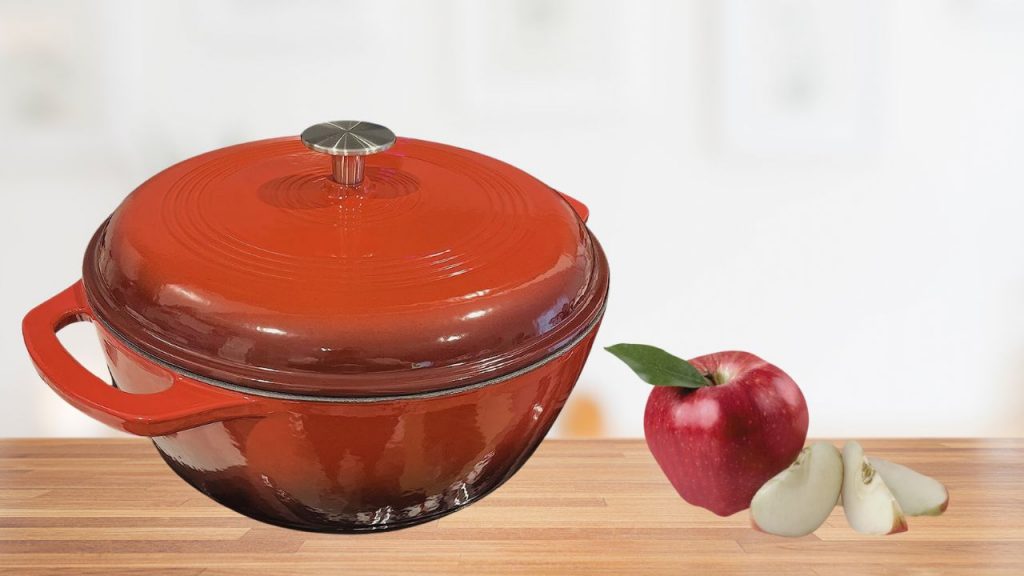 With its robust construction, the AmazonBasics Dutch Oven proved to be incredibly durable. It did not show any signs of wear and tear even after repeated use. Its performance in the kitchen was consistent and reliable as my dishes always resulted well.
AmazonBasics' Warranty
AmazonBasics comes with a one-year standard warranty, which is expected. Other learning dutch oven brands offer a lifetime warranty, but of course, they come at a hefty price.
Sizes, Shapes, and Colors Available
AmazonBasics Dutch Ovens are available in round shapes and different sizes and colors. You can choose among the following variations:
Shapes
Sizes
Colors

Round

4.3-Quart

6-Quart

7.3-Quart

Blue

Gray

Green

Light Pink

Matte Navy

Matte White

Navy

Orange

Purple

Red

White
Drawbacks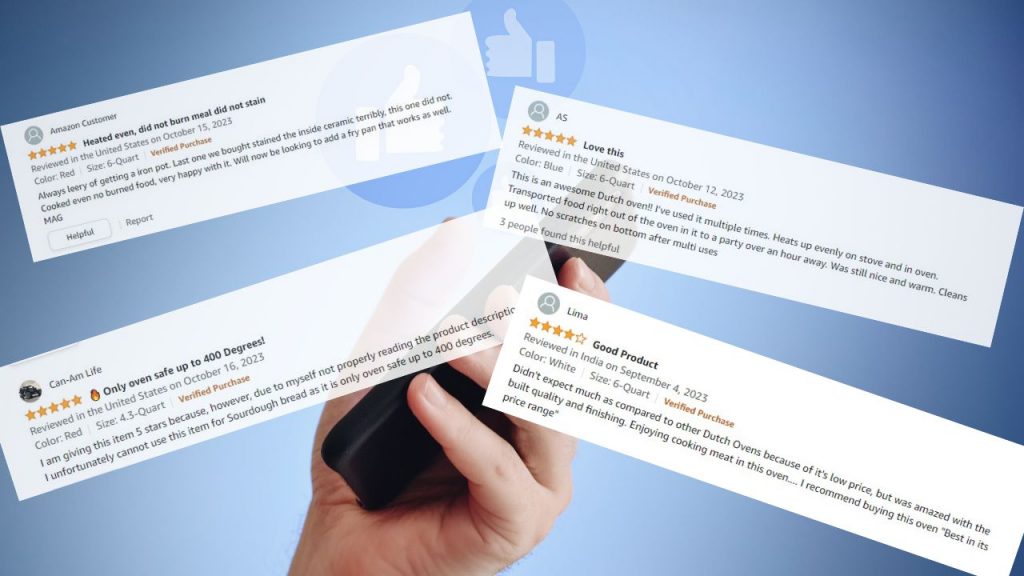 The AmazonBasics Dutch Oven has different reviews online. Some were positive, and some were not. One drawback I've read on Amazon is the dutch oven's weight, which is true as I also share the same sentiment. Another downside I've read is that it is only oven-safe up to 400 degrees Fahrenheit, which is lower than other dutch ovens.
On Reddit, I have read some users complaining about enamel chipping. Although I didn't experience this problem, I always make sure to maintain my dutch ovens properly to avoid scratches and chippings.
I did not find an AmazonBasics Dutch Oven review from a famous chef, but cooking enthusiasts were raving about this dutch oven on different social media platforms. Comments from users of the product will help you decide whether the AmazonBasics Dutch Oven is worth your money or not.
Conclusion
The AmazonBasics Dutch Oven presents a mixed bag of attributes and drawbacks. To sum it up, here are the pros and cons of this dutch oven.
Pros:
It is made of high-quality material.

It has consistent heat retention.

It is compatible with various stovetop types.

It is available in different sizes and colors.
Cons:
It has issues with steam leakage during cooking, potentially affecting the outcome of dishes.

The AmazonBasics Dutch Oven's weight can be a drawback for some users, making it a bit challenging to maneuver, especially when filled with food.

Hand washing is recommended, and some users have found it a bit labor-intensive to clean, requiring soaking and scrubbing to remove food residue.

It is only oven-safe up to 400 degrees Fahrenheit, which may be lower compared to other brands.

There have been reports of enamel chipping.
The AmazonBasics Dutch Oven is an affordable option for those seeking a cast iron dutch oven without breaking the bank. Its ability to retain heat, compatibility with different stovetops, and durable construction make it a commendable choice for various culinary tasks.
However, potential drawbacks, such as lid fit issues and the need for careful cleaning, should be considered by prospective buyers. The choice depends on individual preferences, cooking needs, and budget constraints.
As with any purchase, I recommend weighing the pros and cons against your specific requirements and culinary aspirations before deciding if this dutch oven fits the bill for your kitchen.