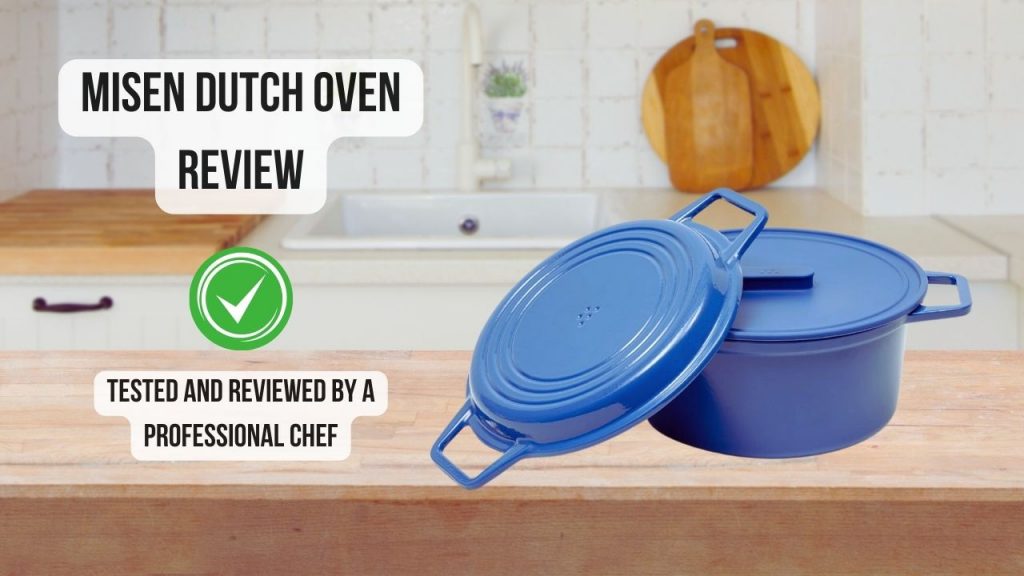 With over ten years of experience in the kitchen, I am always looking for unique yet functional kitchenware that can elevate my cooking. I couldn't help but be intrigued by the Misen 7-quart Dutch Oven when I first saw it online. It is an innovative dutch oven with a two-in-one design, mainly because of its clever grill pan lid.
However, it doesn't compromise on the essential qualities: it boasts a substantial cast-iron build, a sleek enamel coating, and a generously sized interior.
Aside from its unique lid, what truly sets the Misen Dutch Oven apart is its price point. The Misen Dutch Oven is priced at $165, which is lower than other leading dutch oven brands. While it might still be the priciest pot in your kitchen, you can be assured that you can use it for a long time.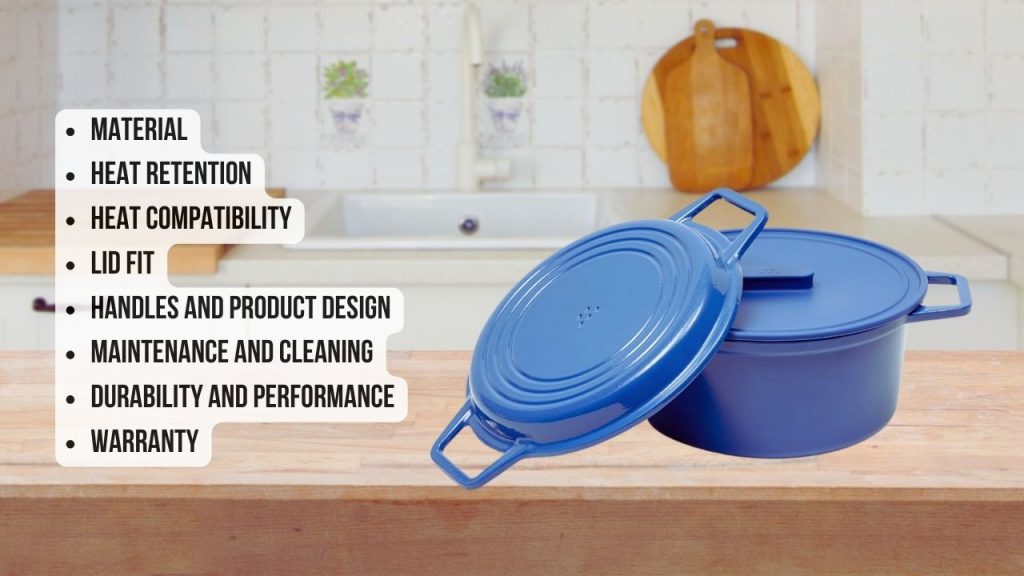 I tried this dutch oven, and the first dish I made was Red Wine Braised Short Rib. I considered the following parameters in this review:
Material

Heat retention

Heat compatibility

Lid fit

Handles and product design

Maintenance and cleaning

Durability and performance

Warranty
Read on to see my full review of the Misen Dutch Oven Review.
Materials
The Misen Dutch Oven is crafted from high-quality cast iron, and its substantial weight is a testament to its sturdy construction. The enamel coating on the interior ensures that it's not only non-reactive but also resistant to staining and easy to clean.
While the exterior enamel coating adds a touch of elegance, it's worth noting that it may be susceptible to chipping if not handled with care.
Testing Heat Retention 
The Misen Dutch Oven has superior heat retention. Once heated, this dutch oven maintains a steady, even temperature, which is crucial when braising meats. The short ribs I prepared came out tender and succulent, thanks to the consistent heat distribution throughout the cooking process.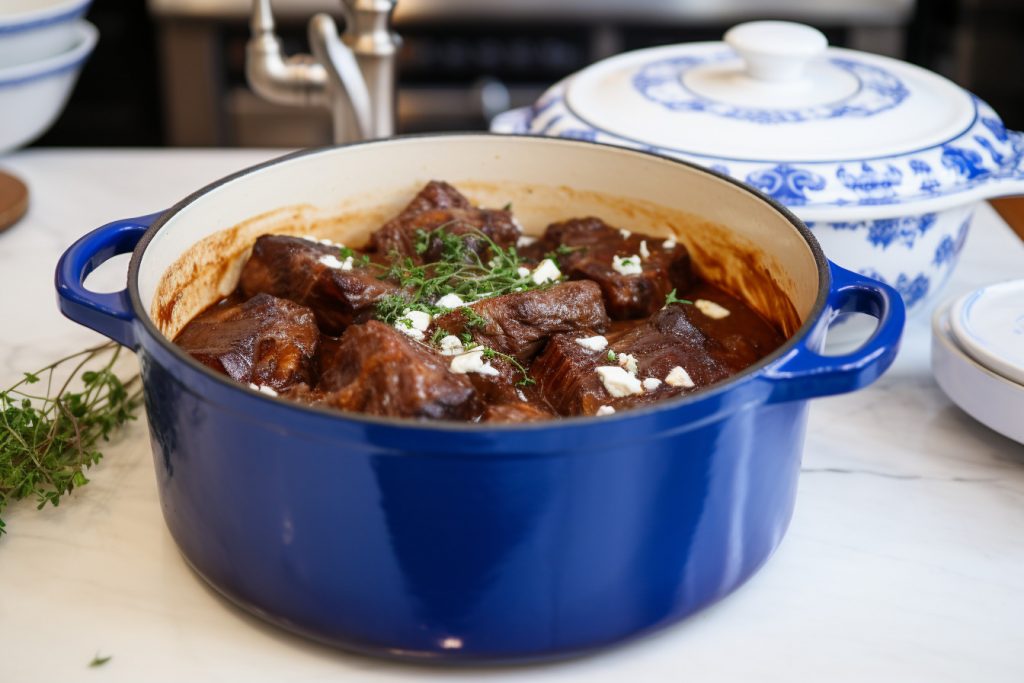 Heat Compatibility of Misen Dutch Oven
The Misen Dutch Oven is compatible with different heat sources, including gas, electric, induction stovetops, and ovens. It is oven-safe at temperatures reaching up to 500°F (260°C), catering to a wide range of your baking requirements.
What's unique about this dutch oven is the ability to utilize the grill lid. This feature allows you to place it in a preheated oven without concerns about the lid sustaining heat-related damage.
The grill lid adds versatility to the Misen Dutch Oven, making it a valuable addition to any kitchen, whether you're searing, simmering, or baking.
Lid Fit
The lid of the Misen Dutch Oven fits snugly. It tightly seals and locks in moisture and flavors, and this is important when slow-cooking dishes like our Red Wine Braised Short Ribs.
Place the grill lid on top of the dutch oven to keep it in place. This function is ideal for preserving steam, similar to a pressure cooker, which raises the internal temperature, speeding up the tenderizing process and making veggies more tender.
It helps prevent evaporation and ensures that your dishes emerge with intense, concentrated flavors.
Misen Dutch Oven's Handles and Product Design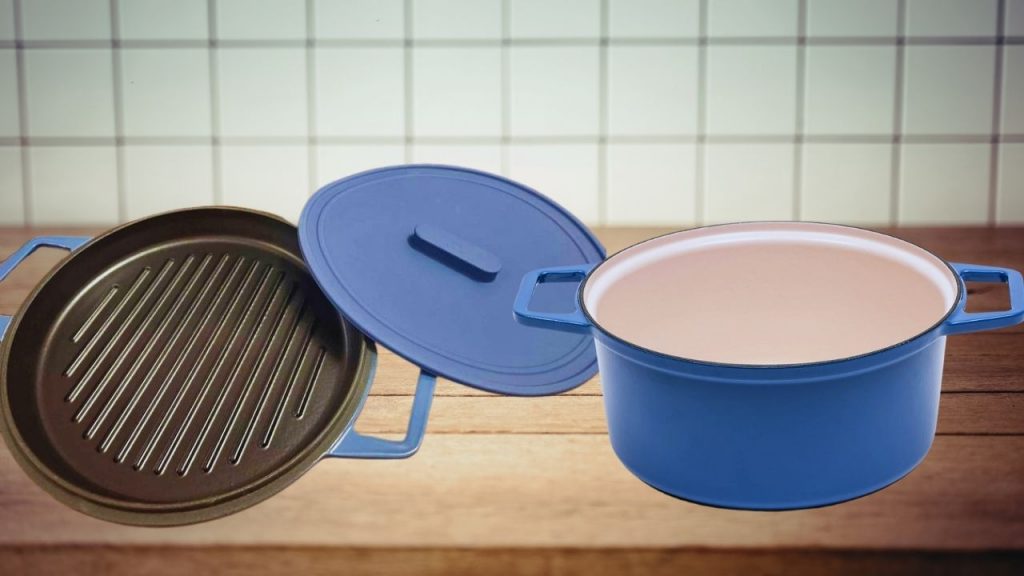 The Misen Dutch oven's ergonomic handles provide a secure grip, even when I am wearing oven mitts. The lid handle is exceptionally well-designed, making it easy to lift, and the side handles facilitate effortless maneuvering. I can easily lift and move the dutch oven without much worry about the handles.
Overall, the sleek, minimalist design of the Misen Dutch Oven is aesthetically pleasing and practical. 
Maintenance and Cleaning
Cleaning the Misen Dutch Oven is relatively easy. It is dishwasher safe. Hence, you can clean it conveniently. The enamel interior prevents food from sticking, and most residue can be easily wiped away with a sponge or cloth. It's essential to avoid using abrasive cleaning tools to protect the enamel coating.
However, some users say that food quickly gets stuck on the coating. I advise allowing a piece of food to cook undisturbed on the bottom surface for a minimum of 1-2 minutes on each side. 
Once the proteins have achieved a beautiful brown sear, they will naturally detach from the cooking surface, indicating that it's time to flip them.
Durability and Performance of Misen Dutch Oven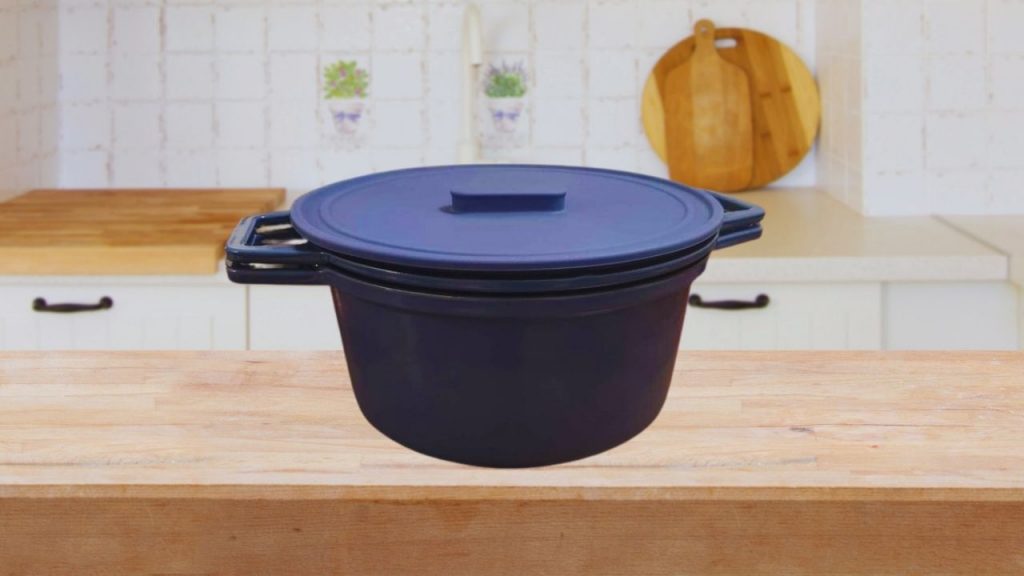 The Misen Dutch Oven holds up admirably in terms of durability and performance. Its sturdy construction ensures it can handle high temperatures, making it ideal for many cooking techniques, from searing to slow cooking. The enamel coating on both the interior and exterior enhances its durability and makes it resistant to staining and corrosion.
This dutch oven can withstand high temperatures and is built to last for years with proper care. The exceptional heat retention contributes significantly to its performance in slow-cooking recipes like braised short ribs. Meats become incredibly tender, and vegetables achieve the perfect softness more rapidly. Moreover, the grill lid's compatibility with the Misen Dutch Oven provides a multifunctional and practical kitchen tool.
Misen's Warranty
While the Misen Dutch Oven offers a limited lifetime warranty, this warranty is less extensive than those provided by some other premium dutch oven brands.
Misen's warranty will not cover defects that occur after regular dishwasher usage. This limitation implies that the Misen Dutch Oven should be hand-washed to maintain the warranty's validity. While hand-washing is typical for cast iron cookware, some users may find this requirement less convenient.
Proper care and usage are essential to ensure the warranty covers the dutch oven. Understanding these terms can help you decide about your purchase.
Sizes, Shapes, and Colors Available
Misen Dutch Oven is available in different variants.
| | | |
| --- | --- | --- |
| Size | Shape | Colors |
| 7-quart | Round | Blue, Red, Green, Gray, Black |
| 5-quart | Oval | Blue, Red |
Drawbacks
While the Misen Dutch Oven has received numerous positive reviews and is generally well-regarded, it's essential to acknowledge some of the drawbacks that users have mentioned on platforms like Reddit and Amazon. 
A few users have mentioned concerns about the enamel coating chipping over time, especially on the exterior of the dutch oven. 
Some users also dislike that you must hand-wash the Misen Dutch Oven to preserve its warranty. They find this level of maintenance may be more demanding than other types of cookware.
While I was not able to find a famous chef review about Misen Dutch Oven, there are various positive feedbacks about it in different blogs and e-commerce platforms. I also have a fellow chef who uses this dutch oven, and he is pleased with its features. However, he still prefers using his trusted Le Creuset.
Conclusion
The Misen Dutch Oven has generated considerable buzz in both online communities. Here's a summary of the pros and cons discussed in the article, followed by a chef's perspective on the overall verdict of the product:
Pros:
High-quality cast iron construction for durability.

Superior heat retention and distribution.

The innovative grill lid adds versatility and accelerates cooking.

Compatibility with a range of heat sources, including induction.

Sleek and ergonomic design with user-friendly handles.
Cons:
Concerns about enamel chipping over time.

Limited color options compared to other brands.

It requires meticulous care, including hand-washing.

Warranty restrictions related to maintenance and usage.
As a seasoned chef with extensive experience in the kitchen, I find the Misen Dutch Oven to be a compelling addition to any culinary arsenal. Its impressive heat retention and distribution make it a reliable tool for achieving consistent and exceptional cooking results. The innovative grill lid is a standout feature that enhances its versatility.
However, there are some drawbacks to consider, such as the need for careful maintenance to preserve the enamel coating and the warranty limitations, particularly those related to dishwasher use.
In my professional opinion, the Misen Dutch Oven offers solid performance and durability, making it a valuable investment for passionate home cooks and chefs. Its competitive pricing compared to premium brands is a significant selling point. Nonetheless, potential buyers should choose dutch ovens wisely to ensure they purchase something that aligns with their cooking habits and expectations.