As a seasoned restaurant chef with over a decade of experience crafting exquisite dishes, I hold kitchen tools and cookware to the highest standards. One kitchenware that I mostly use in the kitchen is the dutch oven. In this post, we will be talking about the Italian Dutch Oven brand Brandani.
I was eager to put Brandani Dutch Oven to the test since I have heard many positive reviews about it. This versatile kitchen companion has impressed home cooks and fellow chefs, and I'm thrilled to share my expert insights on how this dutch oven lives up to its reputation.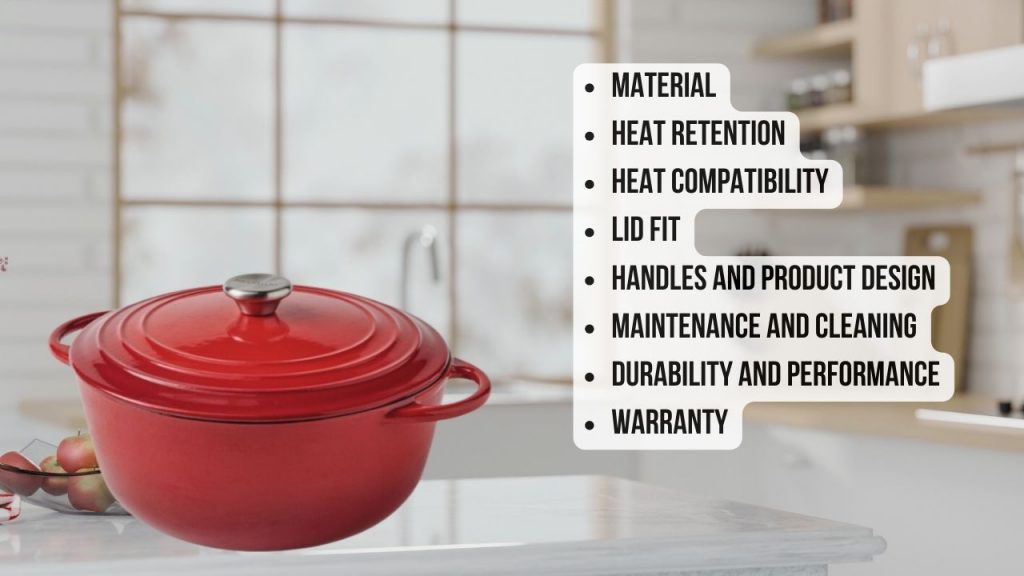 Like my previous dutch oven reviews, I put the Brandani Dutch Oven to the ultimate test by cooking a Red Wine Braised Short Rib while considering the following factors:
Material

Heat retention

Heat compatibility

Lid fit

Handles and product design

Maintenance and cleaning

Durability and performance

Warranty
Read on below to check my detailed Brandani Dutch Oven Review.
Materials
Any dutch oven's performance lies in its material, and the Brandani Dutch Oven does not disappoint. It is crafted from lightweight enameled cast iron and features exceptional heat retention and distribution properties.
The cast iron material ensures that your dishes are cooked evenly and thoroughly. It allows consistent results whether you're slow-cooking a hearty stew or searing a piece of meat.
Testing Heat Retention of Brandani Dutch Oven
One of the most impressive aspects of the Brandani Dutch Oven is its remarkable heat retention capability. While cooking my Red Wine Braised Short Ribs, I was amazed by how the dutch oven maintained a steady and even temperature throughout the cooking process. This element is essential for achieving tender, melt-in-your-mouth results when braising or slow-cooking dishes that need precision heat control.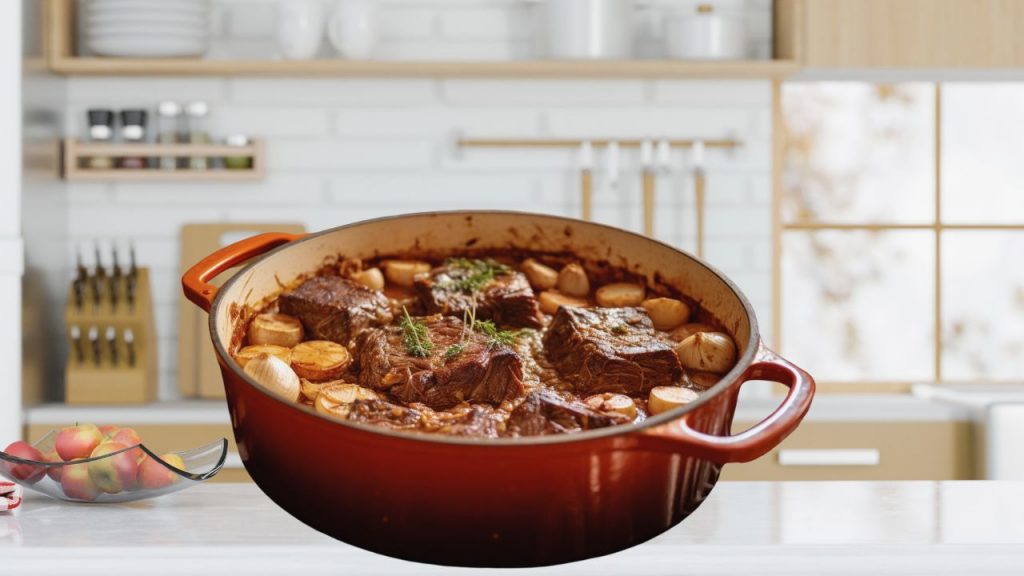 Heat Compatibility
The Brandani Dutch Oven has excellent heat compatibility for gas stoves, vitroceramic/electric stoves, or electric/traditional ovens. Due to its heat-resistant enamel coating, this dutch oven can withstand high temperatures without compromising its structural integrity.
Moreover, this versatile feature allowed me to use Brandani Dutch Oven in various cooking techniques. I was able to sear on the stovetop and finish off my dishes in the oven for a perfect caramelized crust.
Lid Fit of Brandani Dutch Oven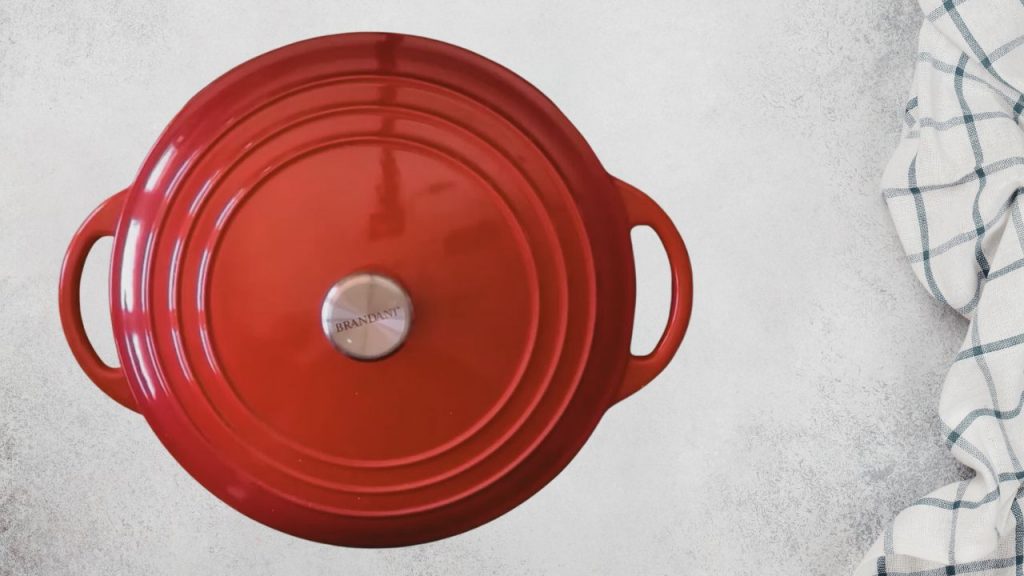 A great dutch oven should have a well-fitting lid that locks in flavors and aromas. The Brandani Dutch Oven excels in this category as it has a snug-fitting cover that creates a seal to prevent moisture and heat from escaping. Hence, my Red Wine Braised Short ribs came out moist and flavorful.
Handles and Product Design
Brandani's handles are ergonomic and safe to grasp with oven mittens on. It is easy to maneuver and lift the pot during the cooking process.
Overall, the design is sleek and classy. The most common color you'll find available is the shiny red one, but this dutch oven also comes in different colors, which we will learn more about later in this article.
Maintenance and Cleaning
As a restaurant chef, I value efficiency in the kitchen. Thus, I prefer to use cookware that's easy to clean. The Brandani Dutch Oven's enamel coating contributes to its heat compatibility and makes cleaning easier.
A gentle soak and a soft scrub are enough to remove tough food residues. However, I noticed a tiny stain after several weeks of use. After making efforts to remove it, it resulted in chipping. It was only a small chip, though, and barely noticeable. 
Durability and Performance of Brandani Dutch Oven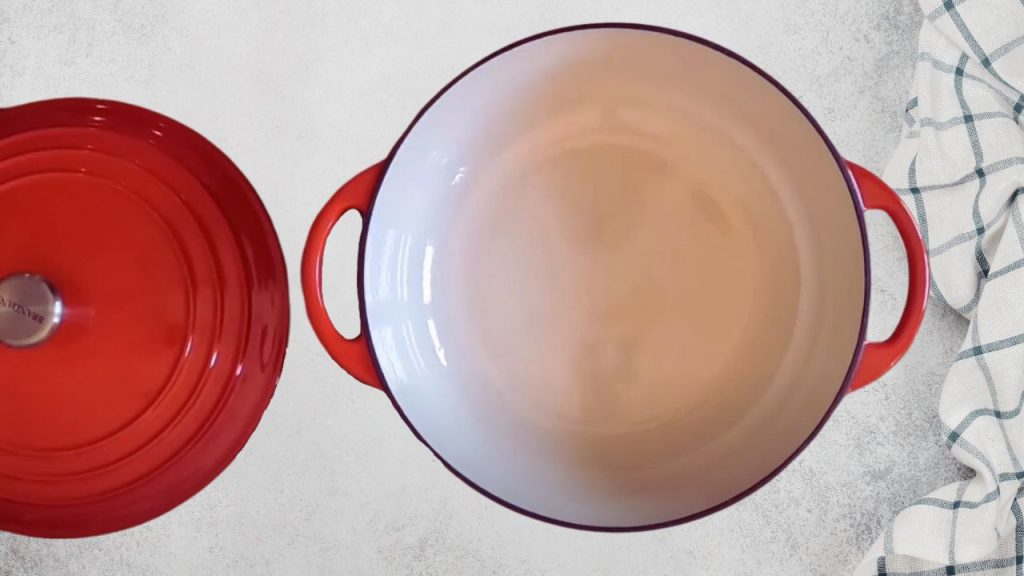 Brandani Dutch Oven is an investment in culinary excellence. It's made with durable materials and performs well, too.
Whether you're a home cook who wants to elevate your cooking game or a professional chef seeking dependable equipment, this dutch oven delivers both durability and top-tier performance.
Brandani's Warranty
The Brandani Dutch Oven is backed by a warranty that extends for 24 months from the date of purchase. It's important to note that the warranty offered by Brandani is limited to manufacturing defects. Any issues arising from the production process are covered under the warranty terms.
Brandani's warranty does not extend to items that are subject to wear or damage due to improper use. This clause underscores the importance of using your dutch oven in accordance with the manufacturer's guidelines to ensure its longevity and performance.
In the event that you encounter a problem covered by the warranty, you can return Brandani Dutch Oven to the retailer where it was purchased, along with the receipt as proof of purchase. 
Alternatively, you can directly reach out to Brandani's customer service for guidance on how to proceed with your claim.
Sizes, Shapes, and Colors Available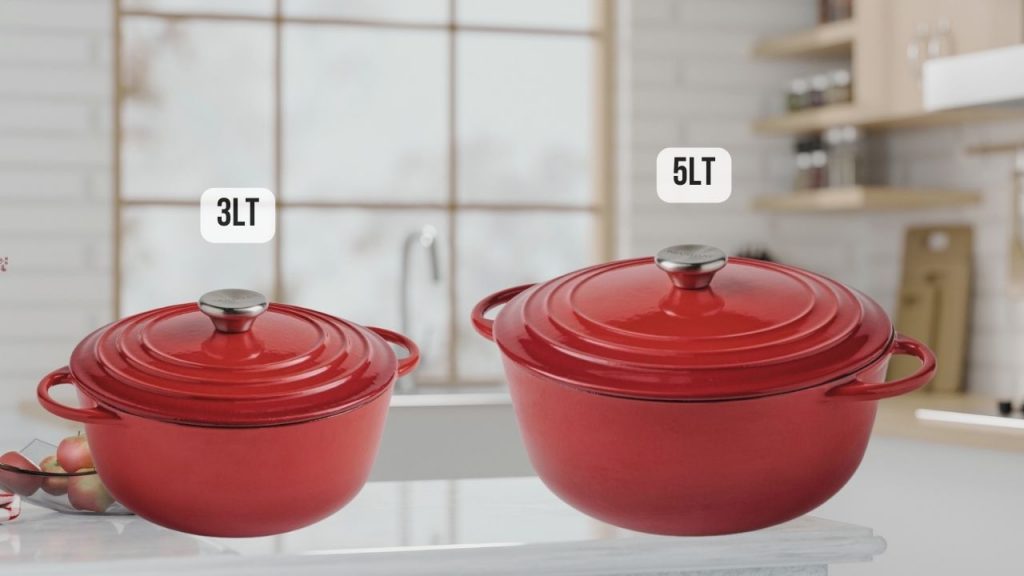 Brandani Dutch Oven is available in the following sizes, colors, and shapes:
| | | |
| --- | --- | --- |
| Size | Shape | Color |
| | | |
Drawbacks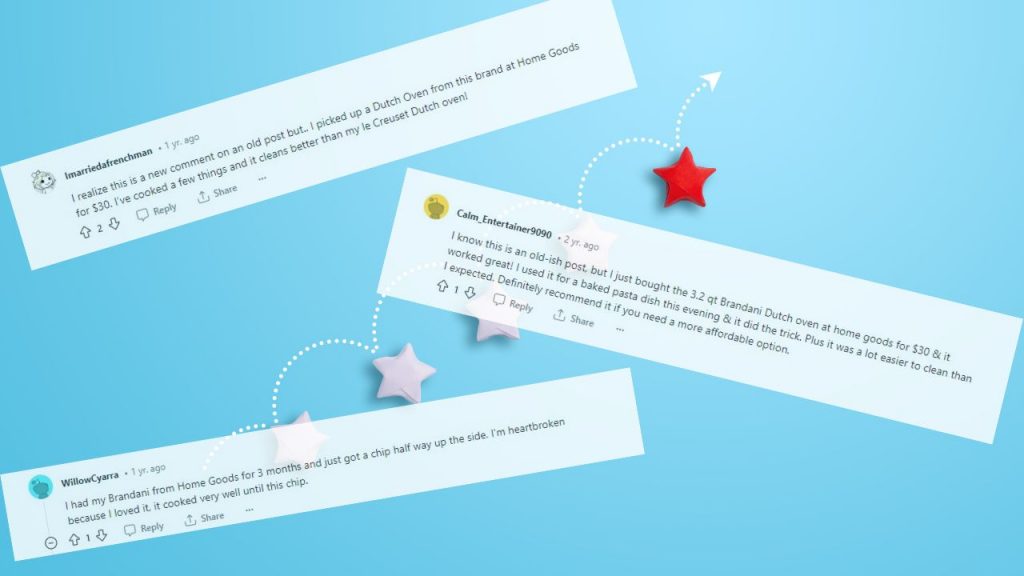 While the Brandani Dutch Oven has garnered praise for its performance and features, there are also a few drawbacks to this product.
The most notable concern in various Amazon and Reddit reviews is the occurrence of chipping and staining after multiple uses. Some users reported that the enamel coating on the dutch oven chips off over time, compromising the cookware's aesthetics and integrity. 
Some people also find it difficult to purchase a Brandani Dutch Oven as it is not widely available in the market. 
I haven't seen a Brandani Dutch Oven review from a famous chef, but a few colleagues at my restaurant use this dutch oven at their homes. Some say it is worth buying and performs well, while others experienced the same chipping issues as mine.
Factors such as cooking techniques, cleaning methods, and overall care can play a role in determining the extent to which these issues manifest.
Conclusion
The Brandani Dutch Oven is undoubtedly impressive and worth its price. Overall, its material construction is excellent and has exceptional heat retention and distribution. This dutch oven is quality cookware worth its price.
However, my experience and the reports of chipping and staining in numerous Amazon and Reddit reviews are worth noting. While this issue isn't universal, it's disheartening to experience and hear the same from other users about the enamel coating's durability.
Considering both the pros and cons, the Brandani Dutch Oven is a noteworthy option for culinary enthusiasts seeking quality and versatility. Its performance in the kitchen is promising, backed by many positive user experiences. However, Brandani Dutch Oven's market availability appears to be a problem. Many users have observed its scarcity, making it difficult to purchase. Hence, it is still best to look for other alternatives.
As a chef, I acknowledge the Brandani Dutch Oven's excellent features and characteristics. Still, I encourage you to check other alternatives and read in-depth reviews before purchasing a dutch oven. After all, your kitchen tools facilitate your creativity and passion for cooking.