As a seasoned restaurant chef with a decade of kitchen experience, I understand the importance of quality cookware in cooking. Recently, I had the pleasure of testing the Great Jones "The Dutchess" Dutch Oven, which home cooks are raving about on online forums because of its aesthetics.
I chose the green-colored one as I like how it matches my kitchen decor. I must say, the Great Jones The Dutchess Dutch Oven lived up to its reputation as a kitchen essential. In this review, I'll delve into its various attributes, highlighting its strengths and drawbacks.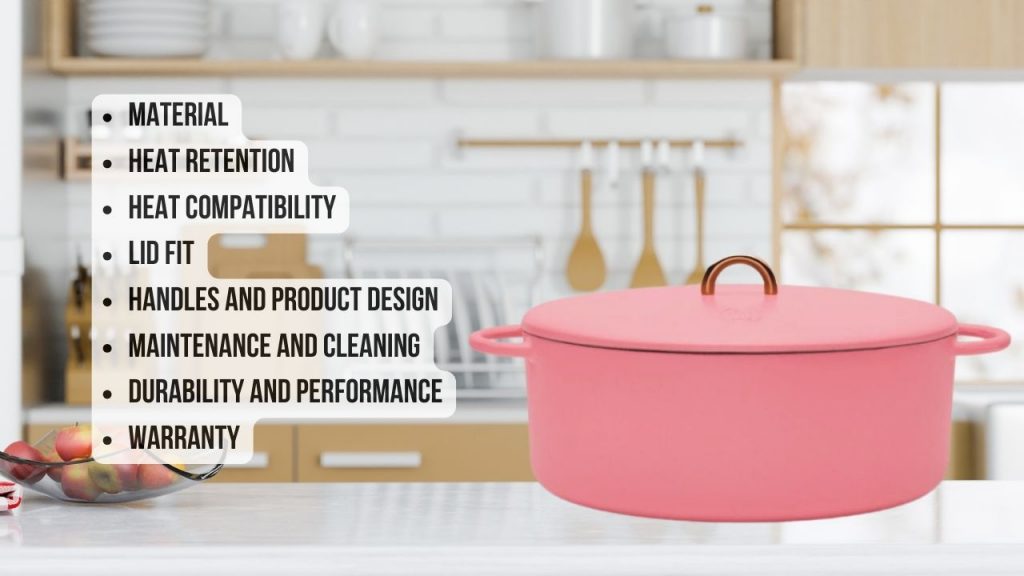 I ordered this dutch oven online and tested it as soon as I got it. I made Red Wine Braised Short Ribs, which is my favorite dish to cook on dutch ovens. The following parameters were considered in our test process:
Material

Heat retention

Heat compatibility

Lid fit

Handles and product design

Maintenance and cleaning

Durability and performance

Warranty
Read on to see my detailed Great Jones Dutch Oven Review below.
Materials
"The Dutchess" is made of high-quality cast iron and exudes strength and durability. This strong material ensures even heat distribution, making it ideal for slow-cooking foods like my Red Wine Braised Short Ribs.
With walls at a height of 4.75 inches, this pan provides ample protection against splattering while accommodating generous portions of your culinary creations. Its spacious oval shape can easily accommodate large cuts of meat or even a whole chicken, making it an excellent choice for braising.
Moreover, this dutch oven excels in heat retention because of its cast iron construction, allowing for a consistent and uniform cooking process.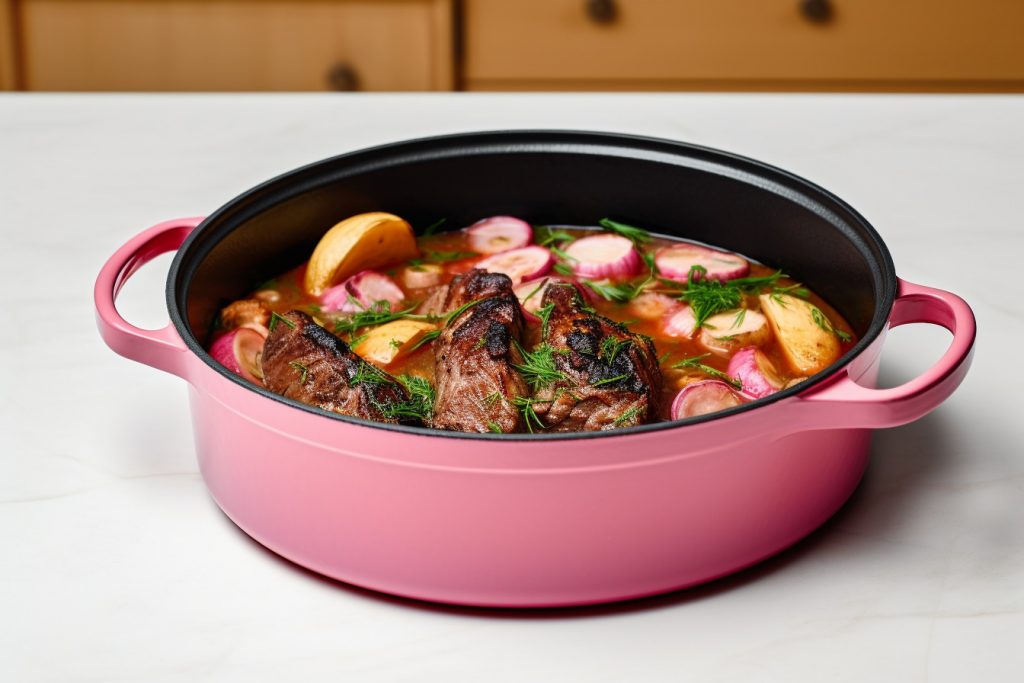 Testing Heat Retention
As mentioned earlier, the Dutchess Dutch Oven has remarkable heat retention. Once heated, it maintains a steady temperature, which is crucial for slow-cooked dishes. The short ribs I prepared came out tender and flavorful, and my family enjoyed every bite of it.
Heat Compatibility of Great Jones Dutch Oven
The Dutchess Dutch Oven demonstrates exceptional versatility in terms of heat compatibility. It is compatible with various heat sources, including gas, electric, induction, and oven cooking up to 500°F (260°C). Its oval form, however, works better in the oven than on the cooktop.
This versatility allows for seamless transitions from stovetop to oven, which is a must for many recipes. I was able to try this dutch oven to make rich soups, artisanal bread, and searing meats.
Lid Fit
While the Dutchess Dutch Oven performs admirably in most aspects, one minor drawback is the lid's fit. I noticed that minimal steam escapes from the lid during cooking, which can sometimes result in excessive condensation. However, this is a minor issue and didn't significantly impact the overall cooking process of my Red Wine Braised Short Ribs.
Great Jones Dutch Oven's Handles and Product Design
The Dutchess' ergonomic handles make it easy to maneuver, even when it's filled to capacity. I can grip the handles easily, even when I'm wearing oven mitts.
The dutch oven's oval shape and vibrant color options exude a retro feel while still feeling contemporary. Plus, its sleek and glossy enamel finish enhances its aesthetic charm. The online rave about its aesthetics is all true.
Overall, the product's design is functional and aesthetically pleasing, making it an excellent, stylish addition to any kitchen.
Maintenance and Cleaning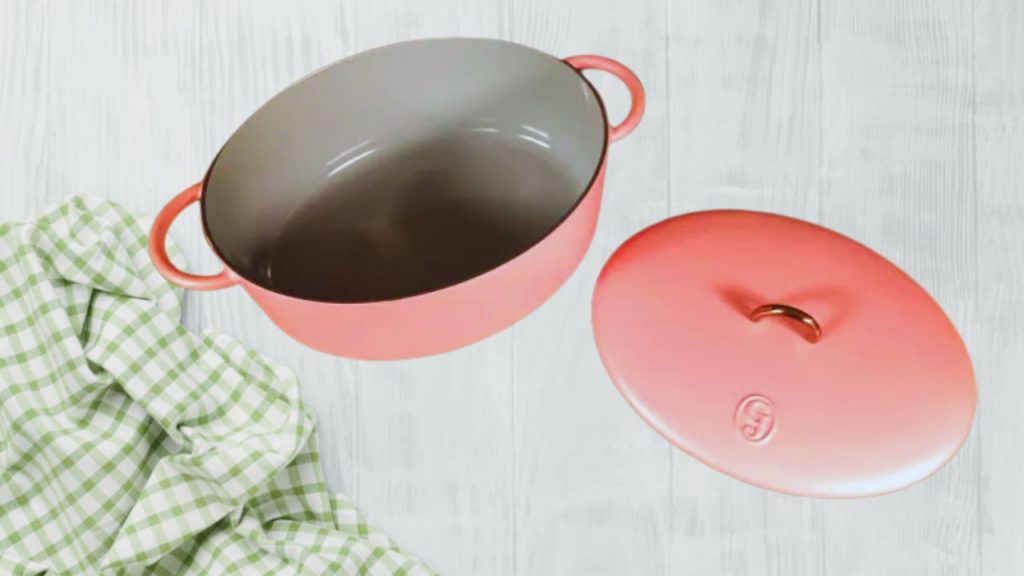 Cleaning the Great Jones Dutch Oven is straightforward, thanks to its enameled interior. It is also dishwasher safe, so you can save time cleaning it. Food residue slides off easily and doesn't require seasoning like traditional cast iron cookware. A low-maintenance cookware like this is a significant advantage for busy chefs and home cooks.
Durability and Performance
The Dutchess Dutch Oven is built to last a lifetime with proper care. Its solid construction and exceptional performance make it a reliable equipment in the kitchen. I have no doubt it will continue to excel in both home and professional settings.
Great Jones's Warranty
Great Jones offers a lifetime warranty on their cookware. This warranty covers manufacturing defects and faults in materials and workmanship, ensuring that your cookware is free from such issues when used as intended by consumers.
The warranty does not extend to instances of abuse, commercial use, or any other non-consumer use of the product. The cookware is expected to be used per the provided instructions.
Cosmetic issues such as scratches, dents, scuffs, stains, or minor paint chips that occur during normal handling and use are not covered under this warranty, provided they do not impair the product's functionality as cookware. Additionally, damage resulting from improper storage of the cookware is also not included in the warranty coverage.
Great Jones Dutch Oven's Sizes, Shapes, and Colors Available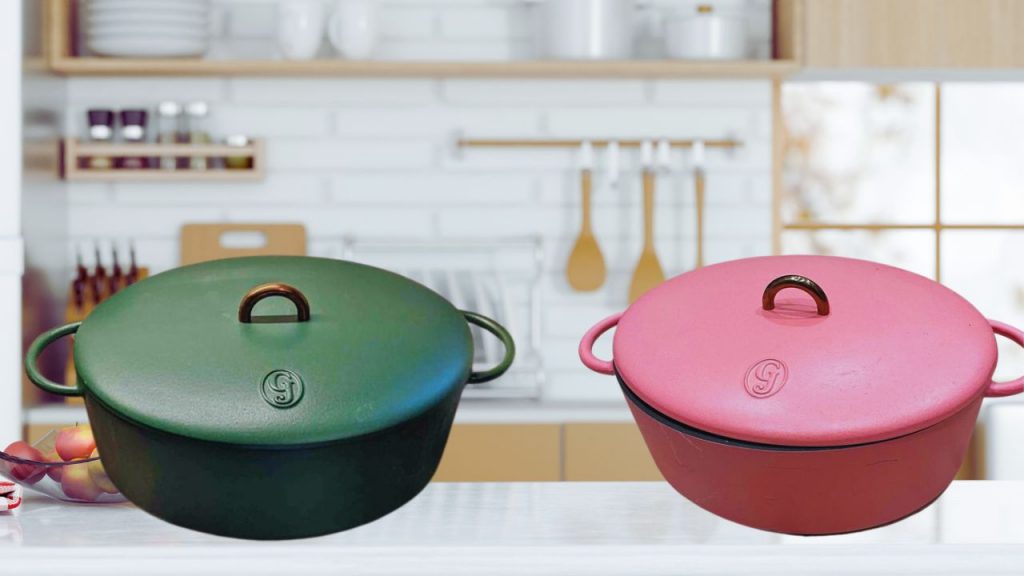 The Great Jones "The Dutchess" Dutch Oven comes in -quart size and oval shape. This dutch oven is available in several colors, such as the following:
Blueberry (Sapphire Blue)

Brocolli (Forest Green)

Mustard (Golden Yellow)

Taffy (Dusty Pink)

Pepper (Black)

Salt (White)
The colors are elegant and eye-catching. You can also request a customized engraving for an additional cost.
Drawbacks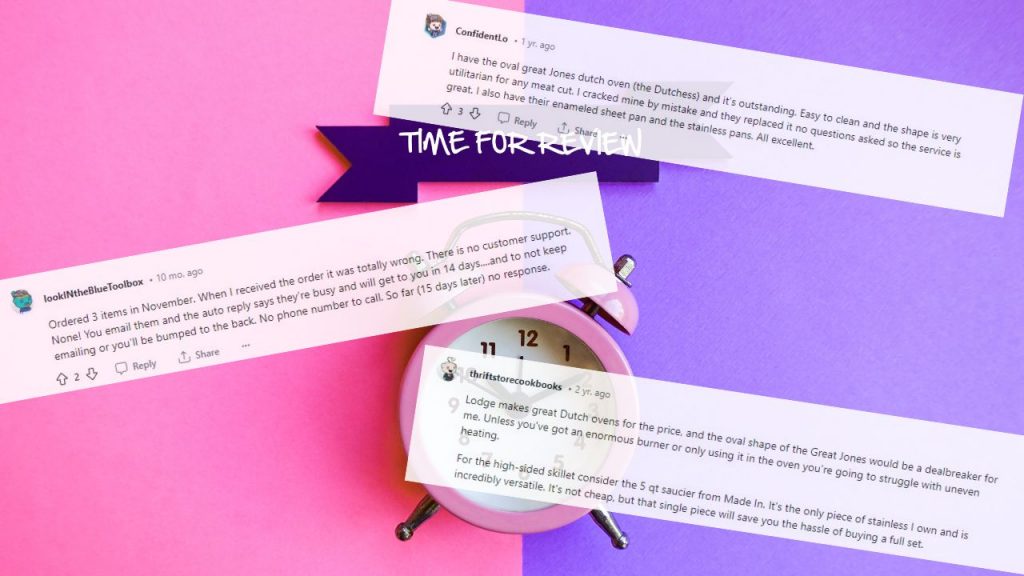 While my personal experience with the Dutchess Dutch Oven has been overwhelmingly positive, it's important to consider some potential drawbacks based on reviews from other users.
Limited reviews on e-commerce platforms regarding the Great Jones Dutch Oven may make it challenging for potential buyers to gather comprehensive feedback before making a purchase decision. 
However, some Reddit users have reported issues with Great Jones' customer service, citing a lack of responsiveness and a reliance on automated replies. This scenario can be frustrating for customers who require personalized assistance with their concerns or inquiries.
It's worth noting that one user had a positive experience with the company, obtaining a replacement without encountering any issues. Hence, customer service experiences may vary.
I also did not find any reviews on Amazon about this dutch oven. So far, the only problem I have experienced is a minor steam leak from the lid during the cooking process.
Conclusion
In this comprehensive Great Jones Dutch Oven review, I explored the attributes of The Great Jones Dutch Oven. This stylish cookware has been making waves among home cooks for its aesthetics and has indeed lived up to its reputation as a kitchen essential. Below, I summarize the pros and cons of this dutch oven from a chef's perspective:
Pros:
High-quality material

Superb heat retention

Overall product design

Effortless maintenance and cleaning process

Durability and excellent performance

Lifetime warranty
Cons:
Limited Reviews

Customer Service Variability

Lid Steam Leak
Despite these potential drawbacks, The Dutchess Dutch Oven is an excellent choice of cookware, offering style and functionality that will enhance your cooking experience.
As a professional chef, I understand the significance of reliable cookware, and this dutch oven consistently delivers. Its ability to excel in heat retention, compatibility with multiple cooking methods, and ease of maintenance aligns perfectly with the demands of both home cooks and culinary enthusiasts.
While there may be some room for improvement in certain aspects, the Great Jones "The Dutchess" Dutch Oven undoubtedly performs excellently to enhance your culinary endeavors.