As a restaurant chef with a decade of experience, I have worked with various kinds of cookware. One of my favorites is the Lodge Cast Iron Dutch Oven.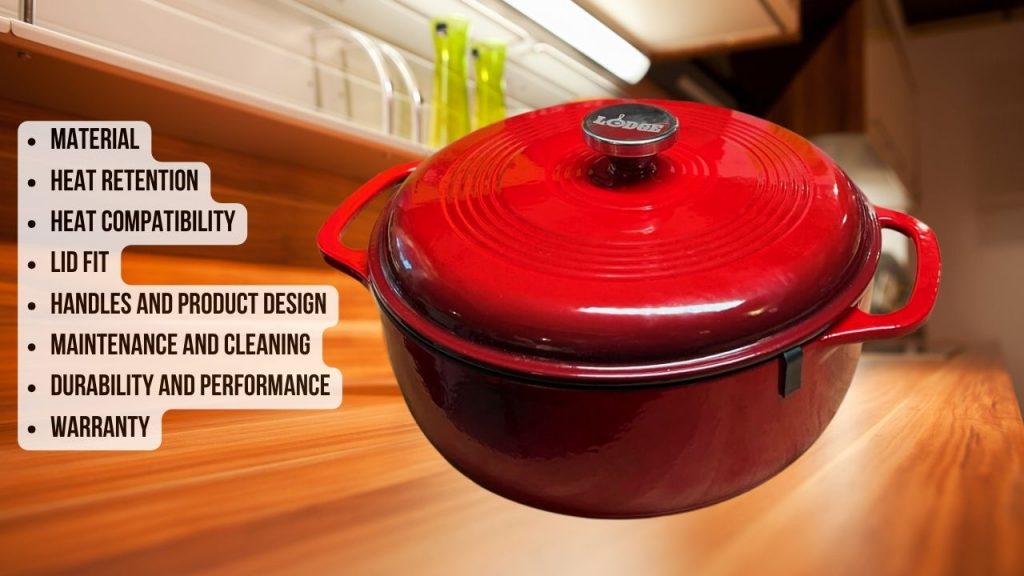 This versatile kitchen workhorse has consistently outperformed its competitors. In this review, I'll break down why it's become one of my all-time favorites based on these key parameters:
Material

Heat retention

Heat compatibility

Lid fit

Handles and product design

Maintenance and cleaning

Durability and performance

Warranty
The Lodge Dutch Oven has plenty of positive reviews online, and I was able to test if all of these great feedback and claims are real. I tried this dutch oven by making Red Wine Braised Short Rib, which is a perfect dish to cook using a dutch oven.
Check out my detailed review of the 5-quart Lodge Cast Iron Dutch Oven below.
Materials of Lodge Dutch Oven
The Lodge Cast Iron Dutch Oven is crafted from high-quality cast iron. Hence, it has exceptional heat retention and even heat distribution. This factor makes this dutch oven an ideal choice for slow-cooking, braising, and simmering dishes. The thick walls and base ensure your food is cooked uniformly, resulting in mouthwatering meals every time.
I was able to cook my Red Wine Braised Short Rib perfectly with the Lodge Cast Iron Dutch Oven. The meat was tender and juicy, while the sauce was rich and flavorful.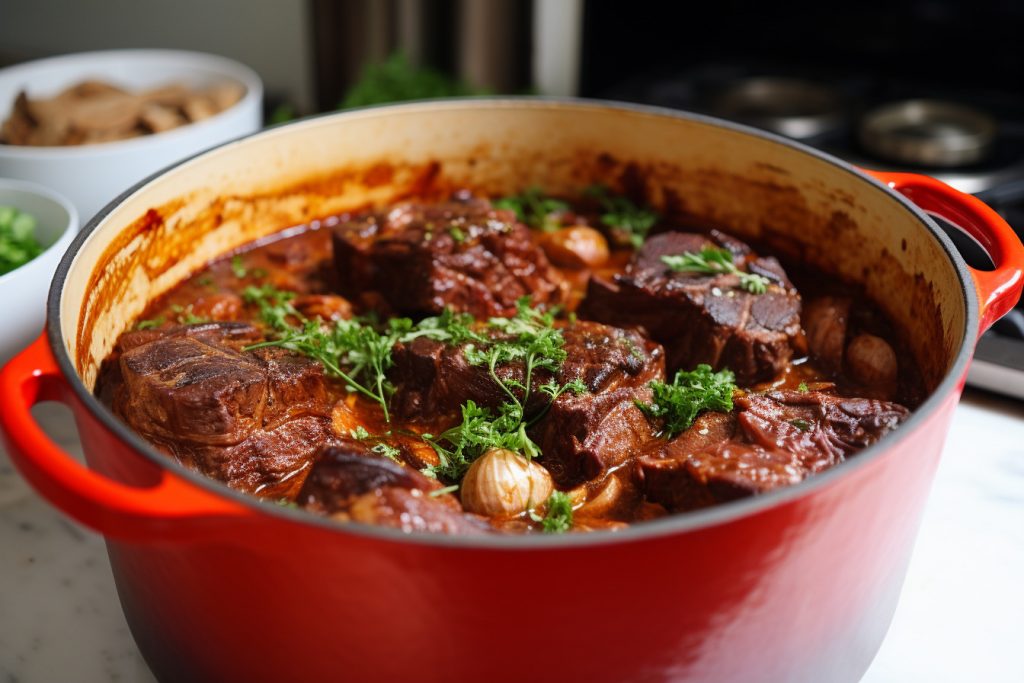 Heat Retention
The Lodge Cast Iron Dutch Oven has a remarkable heat retention. Once heated, it holds onto that heat like a champ, ensuring your dishes stay warm for extended periods.
Heat retention is essential for slow-cooked recipes like my braised short ribs, where maintaining a consistent temperature is crucial. This factor is what makes the dish succulent and flavorful.
Testing Heat Compatibility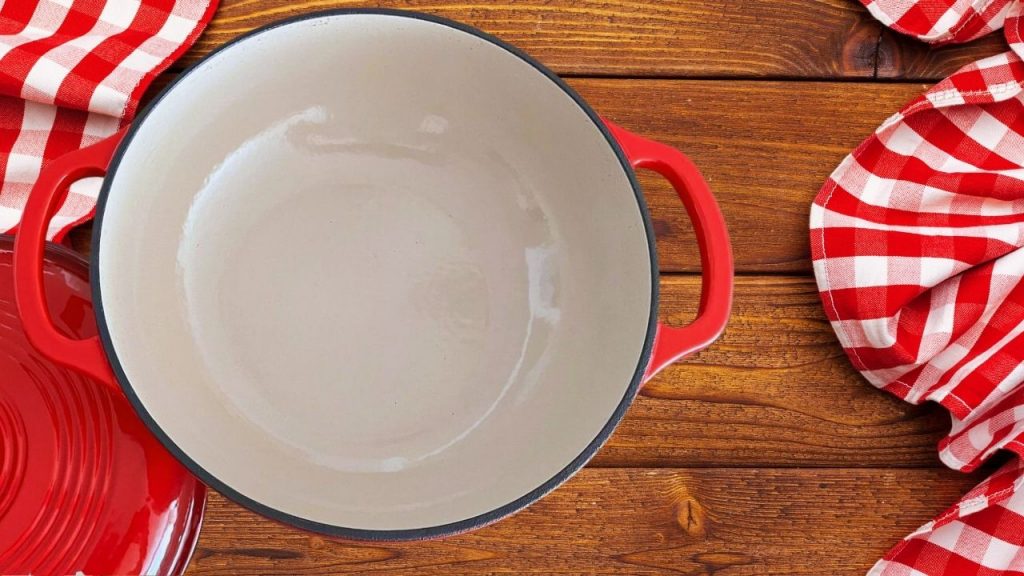 This Lodge Dutch Oven is a versatile piece of cookware that can be used on various heat sources, including gas, electric, induction, and even open flames. Its adaptability makes it an excellent choice for chefs in diverse culinary environments.
I also tried to use this cast iron dutch oven on a grill and over a campfire. Its versatility really amazed me as it gave me more flexibility in terms of cooking techniques.
Lid Fit
The Lodge Dutch Oven's tight-fitting cover effectively traps moisture and flavor. The lid makes sure that your food turns out succulent and tasty, whether you're slow roasting, boiling stews, or baking bread. This is another plus factor why we successfully created our juicy Red Wine Braised Short Rib.
Lodge Dutch Oven's Handles and Product Design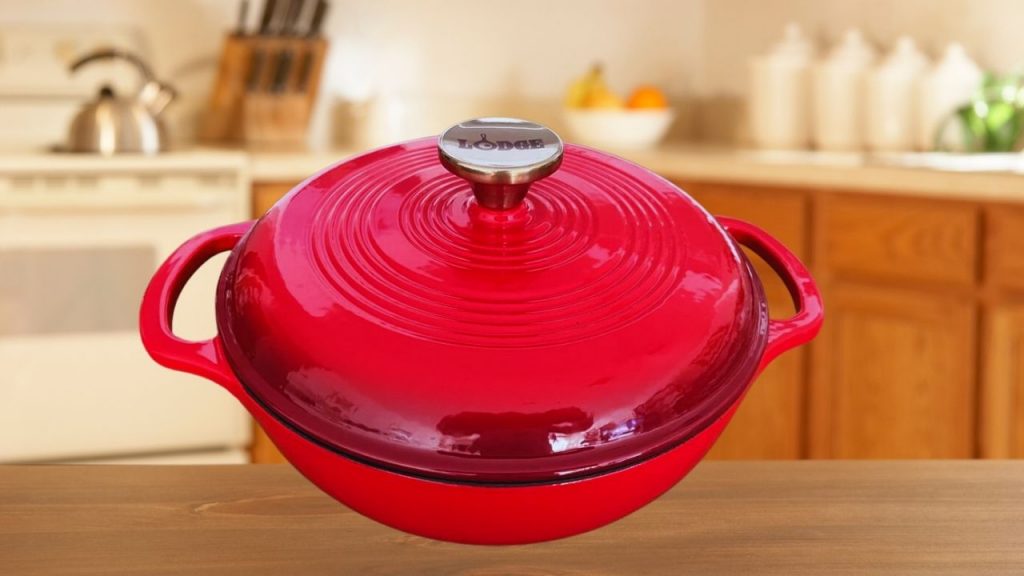 The Lodge Dutch Oven has well-designed handles that are comfortable to hold even when wearing oven mitts. Since it is made with cast iron, the handles can get too hot, so it is important that the handles are ergonomic and you can grasp them well.
The loop handle on the lid is convenient for easy lifting and maneuvering. Its traditional, rustic design is not only aesthetically pleasing but also functional. You must be careful when handling the dutch oven as it can be too heavy, especially when it is full.
Maintenance and Cleaning
I find the Lodge Dutch Oven easy to clean and maintain. After each use, a simple rinse with hot water and a light scrape with a brush will suffice. Avoid using soap, and dry it thoroughly to prevent rust. With proper care, it develops a natural non-stick seasoning over time that enhances its performance.
It is not advisable to clean cast iron cookware in a dishwasher, unlike some modern kitchenware. This factor can be inconvenient for those who prefer machine washing. Handwashing and proper drying are essential to maintain the seasoning and prevent rust.
Durability and Performance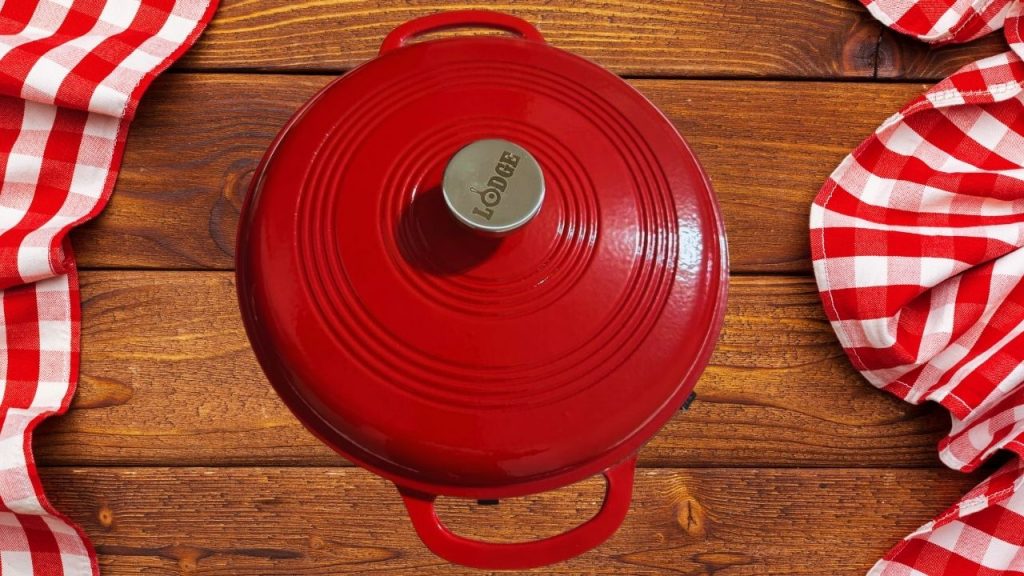 In my experience, durability is paramount in a dutch oven, and the Lodge Cast Iron Dutch Oven doesn't disappoint. It's built to last a lifetime, and with the proper care, it can be passed down for generations. Its robust construction and consistent performance have made it a staple in my kitchen.
Lodge's Warranty
Lodge stands behind the quality of its products, offering a Made Right limited lifetime warranty on their cast iron cookware.
If your seasoned cast iron or carbon steel cookware experiences problems like cracking, warping, or flaking, Lodge will promptly repair or replace it. If your cookware arrives damaged in its shipping container, Lodge will also address that issue.
The warranty extends to quality concerns affecting cooking and usability, such as excessive grind or chatter marks, casting defects, or metallic projections.
However, it's important to note that the warranty does not cover damage resulting from commercial use, accidents, mishandling, misuse, neglect, overheating, or use inconsistent with the provided instructions.
It also excludes damage caused by melted items, abrasive cleaners, and cosmetic blemishes that do not affect the cookware's performance. Rust, pitting, roughness, sticky seasoning, flaking, and odors are likewise not covered under this warranty. 
Sizes, Shapes, and Colors Available of Lodge Dutch Ovens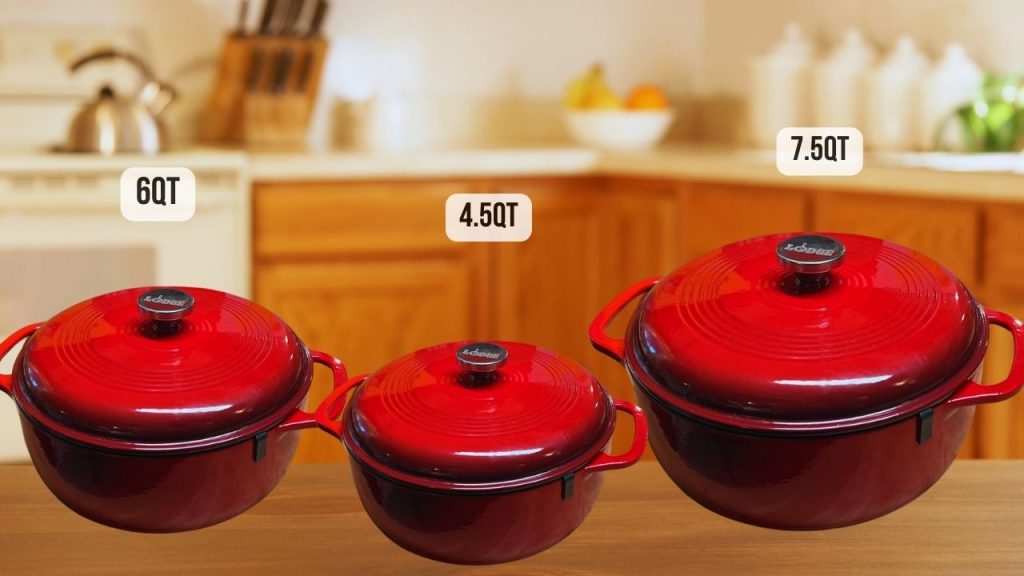 Lodge offers Cast Iron Dutch Ovens in several sizes, making choosing one that suits your specific needs easy. It is available in the following sizes:
1.5 qt

3 qt

4.5 qt

6 qt

7.5 qt
If you prefer the enameled cast iron dutch ovens, you can choose from several colors like red, blue, white, and green.
Drawbacks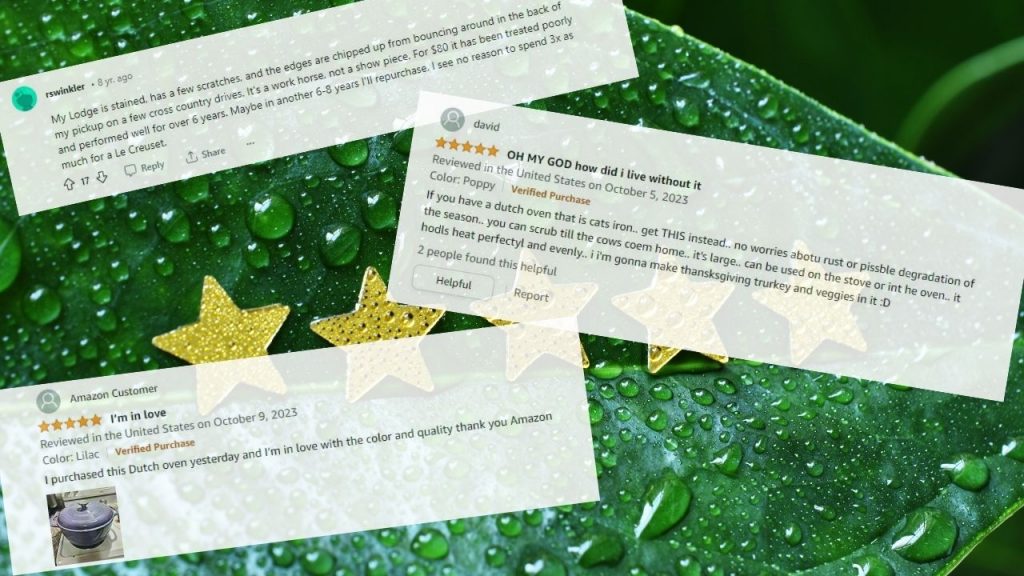 Cast iron cookware, including Lodge Dutch Ovens, is known for its heft. While this weight contributes to its exceptional heat retention and distribution, it can also make handling and maneuvering the dutch oven challenging, especially when it's filled with food.
Some users on Amazon and Reddit say that it is challenging to maintain. Cast iron cookware requires an initial seasoning process to build up a non-stick surface. While this seasoning enhances the dutch oven's performance over time, it may intimidate those new to cast iron cooking. Additionally, maintaining the seasoning and avoiding common pitfalls like rust and sticking can be a learning curve for some users.
Despite a few drawbacks, all the advantages and positive feedback outweigh them. In fact, in an article on People, Celebrity Chef Mat Abdoo says that he personally uses Lodge Dutch ovens. He says that it has all the features you need for great value. 
Conclusion
Overall, the Lodge Cast Iron Dutch Oven is a standout kitchen tool that has earned its place among professional chefs and home cooks.
To sum it up, here is a quick overview of its pros and cons:
Pros:
Exceptional heat retention and distribution.

Versatile and compatible with various heat sources.

Tight-fitting lid for moisture retention and flavorful results.

Well-designed handles for secure grip.

Durable construction built to last a lifetime.

Backed by a comprehensive limited lifetime warranty.
Cons:
Hefty weight can be challenging to handle, especially when full.

Initial seasoning and maintenance may require a learning curve.

Not dishwasher safe; handwashing is necessary.
While it does have some weight and maintenance considerations, the overall advantages far outweigh these drawbacks.
I highly recommend the Lodge brand and their Cast Iron Dutch Ovens as a chef with ten years of expertise in the restaurant industry. I have personally used them and found them to be reliable, producing consistently delicious results.
This dutch oven is a workhorse in the kitchen that delivers exceptional performance and value. Its versatility, backed by a robust warranty, makes it a valuable addition to your kitchen.