In my search for the best dutch oven, I came across another one which piqued my interest. The HexClad 5 Quart Hybrid Dutch Oven is a non-stick stainless steel dutch oven with patented Hybrid technology. It has laser-etched stainless steel hexagonal ridges to enhance its searing capabilities.
I first heard about this dutch oven from a colleague, but I only thought of buying it after I saw it and checked out some reviews online.
I put the HexClad Dutch Oven to the test by preparing a classic Red Wine Braised Short Ribs dish, which is also my favorite. While the HexClad Dutch Oven offers some admirable features, it's essential to delve into the details to understand its overall performance.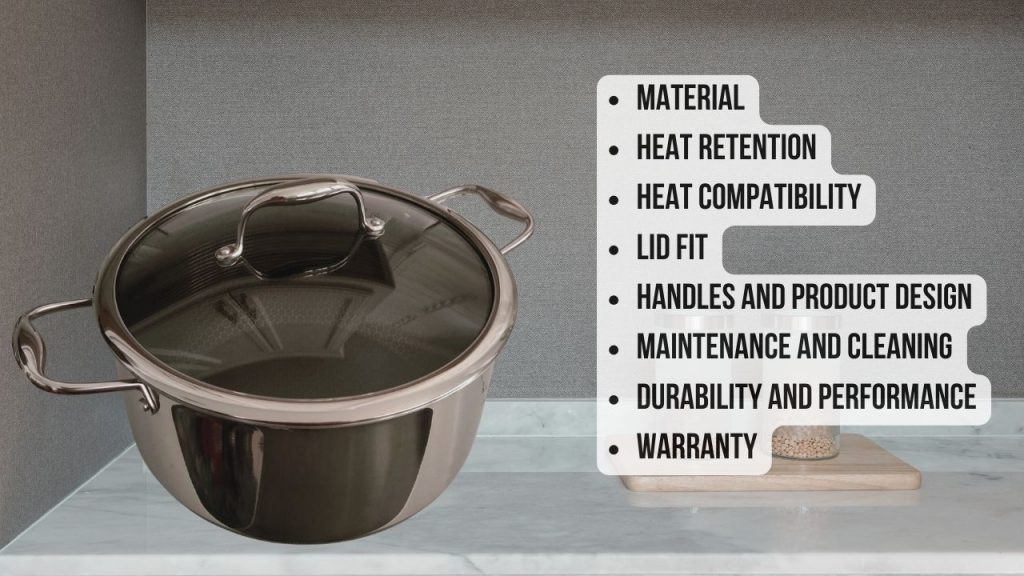 Similar to my past dutch oven reviews, I considered the following parameters in this review:
Material

Heat retention

Heat compatibility

Lid fit

Handles and product design

Maintenance and cleaning

Durability and performance

Warranty
Check out my detailed HexClad Dutch Oven review below.
Materials
As mentioned, this dutch oven is made of stainless steel with a laser-engraved non-stick surface. It boasts its patented Hybrid hexagonal design, which makes the pan benefit from its stainless and non-stick construction. 
The HexClad 5 Quart Dutch Oven is entirely free from toxins and PFOA. Its surface combines ceramic, diamond dust, and stainless steel to strike the perfect equilibrium between practicality and top-tier performance.
Moreover, the HexClad Dutch Oven's tri-ply stainless steel construction is durable, and the heat distribution is commendable. Also, since it is made of stainless steel, it is significantly lightweight compared to other dutch ovens.
However, I couldn't help but notice some minor discoloration on the interior after a few uses, which could affect the aesthetics.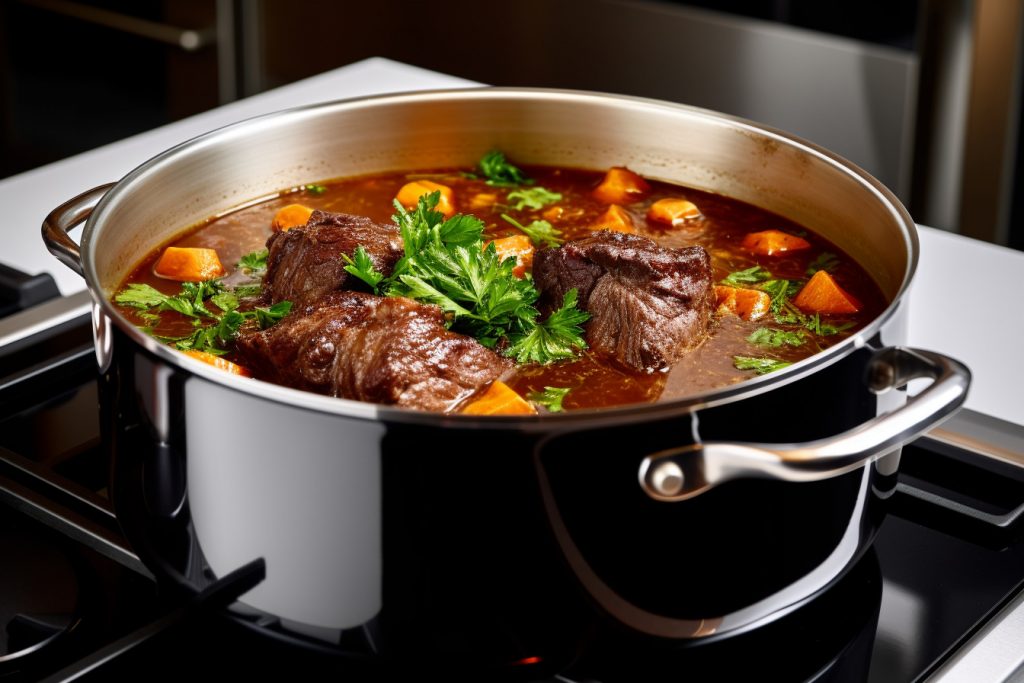 Heat Retention of HexClad Dutch Oven
When it comes to heat retention, the HexClad Dutch Oven impresses. Stainless steel is known as a good heat conductor. Thus, HexClad's impressive heat retention is not a surprise to me.
With a tri-ply build, this cookware incorporates an aluminum layer in between two stainless steel layers, ensuring impeccable heat distribution.
The dutch oven maintains a consistent temperature while cooking, ensuring even and delicious results with my short ribs. My Red Wine Braised Short Ribs were perfectly cooked, and my family enjoyed every bite.
Heat Compatibility
The HexClad Dutch Oven is compatible with various heat sources, including gas, electric, induction, and even oven use. It is safe to use in ovens for up to 500 degrees Fahrenheit. This versatility is a strong suit, allowing for various cooking techniques.
Lid Fit
The HexClad Dutch oven lid snuggly fits, sealing in moisture and flavors during the braising process. It helps in achieving that melt-in-your-mouth tenderness with the short ribs.
I have no complaints in this department. HexClad did an excellent job of keeping the moisture inside the pot, and I did not find any steam leaks at all.
HexClad Dutch Oven's Handles and Product Design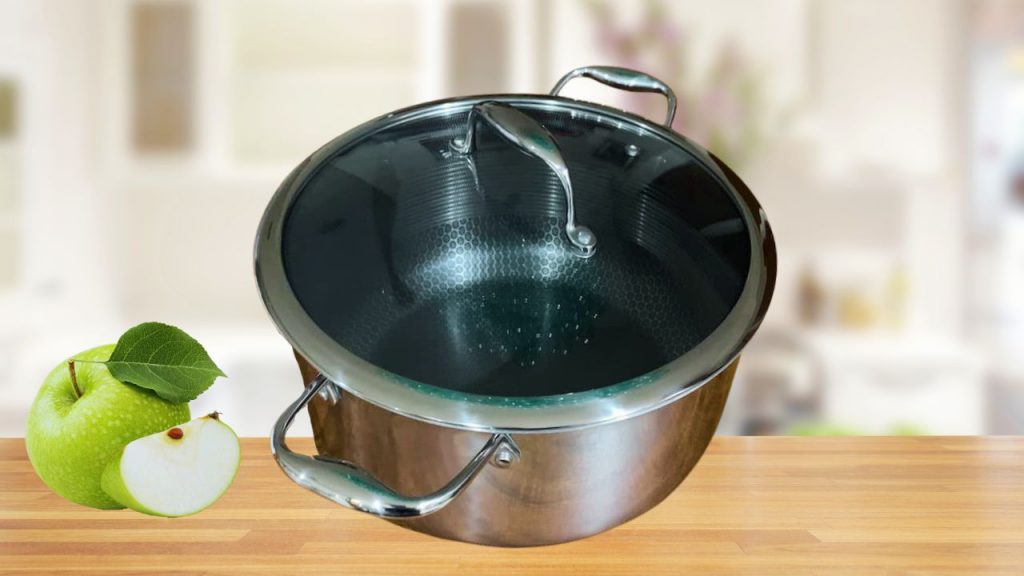 HexClad's handles are functional and ergonomic. I can grip the side handles securely and with no difficulty, even if I am wearing oven mitts. Overall, HexCladd has a sleek, classic design worth adding to your kitchen.
Maintenance and Cleaning
One of the highlights of this product is the HexClad's non-stick surface. Due to this surface, it makes cleaning a breeze. A simple wipe or gentle scrub is usually sufficient to remove any food residue. However, it's worth noting that this non-stick coating may not be as durable as expected in the long run.
Durability and Performance of HexClad Dutch Oven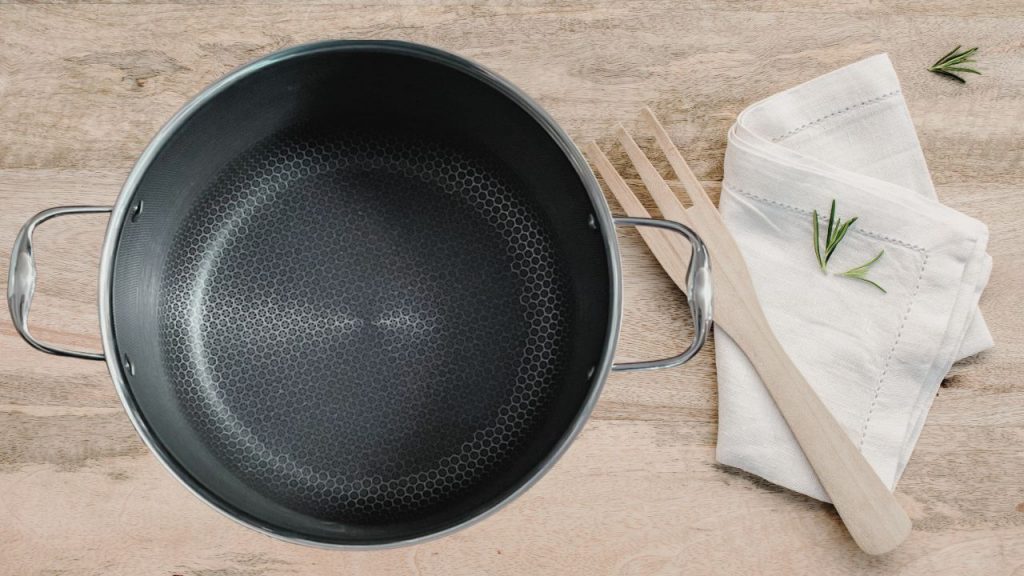 In terms of performance, the HexClad Dutch Oven delivers exceptional results when it comes to cooking. My short ribs turned out tender and flavorful, just as I expected. I also tried using this pot for other dishes, such as soups and stews. It is also ideal for searing meats.
However, I am concerned about the long-term durability of the non-stick surface and the potential for scratching. While my HexClad is still in good condition, I don't think it can last as long as cast iron dutch ovens.
HexClad's Warranty
HexClad offers a limited lifetime warranty. This warranty provides some peace of mind regarding the product's longevity.
I find lifetime warranties reassuring because you'll never know what can happen to your dutch oven.
Sizes, Shapes, and Colors Available 
HexClad is only available in its simple stainless steel design and round shape. It is only available in 5-quart size. However, you might be interested in other HexClad cookware like pans, pots, woks, and griddles, which come in different sizes.
Drawbacks of using HexClad Dutch Oven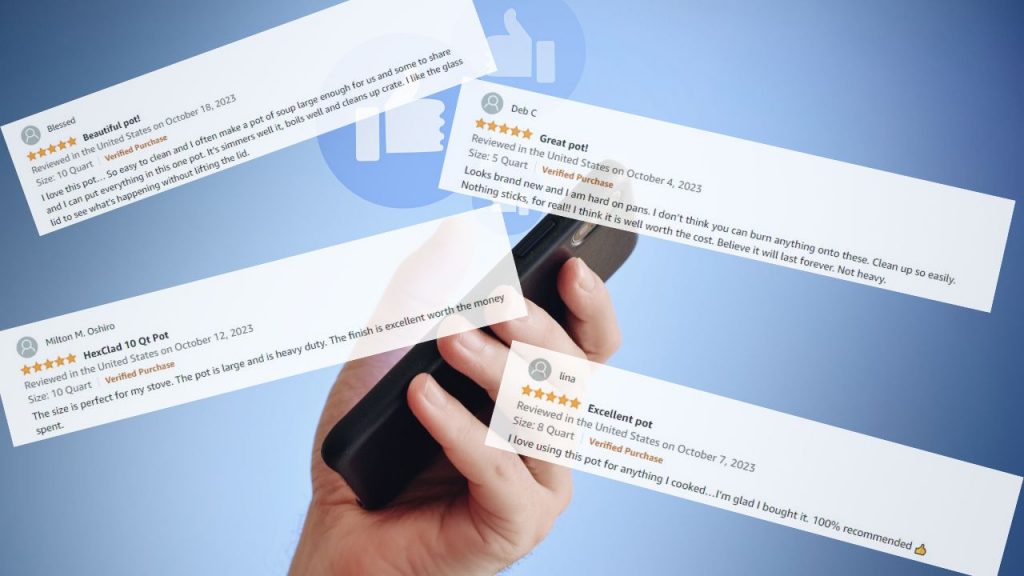 Despite its many strengths, the HexClad Dutch Oven has some drawbacks. Here are some disadvantages based on my experience and other users on Amazon and Reddit.
Some users have observed that the pot's rim features a coarser finish, revealing grind marks and visible metal layers. There are also occasional tiny voids or off-color spots between these layers. While these cosmetic issues don't impact performance, they might leave aesthetically-minded users expecting perfection, especially given the price point.
While the HexClad Dutch Oven does clean up quite quickly, some users have found that it doesn't stand out significantly from other pots in terms of ease of cleaning. Despite its premium quality, it may not deliver the exceptional cleaning experience that some would expect for the price.
Additionally, some users have reported concerns about the long-term durability of HexClad cookware, particularly in terms of the non-stick surface. The edges of the cookware may experience flaking or chipping over time, especially if subjected to dishwasher use. While these issues typically manifest around the edges rather than affecting the cooking surface, they can be frustrating.
It's worth mentioning that the perception of non-stick cookware varies among users. Some believe that all non-stick cookware, regardless of brand, has a limited lifespan and might not justify a significant investment. Instead, they recommend allocating the budget towards long-lasting alternatives like cast iron.
Conclusion
The HexClad 5 Quart Hybrid Dutch Oven is a stainless steel dutch oven armed with patented Hybrid technology and laser-etched hexagonal ridges, which promises an innovative cooking experience. 
While the HexClad Dutch Oven boasts several commendable attributes, a closer examination of its performance and features reveals both strengths and weaknesses.
The Pros:
The HexClad Dutch Oven combines stainless steel with a non-stick surface, free from toxins and PFOA, creating a practical yet high-performance cookware piece. Its tri-ply stainless steel construction ensures durability and excellent heat distribution, and its lightweight nature adds to its appeal.
Due to the stainless steel composition and tri-ply design, exceptional heat retention ensures consistent cooking temperatures, resulting in perfectly cooked dishes like my delectable Red Wine Braised Short Ribs.
HexClad's secure lid fit seals in moisture and flavors during cooking.

HexClad stands by its product with a limited lifetime warranty, offering peace of mind.
The Cons:
While most dutch oven boasts a polished, mirror-like finish, the rim may disappoint aesthetically minded users with a coarser finish, visible grind marks, and occasional voids or off-color spots. These cosmetic flaws don't affect performance, but given the price point, users are expecting more.

Some users find its cleaning performance does not significantly stand out from other pots.

Long-term concerns revolve around the non-stick surface, with reports of flaking or chipping, especially along the edges, potentially exacerbated by dishwasher use. While the cooking surface typically remains unaffected, such issues can be vexing.

Some users contend that all non-stick cookware has a finite lifespan, regardless of the brand, casting doubt on whether the HexClad Dutch Oven is worth the money.
The HexClad Dutch Oven is a versatile and innovative addition to your kitchen. Its excellent heat retention, compatibility, and sleek design make it a valuable tool for culinary endeavors. While the dutch oven exhibits minor cosmetic flaws and longevity concerns surrounding the non-stick surface, its impressive performance and warranty provide reassurance.
From my perspective as a chef, I'd recommend the HexClad Dutch Oven for those who value convenience and are mindful of the non-stick surface's care. While it may not be without its imperfections, this dutch oven can undoubtedly elevate your cooking experience.