As a restaurant chef for ten years, I have tested different kitchen tools and equipment. One of my favorite kitchenware is the dutch oven. Recently, I had the opportunity to test out the Bruntmor 6-quart Enameled Cast Iron Dutch Oven by making a sumptuous batch of Red Wine Braised Short Ribs.
A home cook friend recommended it to me while we were talking about stew recipes. I searched for it online and bought one from Amazon.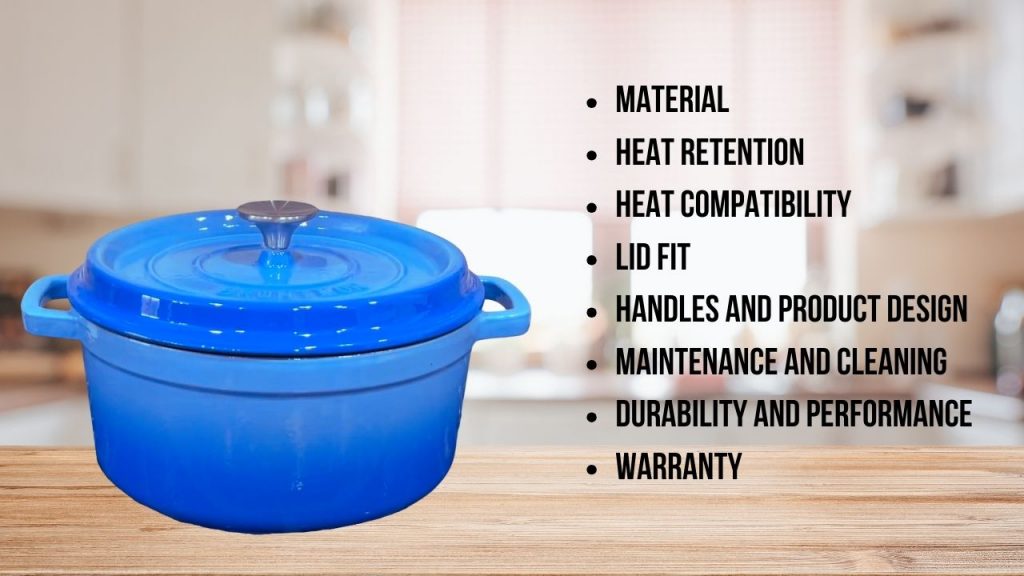 I was very eager to try it out because it was recommended by someone I know. So, I immediately tested this dutch oven, and similar to my past reviews, the following parameters were considered:
Material

Heat retention

Heat compatibility

Lid fit

Handles and product design

Maintenance and cleaning

Durability and performance

Warranty
Check out my full Bruntmor Dutch Oven Review below.
Materials
The Bruntmor Dutch Oven impressed me right from the start with its construction. It is crafted from good-quality cast iron and designed to handle high temperatures and provide even heat distribution.
The surface of the dutch oven is layered with enamel, preventing food from sticking and making it easier to clean.
To be honest, Bruntmor's quality construction is something I did not expect due to its price point. I am actually impressed with the overall build of this dutch oven.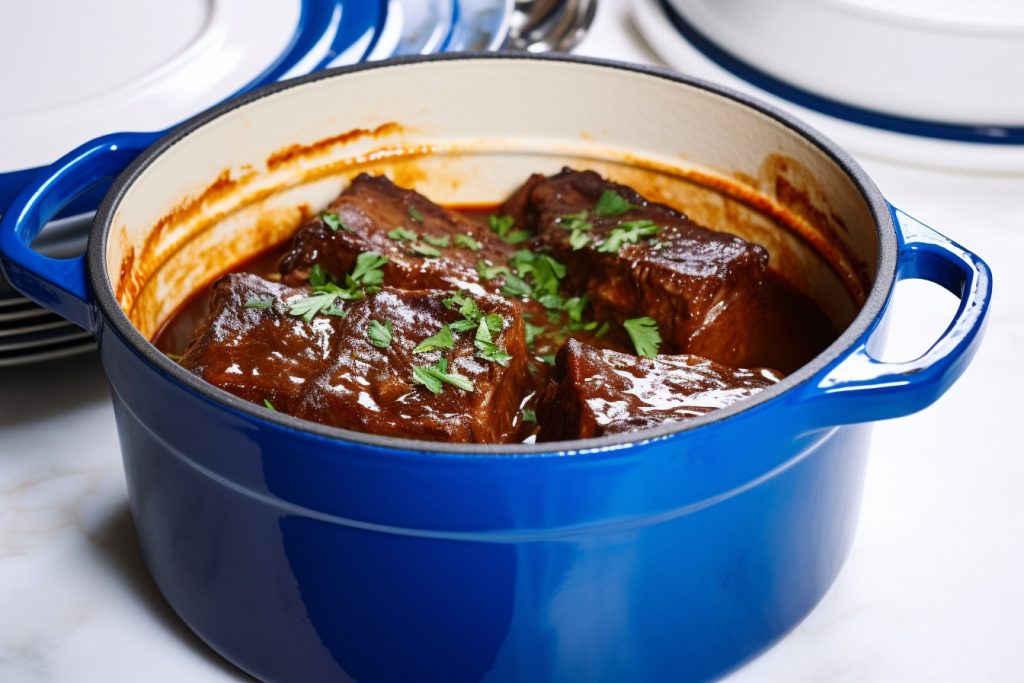 Heat Retention of Bruntmor Dutch Oven
One of the things I love about this dutch oven is its exceptional heat retention. Once the Bruntmor Dutch Oven is heated up, it stays hot, ensuring that my short ribs are cooked evenly and maintain their tenderness throughout the braising process.
Heat Compatibility
The Bruntmor Dutch Oven performed admirably over various heat sources, including gas, electric, and induction. However, it's worth noting that it can be a bit heavy for some stovetops. This is a minor drawback but something to consider if you have a delicate glass cooktop.
Lid Fit
Lid fit is essential for braising and slow-cooking, and the Bruntmor Dutch Oven aced this test with flying colors. This dutch oven's lid fits snugly. Hence, it creates a tight seal that helps trap moisture and flavor inside. 
Bruntmor Dutch Oven's Handles and Product Design
The ergonomic handles make handling this dutch oven easy, even when it's filled to the brim with stew. I can maneuver and lift the pot even while wearing oven mitts or using a potholder. Having a lid handle designed to stay cooler would be a nice improvement here.
The overall design of the Bruntmor Dutch oven is somewhat similar to Staub. It is classic and elegant, which makes a great addition to any kitchen.
Maintenance and Cleaning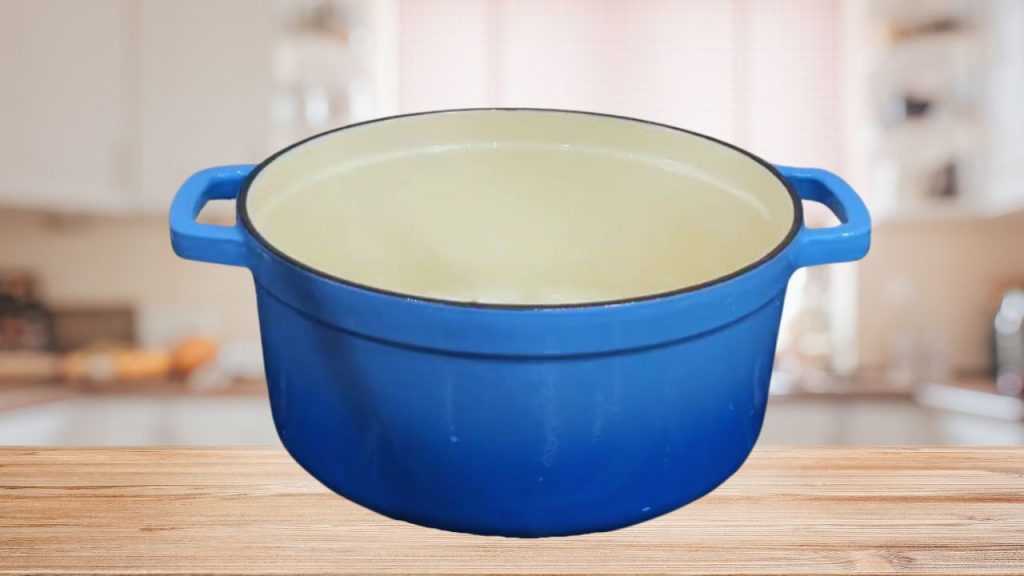 The enamel coating on the interior of the Bruntmor Dutch Oven makes cleaning relatively easy. However, I noticed some staining after braising red wine-based dishes, which required extra effort to remove. After a few uses, the stain gets even harder to remove.
Testing Durability and Performance of Bruntmor Dutch Oven
In terms of performance, I can say that Bruntmore does its purpose well. This dutch oven can handle heavy use and high temperatures without any signs of wear or performance degradation. 
With regard to durability, I think it can last long, although not at par with leading dutch oven brands. The materials used for the Bruntmor Dutch Oven may be impressive, but due to staining, I doubt it is something that you can pass onto the next generation.
Bruntmor's Warranty
Bruntmor offers a one-year limited warranty on their dutch oven, which is the standard. It would be even more reassuring if they extended it further. But I think a one-year warranty is good enough for its price point.
Sizes, Shapes, and Colors Available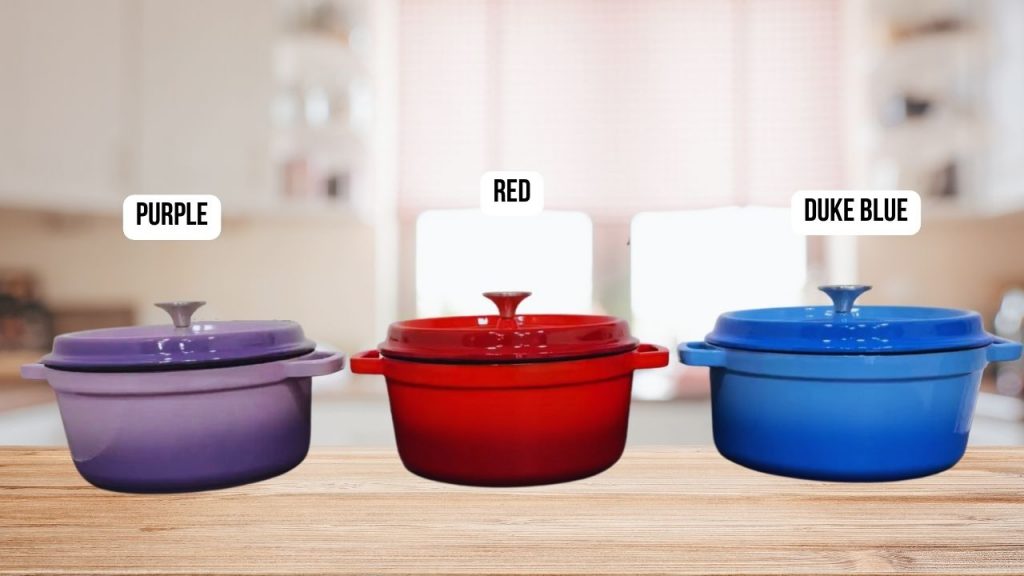 The Bruntmor Dutch Oven offers a range of options to suit every kitchen and personal style. This versatile cookware is available in a classic round shape, which is perfect for evenly distributing heat and simmering your favorite dishes to perfection.
When it comes to size, Bruntmor offers three convenient options to cater to different cooking needs. You can choose from the 3.8-quart, 4.5-quart, or the larger 6.5-quart dutch oven, ensuring you have the ideal capacity for family dinners or gatherings with friends.
The Bruntmor Dutch Oven is available in different vibrant colors, including Pumpkin Spice, Purple, Silver, Red, Duke Blue, Olive Green, and Turquoise.
Drawbacks of using Bruntmor Dutch Ovens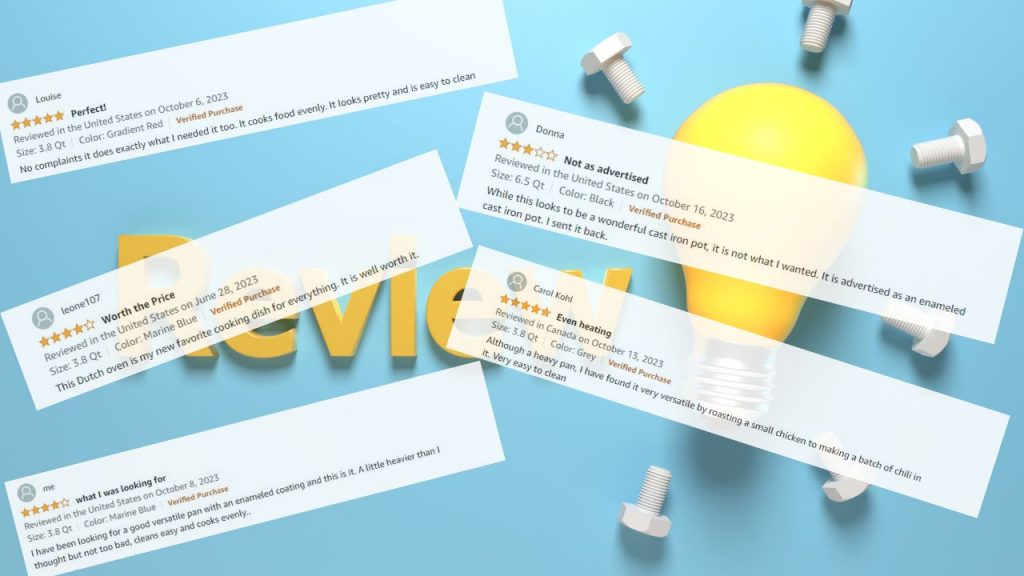 While the Bruntmor Dutch Oven offers numerous advantages, it's essential to acknowledge some of its drawbacks, as reported by customers on Amazon.
One Amazon customer noted a significant concern with the Bruntmor Dutch Oven, mentioning that it developed a crack in the ceramic coating after only a month or two of use. This issue raises questions about the long-term durability of the ceramic interior, which is crucial for preventing food from sticking and ensuring even heat distribution. The reported cracking is a cause for concern, as it could affect the pot's performance and lifespan.
Another customer review mentioned that the enamel of their Bruntmor Dutch Oven began to chip after just three months of regular use. Enamel chipping can not only affect the aesthetics of the cookware but also raise questions about its long-term durability and safety, as chipped enamel can potentially release harmful substances into your food.
Multiple customers have reported staining problems with their Bruntmor Dutch Ovens after only a few uses. Staining can be frustrating and affect the appearance of the cookware despite its functionality. It's important to note that while staining doesn't necessarily impact the performance of the dutch oven, it can be aesthetically displeasing.
While I have not found a Bruntmor Dutch Oven review from a famous chef, I have friends who are home cooks and are impressed with this kitchen workhorse. They like that this dutch oven works perfectly well for its price.
Conclusion
As a restaurant chef, I appreciate the Bruntmor Enameled Cast Iron Dutch Oven's performance and affordability. It excels in several key areas, such as heat retention and overall construction, making it a valuable addition to any kitchen.
However, the reported durability issues, including cracks, enamel chipping, and staining, do raise concerns, especially for long-term use and passing it down through generations.
In summary, here are the pros and cons of the Bruntmor Dutch Oven: 
Pros:
Bruntmor Dutch oven has impressive material and heat retention.

It is compatible with various heat sources.

The lid is tight and fits snugly.

The handles are ergonomic and have an elegant design.

Overall, the Bruntmor Dutch oven performs well in the kitchen.
Cons:
Some customers have reported concerns about cracks in the ceramic coating.

Enamel chipping and staining concerns have also been noted.

This dutch oven may be too heavy for some stovetops, and users with delicate glass cooktops should exercise caution.
The Bruntmor Dutch Oven offers a compelling option for home cooks seeking a versatile and functional dutch oven without breaking the bank. It performs admirably in various aspects, but potential long-term durability concerns should be considered.
If you're looking for a budget-friendly dutch oven with decent performance and are willing to manage its potential drawbacks, the Bruntmor Dutch Oven might be worth considering for your culinary endeavors.