As a seasoned restaurant chef with over a decade of experience, I've had the privilege of working with various dutch ovens throughout my culinary career. I recently got the opportunity to test the Food Network Enameled Cast Iron Dutch Oven, which I discovered on an online forum.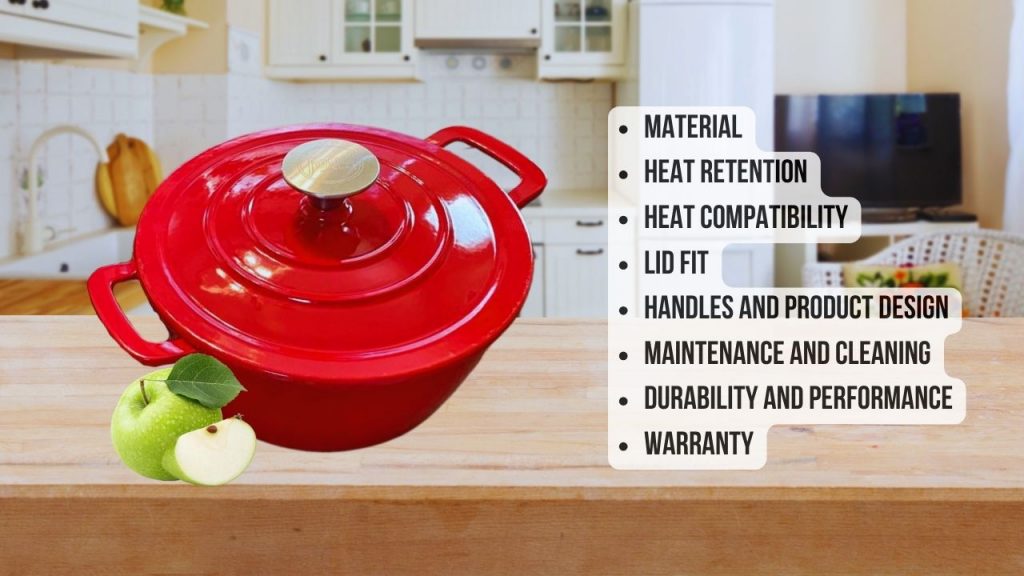 I evaluated it based on a set of critical parameters, such as the following:
Material

Heat retention

Heat compatibility

Lid fit

Handles and product design

Maintenance and cleaning

Durability and performance

Warranty
Similar to my previous dutch oven reviews, I made my favorite Red Wine Braised Short Ribs to test the Food Network Enameled Cast Iron Dutch Oven. Check out my detailed review below.
Materials
The Food Network Dutch Oven is constructed from durable cast iron, which is renowned for its excellent heat retention and even heat distribution. The enameled finish adds a layer of protection against rust and makes it easy to clean.
While I was unboxing the Food Network Dutch Oven, I immediately noticed that it was not as thick as other dutch oven brands. I knew right away that it might not be on par with the premium dutch oven brands I have used before.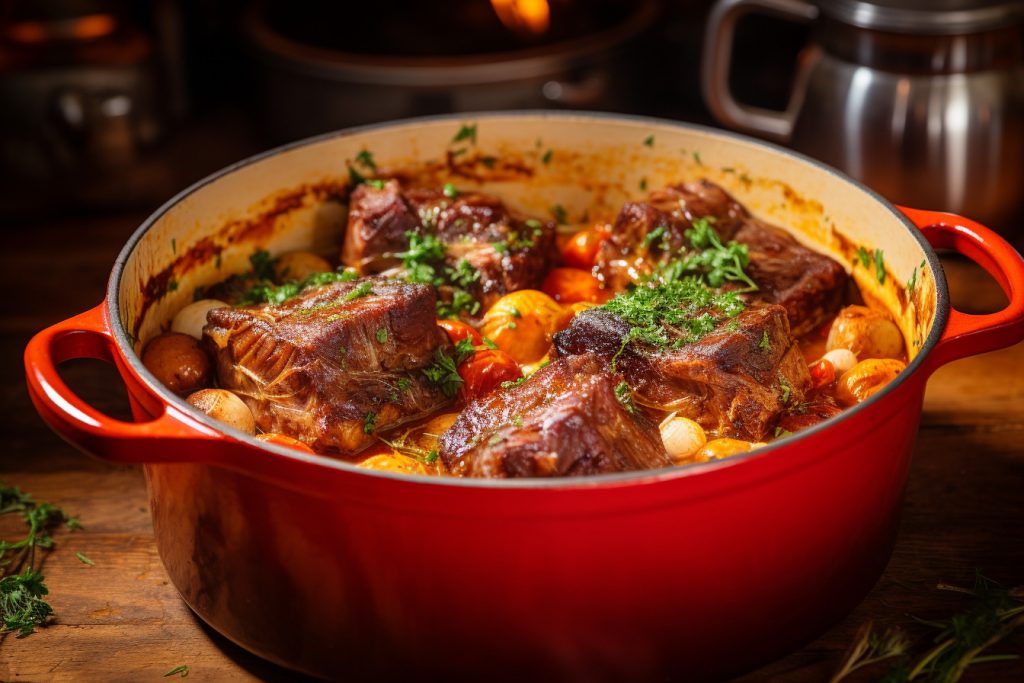 Heat Retention of Food Network Dutch Oven
The Food Network Dutch Oven retains heat well and maintains a steady temperature throughout the cooking process, whether slow-simmering a stew or braising short ribs. Heat retention is a crucial aspect in Dutch ovens for achieving perfect dishes. As a result, my Red Wine Braised Short Ribs were cooked to perfection. The meat is browned evenly, and it is tender inside.
Testing Heat Compatibility
The Food Network Dutch Oven's compatibility with various heat sources, including gas, electric, induction stovetops, and oven use, is a significant advantage. This versatility is a crucial feature, especially for a professional chef like me who relies on precise control over cooking temperatures.
Aside from cooking braised short ribs, I was also able to use this dutch oven to make soups and baking bread.
Lid Fit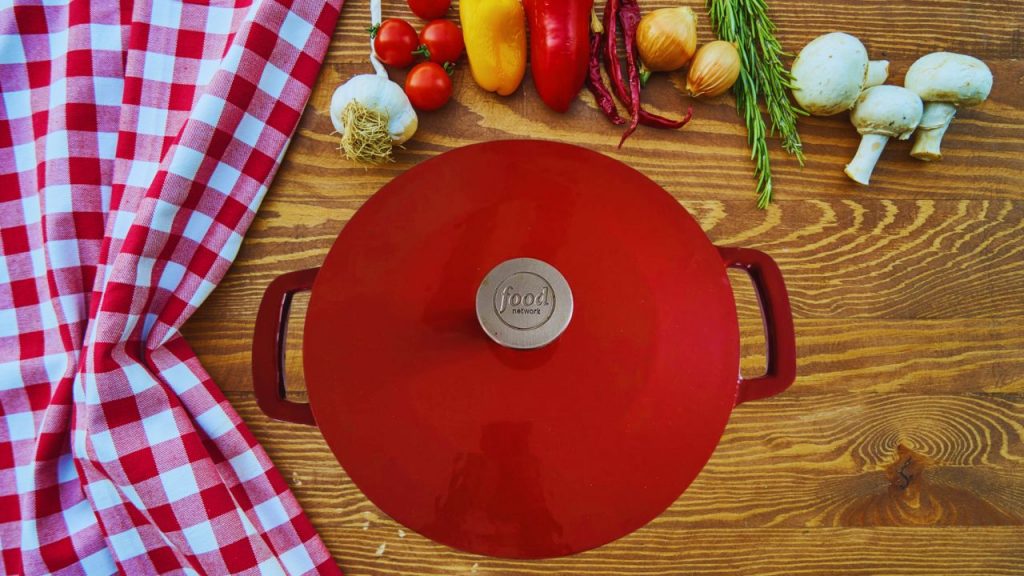 The lid of the Food Network Dutch Oven fits snugly, effectively trapping moisture and heat within. However, I noticed a minor issue with steam escaping at times, which could affect the final texture of some dishes. Thankfully, my braised short ribs still turned out tender and moist.
Food Network Dutch Oven's Handles and Product Design
The ergonomic handles on this dutch oven can be a bit narrow when you are using oven mitts. This downside can make it difficult to lift and maneuver, especially when it is filled with food.
Nonetheless. the overall elegant design of the product itself is visually appealing and complements any kitchen decor. 
Maintenance and Cleaning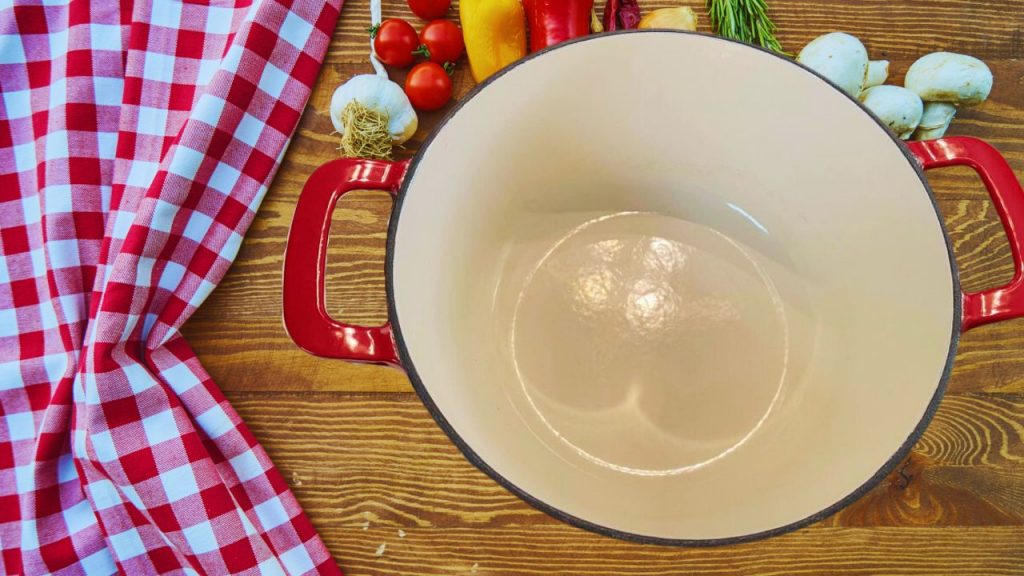 Cleaning the Food Network Dutch Oven is a breeze since it has an enameled surface. Food residue comes off easily with minimal scrubbing, and it doesn't require seasoning like traditional cast iron. However, you must be careful with scrubbing as the enamel coat may chip over time.
Durability and Performance
The Food Network Dutch Oven performed admirably during my test. It withstood high-heat searing and long, slow braises without showing any signs of wear. However, long-term durability may be a concern, as I've encountered other brands with even thicker cast iron that offer increased longevity. Moreover, I noticed slight shipping at the bottom of the pan after using it twice.
Food Network's Warranty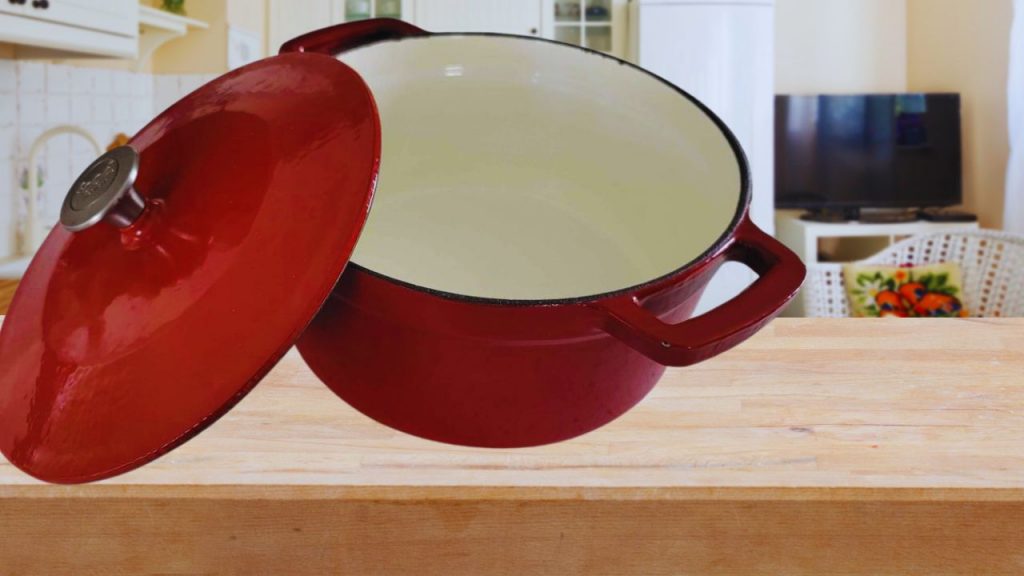 This dutch oven comes with a one-year warranty, which is standard in most kitchenware. However, I would have appreciated a more extended warranty period as an added assurance of its quality and durability.
Sizes, Shapes, and Colors Available of Food Network Dutch Oven
The Food Network Enameled Cast Iron Dutch Ovens are available in round shape. You can choose between 5.5-quart or 7-quart size. You can also choose from different colors below depending on your taste:
Black

White

Yellow

Gray Ombre

Red Ombre

Turquoise Ombre

Navy Blue Ombre
Drawbacks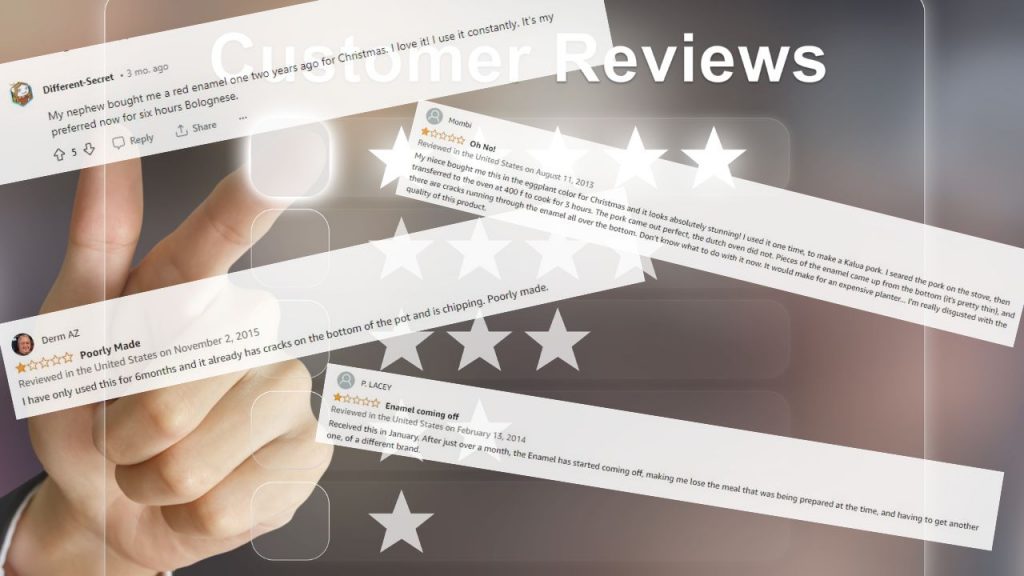 The online community has mixed reactions about the Food Network Enameled Cast Iron Dutch Oven. Some say it works well, and they have been using it for quite a while. On the other hand, some users don't find this dutch oven valuable for money.
Amazon customers reported issues with enamel chipping. They say that the surface scratches easily and peels off after two to three uses. One Reddit user also noted that the enamel surface is prone to staining and is tough to remove.
Another drawback is its weight. Even though its material is not as thick as the other dutch oven brands I used, I find it more challenging to lift and transport.
I have not seen a Food Network Dutch oven review from a famous chef. However, I was able to test this dutch oven with my chef colleagues, who were also not so impressed with it. 
Conclusion
As a restaurant chef with extensive experience, I must consider every aspect of a kitchen tool's performance. To conclude, here are its pros and cons:
Pros:
Heat Retention

: It maintains consistent temperatures, ideal for slow-cooking and braising.

Heat Compatibility

: It is compatible with various heat sources, including stovetops and ovens.

Maintenance and Cleaning

: The Food Network Dutch Oven is easy to maintain and clean due to its enameled surface.

Design

: It is aesthetically designed and available in several colors.
Cons:
Material Thickness

: It seems thinner than some premium brands, potentially affecting long-term durability.

Lid Fit

: Occasional steam escape issues may affect dish texture.

Handles

: Narrow handles can be challenging to maneuver with oven mitts.

Enamel Coating

: It is susceptible to chipping and staining over time.

Weight

: Despite the material not being as thick as other brands, it can still be quite heavy.

Warranty

: This dutch oven only comes with a one-year warranty.
The Food Network Enameled Cast Iron Dutch Oven has its merits, such as its excellent heat retention, compatibility with various heat sources, and ease of cleaning. It produced a delicious batch of Red Wine Braised Short Ribs during my test.
However, there are notable drawbacks, including concerns about long-term durability due to its thinner cast iron and enamel chipping and staining issues.
While generally good, the lid fit could use some improvement to prevent occasional steam escape. The handles can be a bit challenging to handle with oven mitts, although they are aesthetically pleasing.
Overall, the Food Network Dutch Oven is a decent option for home cooks and occasional use. However, from a professional chef's perspective, other dutch ovens on the market offer better long-term durability and performance. It may not be the best investment for chefs or serious home cooks who rely heavily on their dutch oven for consistent results and longevity.