In today's post, we are reviewing another Dutch oven that caught the attention of many chefs and cook enthusiasts, the Tramontina Dutch Oven.
Now, there are several Tramontina Dutch Oven variants, but I will be focusing on the Enameled Cast Iron 6.5-Quart Round Dutch Oven in this review. 
As a restaurant chef with ten years of experience, I already tried various ovens and cookware. Some really impressed me, while some did not. Hence, this review will guide you in deciding whether to buy Tramontina Dutch Oven. 
I tested this Dutch oven considering the following factors in our test process:
Material

Heat retention

Heat compatibility

Lid fit

Handles and product design

Maintenance and cleaning

Durability and performance

Warranty
Like our previous Dutch oven reviews, I tested my Tramontina Dutch Oven by cooking Red Wine Braised Short Rib. Read on to see my detailed review below.
Materials of Tramontina Dutch Oven
Like most Dutch Ovens, Tramontina is crafted from cast iron with an enamel coating. This Dutch Oven exudes durability and weightiness.
It is versatile and can handle different kinds of meals like the Red Wine Braised Short Rib I made. The pot's rim and lid aren't coated, so it's best to season or oil those little strips to avoid rust.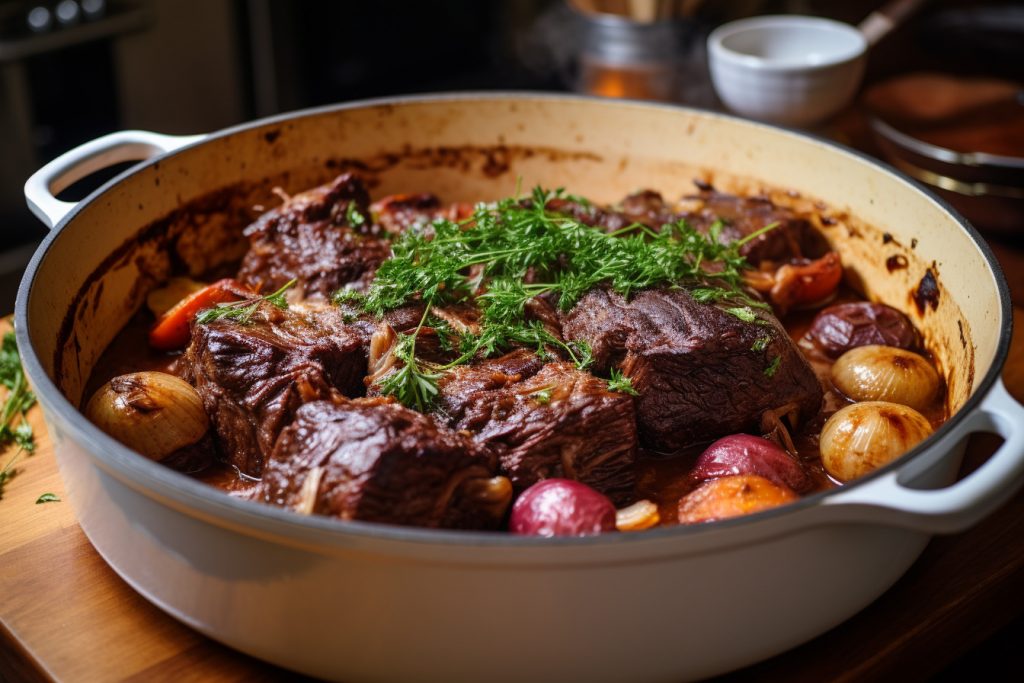 Heat Retention
This Dutch oven exhibits a gradual heating process with great heat retention. It is an ideal choice for prolonged braising and simmering of various dishes. I also tried using it for soups and stews, and the results were okay.
Similar to the functionality of a cast iron frying pan, you can also achieve a desirable sear on meats like beef by using Tramontina Dutch Oven. Searing serves as a preparatory step before transitioning into the stew-making process.
I also used this product for sautéing onions and carrots. With intermittent stirring, I was able to cook them without any risk of scorching, although heat control can be a trial-and-error process.
Testing Heat Compatibility by Tramontina Dutch Oven
Tramontina Dutch Oven is compatible with various heat sources. I was able to use it using induction, gas, electric, or ceramic glass cooktops. Its versatility makes it ideal to use for various cooking techniques and recipes, including slow braising, which I tested.
Lid Fit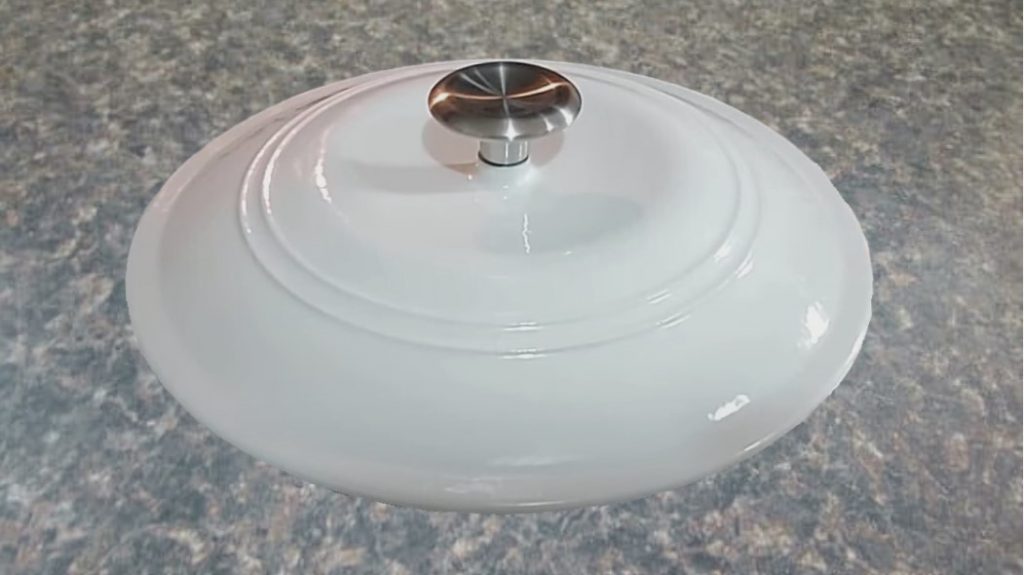 Tramontina Dutch Oven's lid has a polished stainless steel composition and offers a comfortable grip. The lid also seems snug-fitting; however, I noticed some minor steam leakage, which could potentially impact the outcome of certain dishes. 
Tramontina Dutch Oven's Handles and Product Design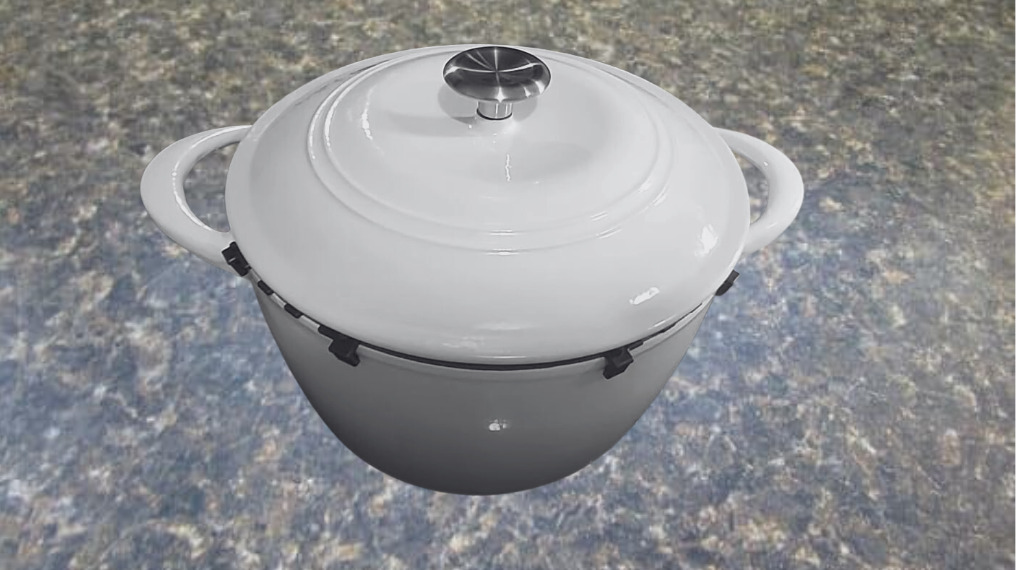 The inside of the Dutch oven has a creamy color instead of a very bright white. Tramontina offers several colors of Dutch ovens, I got the teal one, and it looks really lovely. Under the lid, there are raised lines that catch water droplets and let them fall onto the food to keep it moist while cooking.
Overall, the way this Dutch oven looks and works isn't very different from the ones I've used before. I think any changes might only become noticeable after years of usage. It might not be a pot that you can pass down to your children and grandkids, but it seems strong enough to last a long time.
Maintenance and Cleaning
Hand washing this Dutch oven is hassle-free since it has a smooth enamel surface. I was able to remove stubborn food residues with minimal soaking and gentle scrubbing with a good cast iron scrubber.
However, the light-colored interior may stain over time with regular use and affect its aesthetic appeal. It is also worth mentioning that drying the uncoated cast iron is one way of preventing rust formation.
Durability and Performance
In terms of durability, the dutch oven has a sturdy build that is designed to last. It consistently delivered flavorful and tender results with the Red Wine Braised Short Rib. However, as I previously mentioned, Tramontina dutch oven may not be something you can pass down as an heirloom.
Warranty provided by Tramontina Dutch Oven
Tramontina dutch oven offers a limited lifetime warranty which provides a level of reassurance to users. It also shows the manufacturer's confidence in the product's longevity. 
Sizes, Shapes, and Colors Available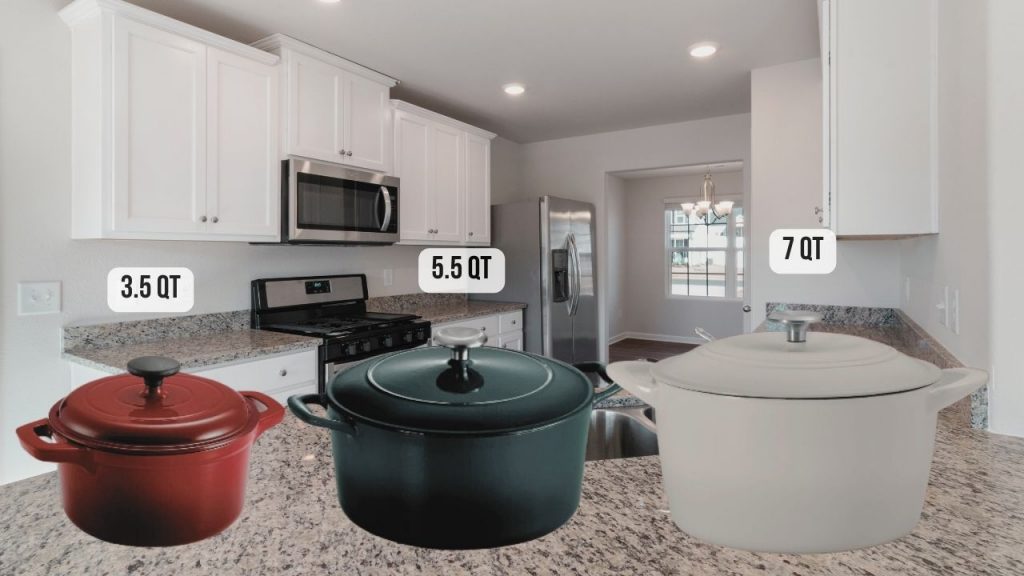 This Dutch oven also comes in plenty of sizes, shapes, and colors. You may go to the chart below for your reference.
| | | |
| --- | --- | --- |
| Sizes | Colors | Shapes |
| 7 qt | Sunrise, Red, Latte, Gunmetal, Peacock, Eggplant, Classic Blue, Basil, Arctic Blue | Tall Round |
| 7 qt | Gradated Red, Gradated Cobalt | Oval |
| 7 qt | Matte Teal, Matte White, Matte Gray | Square |
| 6.5 qt | Gradated Teal, Gradated Red, Gradated Gray, Gradated Blue | Round |
| 5.5 qt | Majolica Red, Matte White, Medium Blue, Gradated Red, Gradated Cobalt, Matte Black | Round |
Drawbacks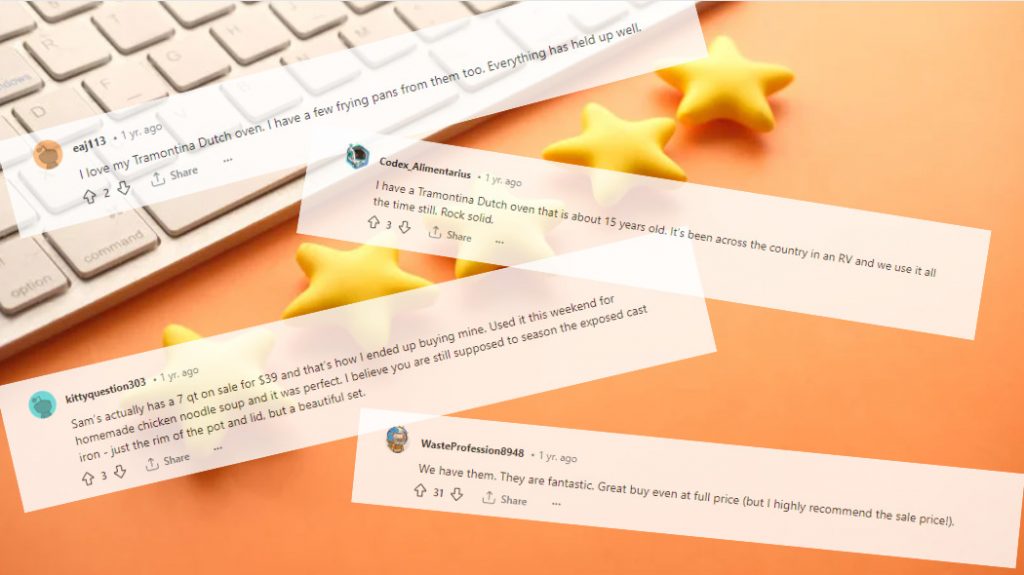 One challenge I encountered was the initial learning curve needed to master heat control. The Dutch Oven has excellent heat retention, which is great for even cooking, but it may require some trial and error to find the proper settings for different recipes.
Furthermore, during my testing, I noticed a minor steam leakage issue from the lid. While it didn't drastically affect the Red Wine Braised Short Rib I made, it was a noteworthy drawback.
Feedback on platforms like Amazon and Reddit shows different opinions about the Tramontina Dutch Oven. While some users praise its performance and features, others express dissatisfaction due to enamel chipping and durability.
One Amazon Tramontina Dutch Oven review also stated concern about the outer color of the pot. It said that the color changes over time. These varying reviews could leave potential buyers feeling uncertain about purchasing the product.
My co-chefs who have tried Tramontina Dutch Oven recognize its potential. However, they also expressed reservations about its consistency and the occasional enamel issues.
Conclusion
The Tramontina Enameled Cast Iron Dutch Oven offers a lot of advantages. Its exceptional heat retention ensures even cooking, while its versatility enhances its suitability for various methods of cooking.
The user-friendly design, including ergonomic handles, also adds to its practicality.
However, drawbacks like the learning curve associated with heat control, minor steam leakage from the lid, and enamel chipping cause some uncertainties to users.
As a restaurant chef, I believe the Tramontina Enameled Cast Iron Dutch Oven has definite merits and downsides. While I appreciate its versatility and potential, other options on the market might better suit the demands of professional cooking environments.
However, if you are looking for an affordable Dutch oven for home cooking, then, Tramontina might be a good option for you.