As a chef for ten years, I already used different kitchen equipment and tools. Some cookware was an excellent addition to the kitchen, and some were not. Today, I am reviewing another dutch oven I tested, the Instant™ Precision 6-quart Dutch Oven.
I discovered this product through an ad while I was browsing online. I have seen Instant Pots before, but this particular model enticed me to research more about it. I got curious, so I checked out what this dutch oven has to offer and looked into some reviews, too.
The Instant Precision Dutch Oven is a cutting-edge electric dutch oven that offers cooking technology that sets it apart from traditional dutch ovens.
Notable features of this product include a user-friendly control panel that you can find on the cooker base. It has the same design elements seen in other Instant Pot models. This panel features a touch-sensitive screen and a tactile dial to make temperature and cook time settings as simple as possible.
Since I found this dutch oven intriguing, I immediately ordered one to try it in my home kitchen.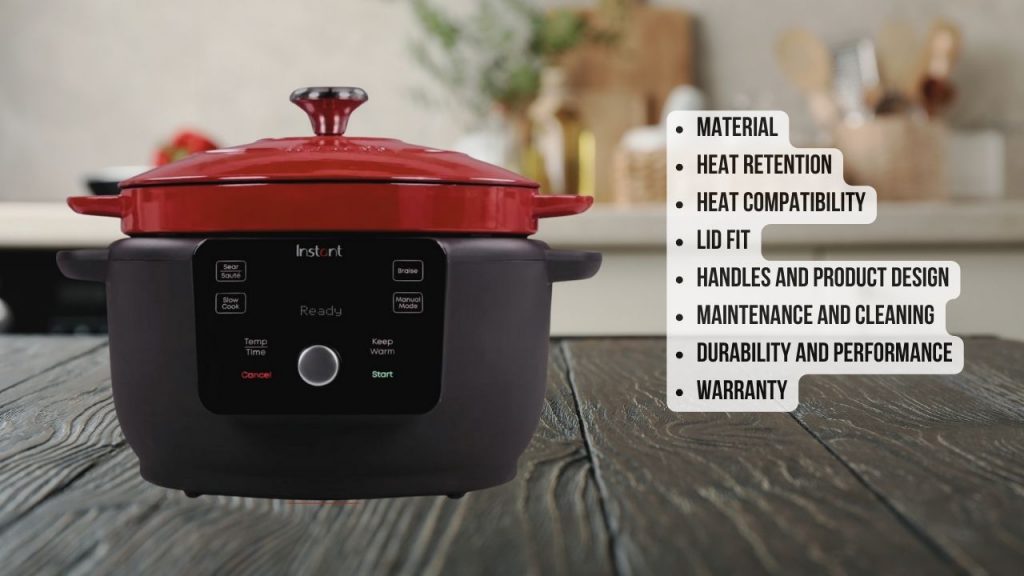 Similar to my past dutch oven reviews, I tested the Instant Dutch Oven by cooking my favorite Red Wine Braised Short Rib based on the following parameters:
Material

Heat retention

Heat compatibility

Lid fit

Handles and product design

Maintenance and cleaning

Durability and performance

Warranty
Check out my full review of Instant™ Precision 6-quart Dutch Oven below.
Materials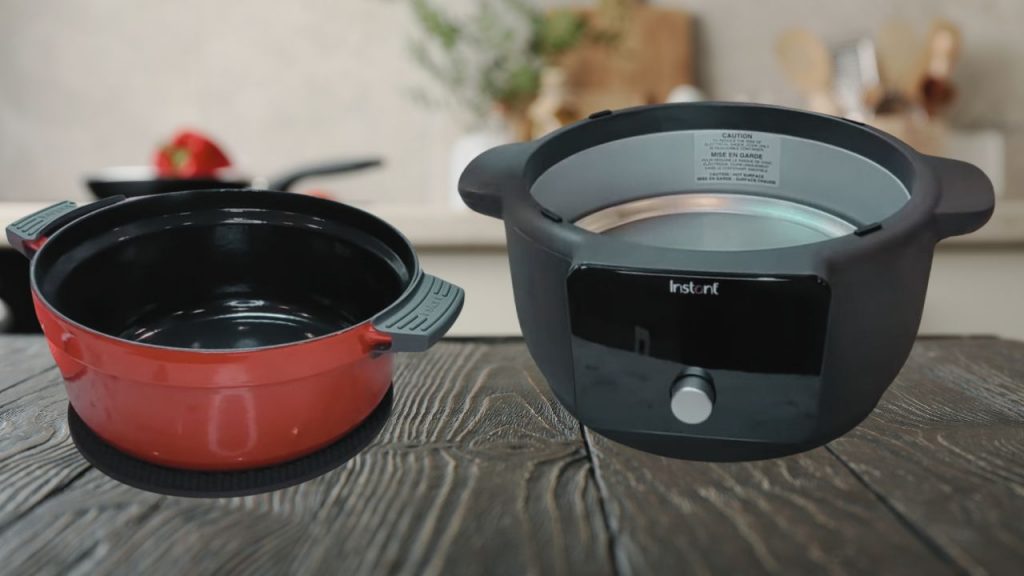 Instant™ Precision 6-Quart Dutch Oven includes a 6-quart pot forged from heavy-duty enameled cast iron.
The robust cast iron construction ensures even heat distribution, which enables precision in cooking techniques. 
The enameled surface not only imparts a touch of elegance to the dutch oven's aesthetic but also serves as a barrier that prevents the ingredients from sticking to the pot's surface.
This dutch oven also includes a silicone pad that protects countertop surfaces from the heat. Additionally, the silicone handle covers offer a secure grip for serving.
Testing Heat Retention of Instant Precision Dutch Oven
The Instant Precision Dutch Oven didn't disappoint me in terms of heat retention. The pot locks in heat and allows precise temperature control, which results in rich flavor dishes.
I didn't find any issue with its heat retention. There are no leaks whatsoever. My Red Wine Braised Short Ribs turned out moist and tender.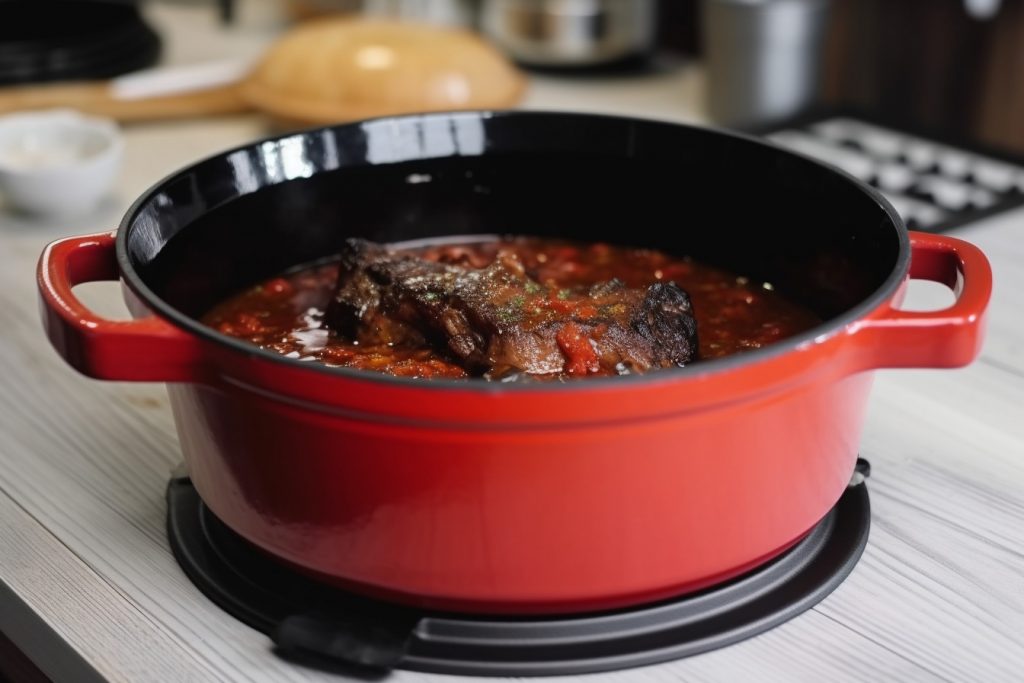 Heat Compatibility
Instant Precision Dutch Oven has a unique design that facilitates a smooth transition from the electric cooker base to the stovetop and even to the oven. You can remove the cooking pot from the cooker base and place it on the stovetop, oven, and even on your table to serve your dishes beautifully.
Aside from braising, I also tried using this dutch oven to saute and make soups. So far, the results were also satisfactory as my dishes turned out well. 
Lid Fit
The lid of a dutch oven maintains moisture and flavor. The Instant Precision Dutch Oven has a meticulously crafted matching lid with a braising grid. This lid ensures that steam circulates effectively within the pot, enhancing the succulence of dishes.
Handles and Instant Precision Dutch Oven Product Design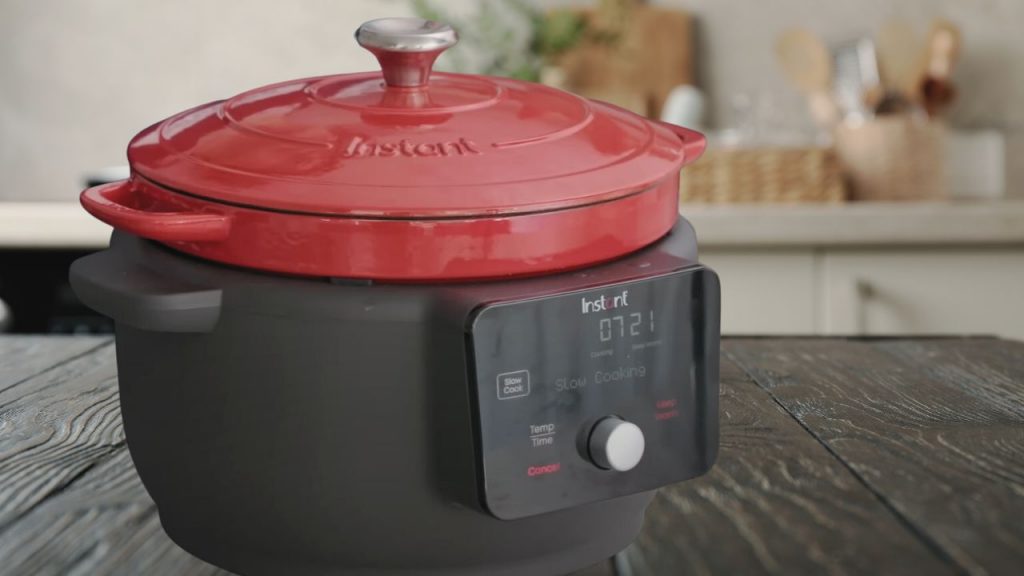 The handles of this dutch oven are ergonomic enough to grip and lift it securely. I was able to carefully remove it from the cooker base and transfer it to the stovetop without any problems because of its silicon handle covers.
The overall design aesthetic is elegant and functional, making the Instant Precision Dutch Oven an eye-catching addition to your kitchen.
Maintenance and Cleaning
Ease of cleaning is another factor that all home cooks look for in a dutch oven. The Instant Dutch Oven's non-stick enamel coating simplifies the cleaning process.
The manual says it is dishwasher safe, but I still prefer to wash it by hand like my other traditional dutch ovens. A quick soak and a gentle scrub are often sufficient to clean and maintain the Instant Precision Dutch Oven.
Durability and Performance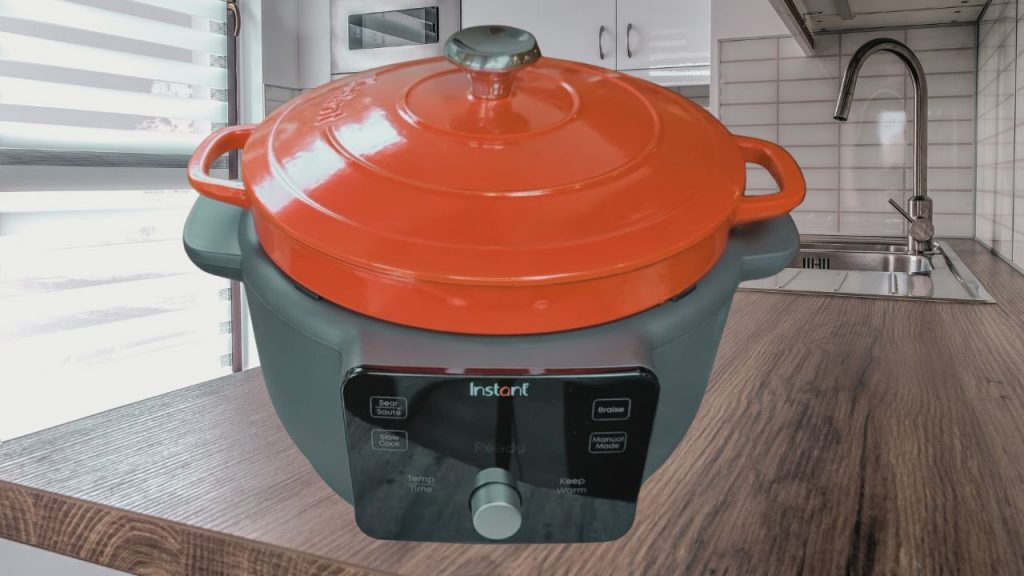 The Instant Precision Dutch Oven is durable and seems long-lasting based on its appearance and robust material construction. I have used mine for over six months, and it still functions well like when I first used it. I am hoping that it will last longer so that I can get my money's worth.
Instant's Warranty
The Instant Precision Dutch Oven comes with a comprehensive One-Year Limited Warranty. This warranty extends exclusively to the original owner who procured the appliance from authorized Instant Brands retailers.
Should any problems arise due to defects in materials or workmanship, Instant Brands may offer repairs to reinstate the appliance's pristine condition or replace the item with one that mirrors the capabilities and specifications of the original.
I did not encounter any defects or issues with my Instant Dutch Oven, and I hope it will continue to function well so I do not have to go through the dilemma of repairs or replacements.
Sizes, Shapes, and Colors Available of Instant Precision Dutch Oven
The Instant Precision Dutch Oven only comes in 6-quart size and round shape, but there are several colors available that you can choose from.
You have the option to select from the following Instant Precision Dutch Oven colors available:
All the colors look aesthetically pleasing to the eye. I got the red one because it seems more appealing to me.
Drawbacks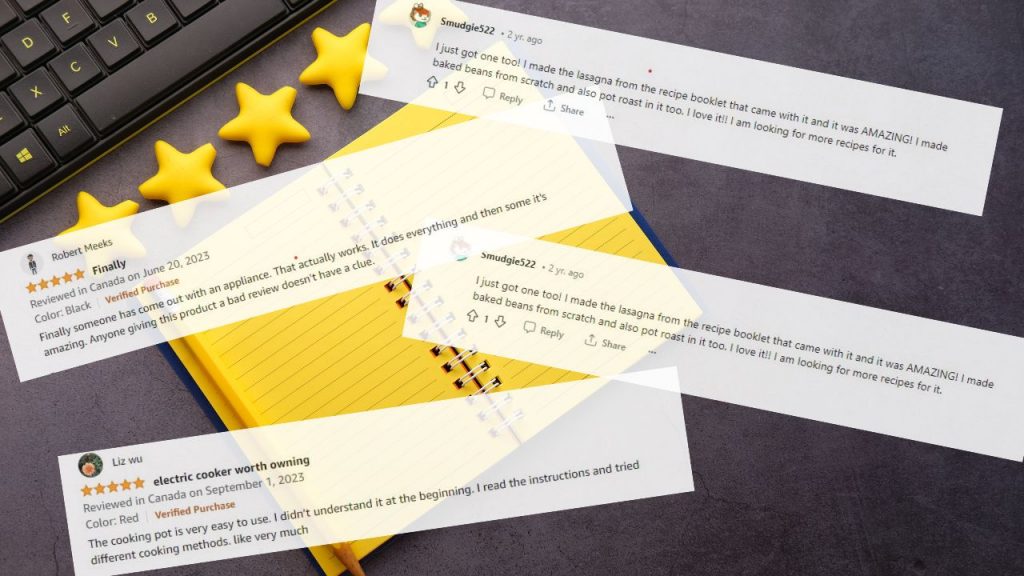 While I generally like this dutch oven, I've read a few user issues on Amazon. One user said that the lid is not tight fitting as they found liquid pooling around the lid below the cooker. Another user says that the cord is not too long, while another hopes it has an option for an even lower temperature.
Reddit users also reported some performance issues. Some say that the Instant Precision Dutch Oven cannot replicate the efficiency and durability of a traditional dutch oven. Other users mention that they find it difficult to clean it.
I haven't found any famous chef reviews about the Instant Dutch oven. But you can check out Food Network's review about this electric dutch oven.
Conclusion
Testing the Instant Precision 6-Quart Dutch Oven was a great experience as it showcases a different approach to traditional dutch oven cooking. To summarize, here are the pros and cons of the Instant Precision Dutch Oven based on my test and comments from other users:
Pros:
Excellent durable construction

Great heat retention

Efficient cooking performance
Cons:
Concerns about the lid's fit and the potential for liquid pooling around the cooker

Not as practical and durable as traditional dutch ovens
As a chef who values performance, convenience, and innovation, my experience with the Instant Precision Dutch Oven has been overwhelmingly positive. It has proven to be an excellent culinary companion that boosts my cooking experience.
While the Instant Precision 6-Quart Dutch Oven may have a few minor issues from consumers, my personal assessment is that it is a remarkable culinary tool. Its fusion of modern technology with traditional dutch oven principles has led to cookware that elevates the cooking experience to new heights.