As a restaurant chef for over ten years, I realized that there are kitchen tools and there are kitchen treasures. The Le Creuset Dutch Oven undoubtedly belongs to the latter category.
Many chefs and cooking enthusiasts vouch for the functionality and durability of Le Creuset. This cookware is most people's dream item in their kitchen. However, some may doubt getting The Le Creuset Dutch Oven because it is costly.
In this post, I will share my extensive review of Le Creuset Dutch Oven. I have used this cookware brand for years, and my cooking experience using their remarkable products has always been excellent.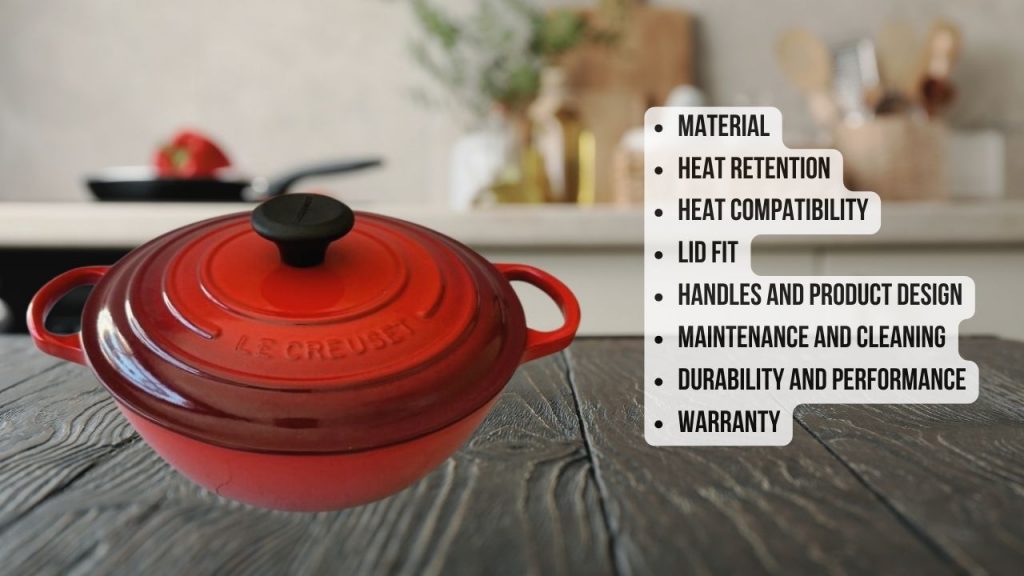 Similar to my previous dutch oven reviews, I put my Le Creuset to the ultimate test by making my favorite Red Wine Braised Short Ribs. My review below will be based on the following parameters:
Material

Heat retention

Heat compatibility

Lid fit

Handles and product design

Maintenance and cleaning

Durability and performance

Warranty
Read on to check my detailed Le Creuset Dutch Oven review.
Materials of Le Creuset Dutch Oven
The Le Creuset Dutch Oven is crafted from premium cast iron. Its robust construction ensures even heat distribution and retention, allowing for consistent cooking results. This material guarantees durability and imparts a unique flavor depth to dishes.
All of Le Creuset's cast iron cookware is individually cast in sand molds and meticulously examined by skilled French artisans. Every piece of cast iron boasts a heritage-inspired design. The inclusion of ergonomic handles and knobs adds both functionality and aesthetic charm.
Heat Retention
This dutch oven showcased its exceptional heat retention capabilities from searing to simmering. I was really impressed with how it holds when it reaches my desired temperature. There is no need for me to keep adjusting or do trial-and-error tests.
My Red Wine Braised Short Ribs was successful because of Le Creuset's superior heat retention. The meat was tender and succulent. Hence, we were able to enjoy each bite of my dish.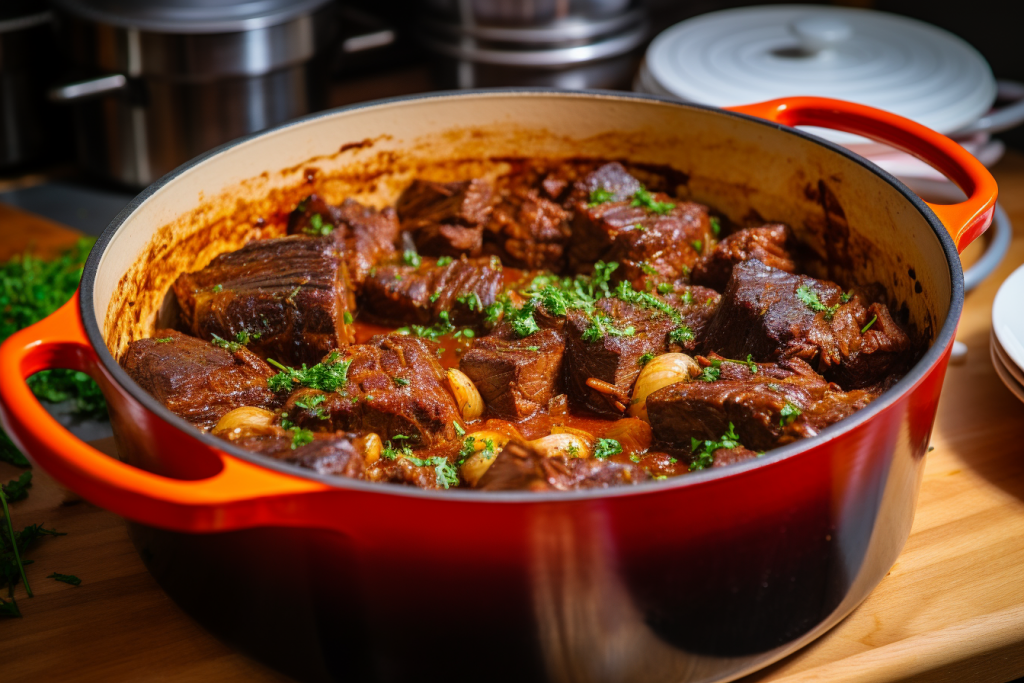 Testing Heat Compatibility of Le Creuset Dutch Oven
Versatility is a hallmark of the Le Creuset Dutch Oven. It performs flawlessly, whether on the stovetop or in the oven. The oven-safe design also allowed me to start cooking on the stovetop and seamlessly transfer to the oven for finishing touches.
This feature is a game-changer for dishes like the braised short ribs, where a combination of cooking methods is critical to achieving perfection.
Lid Fit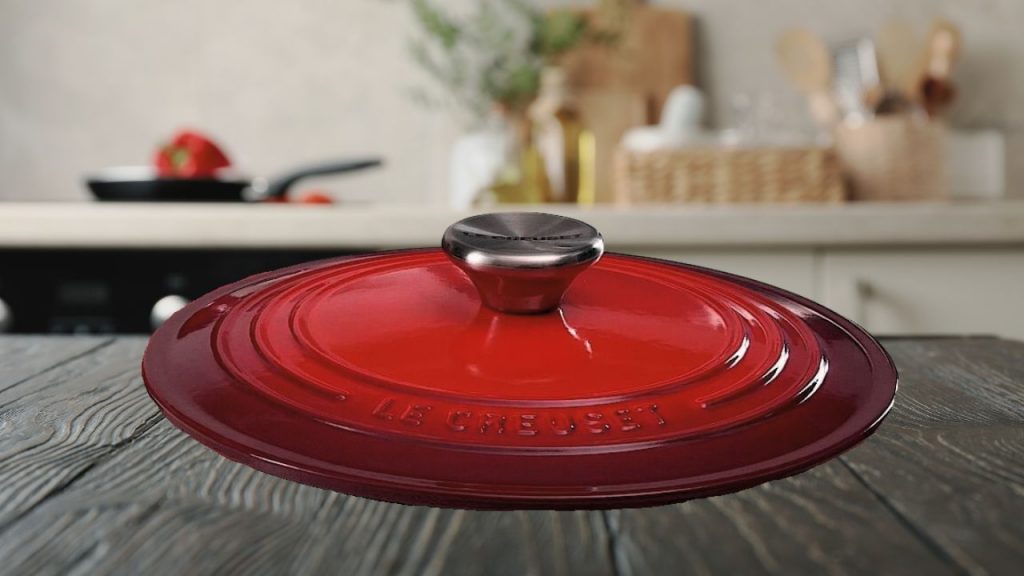 Le Creuset Dutch Oven has a snug-fitting lid, which I really find amazing. Its precision fit locks in moisture and flavor, resulting in moist and delectable dishes.
This dutch oven is indeed crafted to hold through the hours of slow cooking. It can keep moist well, leading to a rich and concentrated sauce that coats the short ribs beautifully.
Handles and Product Design Assessment
Le Creuset's attention to detail is evident in the dutch oven's design. The ergonomic handles are not only aesthetically pleasing but also practical. These handles help me hold Le Creuset Dutch Oven in a secure grip whenever I lift and transfer the dutch oven.
The product's elegant design adds a touch of sophistication to any kitchen. You can also choose from various vibrant colors that offer a personal touch to match any décor. We will discuss more about this selection later.
Maintenance and Cleaning
While some cast iron cookware can be a hassle to clean, the Le Creuset Dutch Oven proved to be surprisingly low-maintenance. I did not experience any challenges in cleaning and maintaining this cookware.
The Le Creuset Dutch Oven's enamel coating on the interior and exterior makes cleaning easy. I could clean it quickly by soaking it and gently scrubbing it with the help of a good cast iron scrubber.
To protect and maintain the dutch oven's pristine condition, refrain from cooking with metal utensils. I only use wood, nylon, or silicone utensils.
You should also shield your Le Creuset Dutch Oven from abrupt temperature fluctuations to prevent warping. Additionally, I recommend using a pan protector when storing another pot within it.
Durability and Performance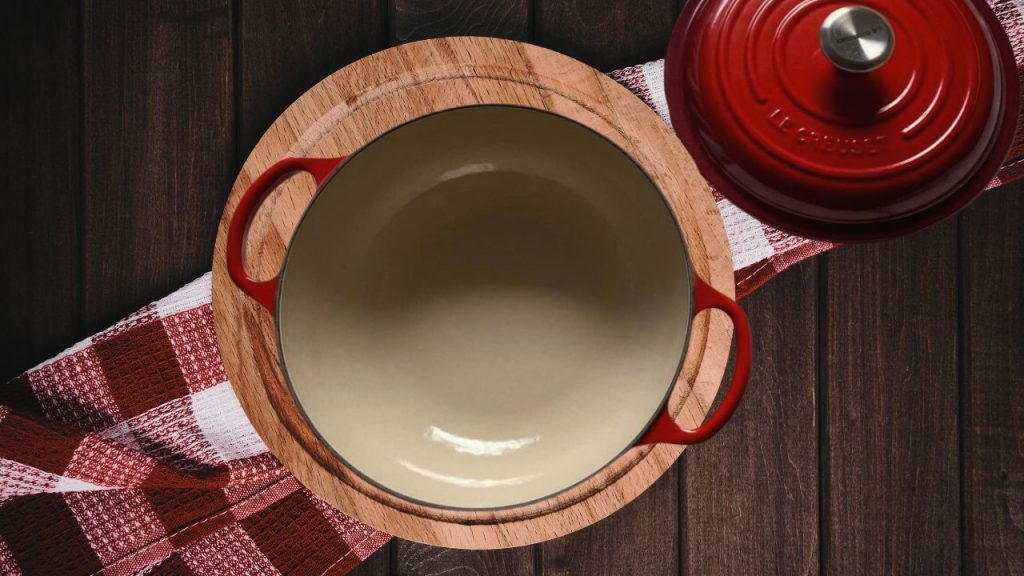 Le Creuset has an excellent reputation for durability. Its sturdy construction and high-quality enamel ensured that it retained its remarkable cooking properties. 
The robust cast iron walls exhibit impressive resistance to warping. Its triple-layered enamel remains resilient to chipping or scratching unless subjected to considerable misuse.
So far, in my usage, my Le Creuset Dutch Oven has shown no signs of wear or performance degradation even after multiple uses.
While buying this dutch oven might require a substantial initial investment, Le Creuset is indeed a long-lasting cookware gem you can pass down to other family members.
Warranty Provided by Le Creuset Dutch Oven
When investing in the Le Creuset Dutch Oven, you're not just acquiring exceptional cookware; you're gaining a guarantee that reflects the brand's unwavering commitment to quality.
Le Creuset Canada Inc. extends a comprehensive warranty, outlining the extent of their faith in the durability and craftsmanship of their products.
The company provides a comprehensive lifetime warranty. Should your dutch oven fall within the ambit of its warranty, Le Creuset is committed to addressing any issues that may arise.
If your dutch oven displays manufacturing defects during its lifetime under normal household usage, Le Creuset will undertake necessary repairs or provide a replacement at no cost to you.
This warranty gives me peace of mind, making this kitchen essential even more worth buying.
Sizes, Shapes, and Colors Available of Le Creuset Dutch Oven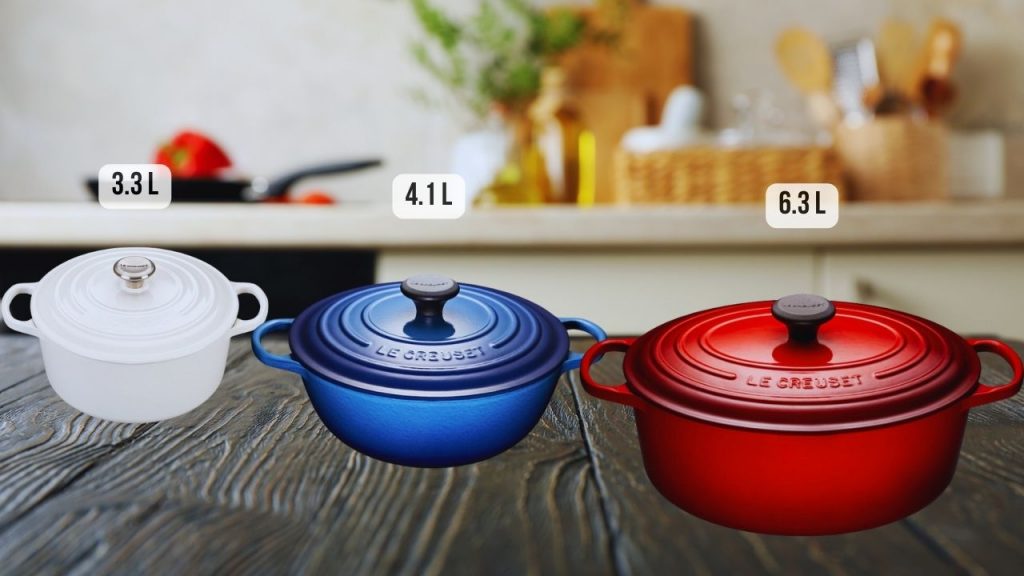 Le Creuset Dutch Oven is an aesthetic kitchen equipment, and it is available in many variants.
Shape / Variant
Colors
Size

Round

Cerise

Rhone

Flame

Sage

Artichaut

Chambray

Blueberry

Shallot

Shell Pink

White

Meringue

Nutmeg

Oyster

0.9 L

1.8 L

2.4 L

3.3 L

4.2 L

5.3 L

6.7 L

8.1 L

12 L

Oval

Cerise

Rhone

Flame

Sage

Artichaut

Chambray

Blueberry

Shallot

Shell Pink

White

Meringue

Nutmeg

Oyster

Chef's Dutch Oven

Cerise

Flame

Sage

Blueberry

Meringue

Oyster

Shallow Round

Cerise

Flame

Sage

Artichaut

Blueberry

White

Meringue

Oyster

Flower Cocotte

Nectar

Artichaut

Shell Pink

Meringue

24 cm (L) x 21.2 cm (W) x 13.6 cm (H)
Drawbacks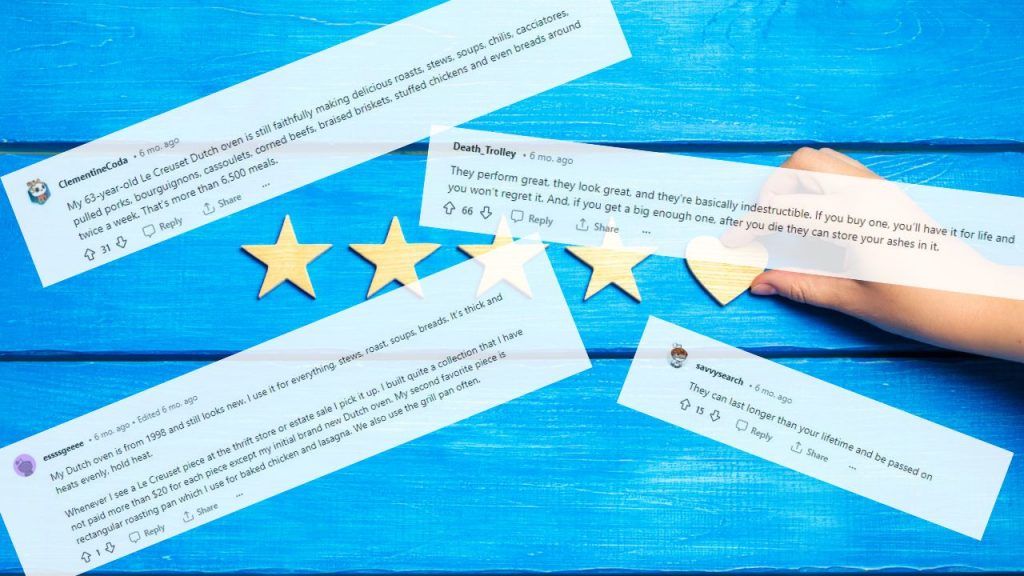 While every aspect of Le Creuset Dutch Oven is outstanding, one of the most significant drawbacks of this product is its price. It's an investment piece, and it comes with a premium cost. While its durability and performance justify the price for many, it might not fit everyone's budget.
Another disadvantage I could say is its weight. For those unaccustomed to cooking with cast iron, the Le Creuset Dutch Oven's weight might surprise you compared to other cookware.
There are very few comments about the downsides of Le Creuset Dutch Oven on Reddit. The only negative thing that users can say is that it is heavy. Other than that, most people say that it is worth your money.
On Amazon, customers are also happy about Le Creuset, and most of the negative reviews are due to shipping or Amazon service lapse—nothing about the dutch oven itself.
Many famous chefs admire Le Creuset and use the cookware in their home kitchens and restaurants.
In an article featured on money.com, Richard Blais, a prominent restaurateur and a familiar face on various culinary programs such as Top Chef, Master Chef, and Cutthroat Kitchen aired on FoodNetwork and Bravo, confidently asserts that Le Creuset cookware is built to last forever.
On foodandwine.com, Michael Cimarusti, a Michelin-starred chef renowned for owning Providence, a premier seafood haven in Los Angeles, states his deep appreciation for his Le Creuset cookware. He values it as an essential tool in his culinary arsenal and likes to make sauces, roast bones for meat juices, and lusciously flavorful soups using his Le Creuset Dutch Oven.
Conclusion
In conclusion, the Le Creuset Dutch Oven emerges as a culinary masterpiece that stands the test of time. While this dutch oven comes with a premium price tag, the investment is undeniably worthwhile for those who prioritize exceptional cooking experiences and durable kitchen companions.
Pros:
Unmatched Durability

Outstanding Heat Retention and Distribution

Versatile Cooking

Elegant Design

Generous Warranty
Cons:
Higher Price Point

Weight
The Le Creuset Dutch Oven undoubtedly garners a resounding endorsement in light of its exceptional features. This dutch oven is definitely worth the money.
As an experienced chef, I highly recommend this kitchen gem because of its timeless durability and aesthetic appeal, which makes it an invaluable addition to any kitchen.