The Cabela's Outfitter Series Camp Oven is a cast-iron dutch oven perfect for outdoor cooking. I recently tried this camp oven and tested its caliber by creating my favorite dish, Red Wine Braised Short Ribs.
As a seasoned chef with over a decade of expertise, I've had the opportunity to work with various kitchen and outdoor cooking gear.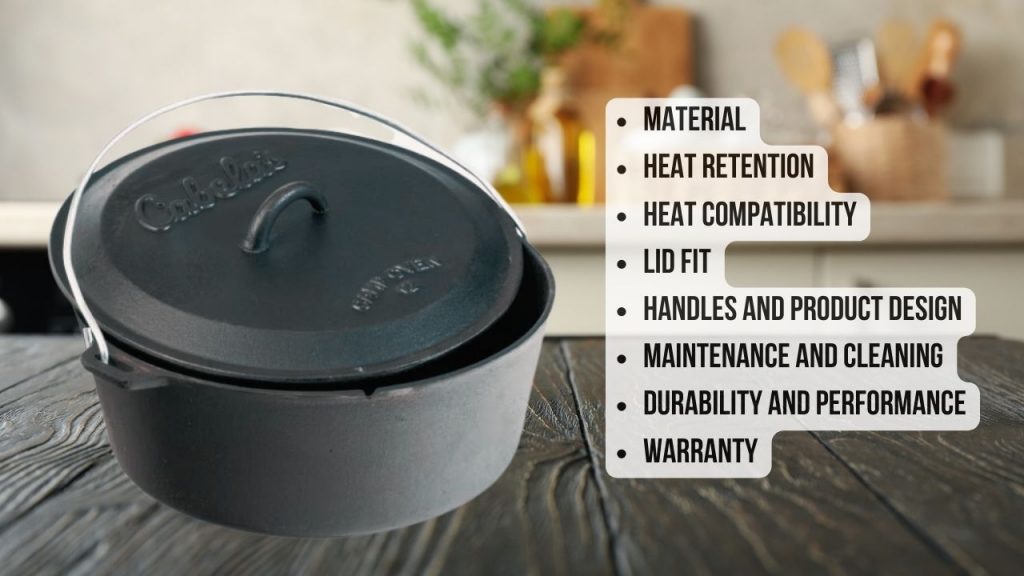 In this review, I'll walk you through my experience and rate Cabela's Camp Oven based on the following criteria:
Material

Heat retention

Heat compatibility

Lid fit

Handles and product design

Maintenance and cleaning

Durability and performance

Warranty
Read on to check my detailed Cabela's Camp Oven review.
Materials of Cabela's Camp Oven
Cabela's Camp Oven is constructed from heavy-duty cast iron, a material that has long been a favorite among chefs for its excellent heat retention and even distribution.
The thickness of the cast iron ensures consistent cooking temperatures, making it ideal for slow-cooking dishes like braised short ribs. It's worth noting that the build quality of this oven is outstanding, and it feels like a durable piece of equipment.
Heat Retention
Like most cast iron cookware, the camp oven showcased good heat retention capabilities. It maintained a reasonably stable and even heat throughout the cooking process, which is expected from cast iron.
However, it didn't excel or offer anything extraordinary in this department. My Red Wine Braised Short Ribs turned out good, but I noticed a slight difference in its texture compared to the short ribs I made using other dutch ovens.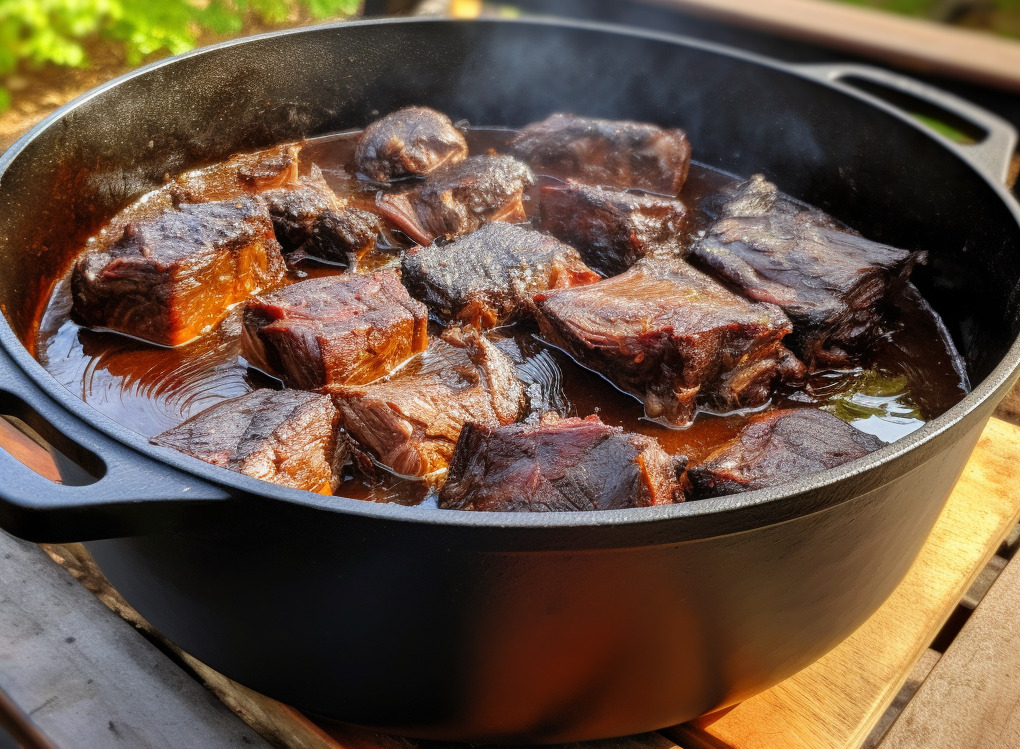 Heat Compatibility of Cabela's Camp Oven
The Cabela's Camp Oven does provide versatility in terms of heat compatibility, accommodating various heat sources such as campfires, charcoal, and conventional ovens. For my braised short ribs, I opted to cook it on a stovetop since I am using the flat one. While it worked acceptably, it didn't significantly enhance the cooking experience compared to other camp ovens I have tried.
Lid Fit
A secure-fitting lid is vital for successful braising and slow cooking. The Cabela's Camp Oven's lid fits well, but it's not exceptional. Some moisture loss occurred during cooking, which was disappointing. The handle on the lid is functional, but there's no standout feature about it.
Cabela's Camp Oven's Handles and Product Design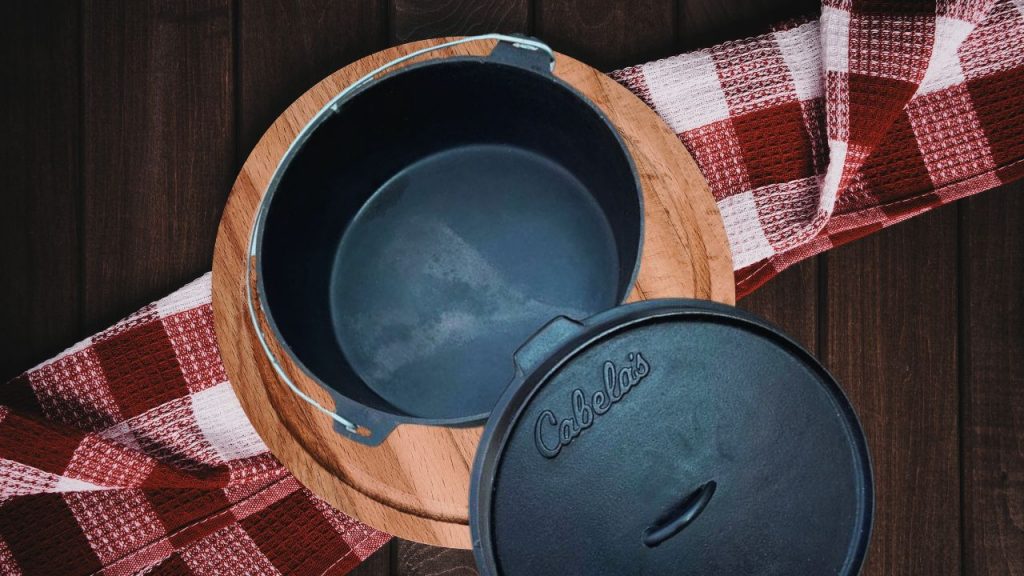 The design of the Cabela's Camp Oven is functional, but it lacks the finesse that could make it stand out. The handles are sturdy and practical, providing a decent grip even with oven mitts. The flat base is functional and ideal for cooking on a stovetop.
When cooking outdoors, I think it is best to use the camping oven with legs. It is suitable for cooking over wood or charcoal as its legs can support the pot.
Overall, the design of this camp oven is okay—nothing too fancy, which is suitable for outdoor use.
Maintenance and Cleaning
As with most cast iron cookware, the Cabela's Camp Oven requires extra care. Cleaning it after the short ribs was a bit of a chore, and it demanded diligent drying and re-seasoning to prevent rust. It's not the most user-friendly option on the market.
Testing Durability and Performance of Cabela's Camp Oven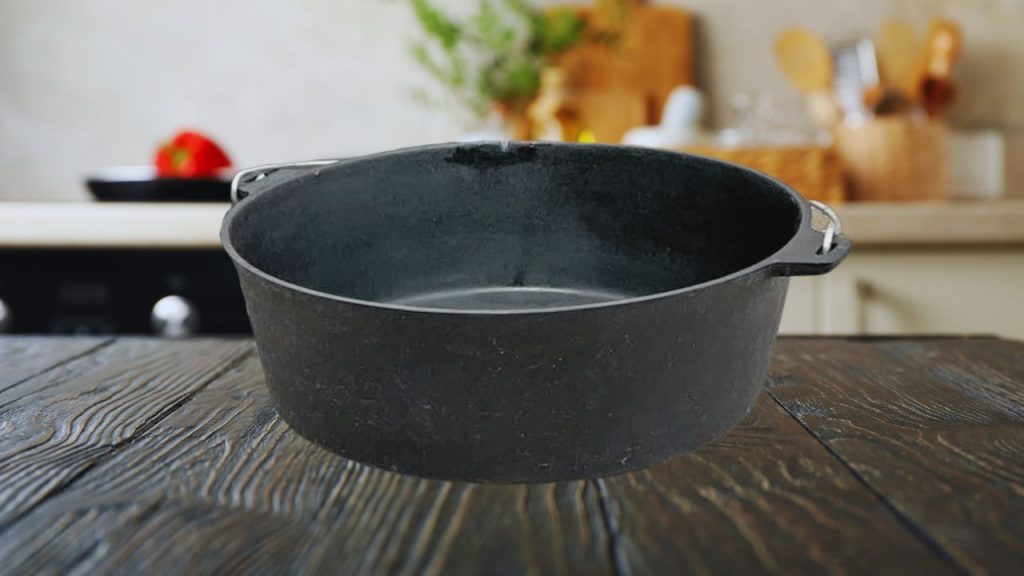 In terms of durability and performance, the Cabela's Camp Oven meets the basic expectations for a cast iron product. It can handle high heat and will likely serve adequately for an extended period. However, it offers no significant advantages over other cast iron ovens.
Cabela's Warranty
I couldn't find specific information regarding warranty, which adds to the overall uncertainty regarding the product's long-term durability and customer support. Although, there is a return and exchange information on their website that you can check.
Sizes, Shapes, and Colors Available
Cabela's Camp Oven only comes in a round shape and black color. Nonetheless, it offers a range of sizes to cater to the diverse needs of outdoor cooking enthusiasts.
These ovens are designed to provide versatility and convenience to suit your culinary adventure.
Here's an overview of the available sizes:
Medium Camp Oven (12 Inches):
It is a versatile choice suitable for most camping scenarios.

It offers a bit more cooking space compared to a small oven.

It is ideal for cooking larger meals such as stews, casseroles, and bread.
Large Camp Oven (14 Inches):
Designed for larger gatherings and extended camping trips.

It provides ample cooking space for roasting, baking, or simmering sizable portions.

Suitable for preparing family-sized meals and accommodating larger cookware.
Extra-Large Camp Oven (16 Inches):
The heavyweight champion of the Cabela's Camp Oven lineup.

Offers an expansive cooking area for cooking substantial feasts.

It is ideal for cooking whole chicken, turkey, and other large-portion meals.
Drawbacks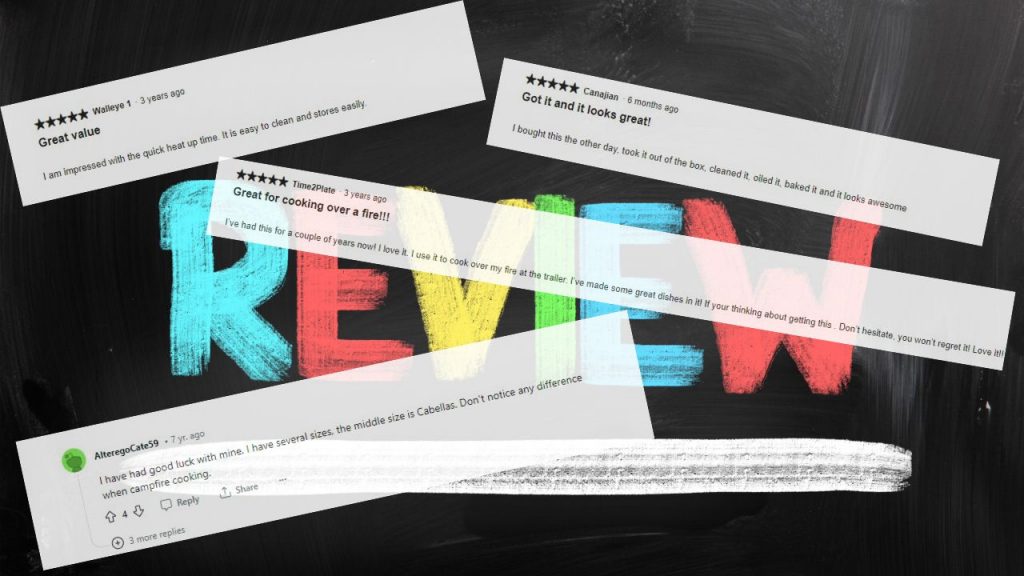 While Cabela's Camp Oven does its purpose, it's still essential to note some of its drawbacks. Here are some common disadvantages that I experienced and read in some online reviews:
Lack of Distinct Features
Users on Reddit have pointed out that this product doesn't offer any substantial differences compared to other cast iron dutch ovens.
Weight and Portability
While cast iron inherently adds weight to any cookware, some users have commented on the camp oven's heft, making it less convenient for backpacking or situations where you need to minimize gear weight.
Maintenance and Rust
Cabela's Camp Oven requires meticulous maintenance, like all cast iron cookware, to prevent rust. Some users have noted that this camp oven can be challenging to maintain, particularly for those new to cast iron care, which can be discouraging.
Lack of Information on Warranty
Users also expressed their concern about the lack of clear warranty information for the Cabela's Camp Oven. This ambiguity can make potential buyers hesitant, especially when investing in a durable piece of outdoor cookware.
Lack of Reliable Online Reviews
There are limited online reviews about Cabela's Camp Oven. I could not find one from a famous chef or blog site. However, you can find different threads about it on Reddit.
Conclusion
After careful evaluation, I can say that the camp oven falls into the average category of outdoor cookware. To sum it up, here are the advantages and disadvantages of Cabella's Camp Oven.
Pros:
The camp oven is constructed from sturdy cast iron, offering good heat retention and durability.

It can be used with various heat sources, providing versatility for outdoor cooking.
Cons:
Many users have pointed out that the camp oven does not bring anything unique or innovative.

Its weight may limit its suitability for backpacking or scenarios where lightweight gear is essential.

Like all cast iron cookware, it demands meticulous care to prevent rust, which may be a hassle for some users.

The lack of clear warranty information adds an element of uncertainty to the product's long-term reliability.
Cabela's Camp Oven is a mediocre outdoor cooking choice from a chef's standpoint. While it fulfills its basic functions, it does not excel in any particular area or offer unique features that would make it a standout choice among outdoor cookware options.
Considering the feedback from numerous users on platforms like Reddit, it's clear that better alternatives are available in terms of performance and value.
When purchasing outdoor cooking equipment, it is best to look at options from established brands that provide a more enticing blend of performance, innovation, and price. Lastly, the camp oven falls short of expectations for those looking for a unique outdoor cooking experience.