The Smithey Dutch Oven is an impressive, elegant cookware that piqued my interest. I was drawn to this dutch oven because of its reputation for its timeless form and modern functionality. I also read many great reviews online about this product. Hence, I was excited to try it myself and use Smithey Dutch Oven in my kitchen.
I have used different ovens and cookware in my ten years of experience as a restaurant chef. Given this, I'm sharing my review below to help you decide whether to buy this product.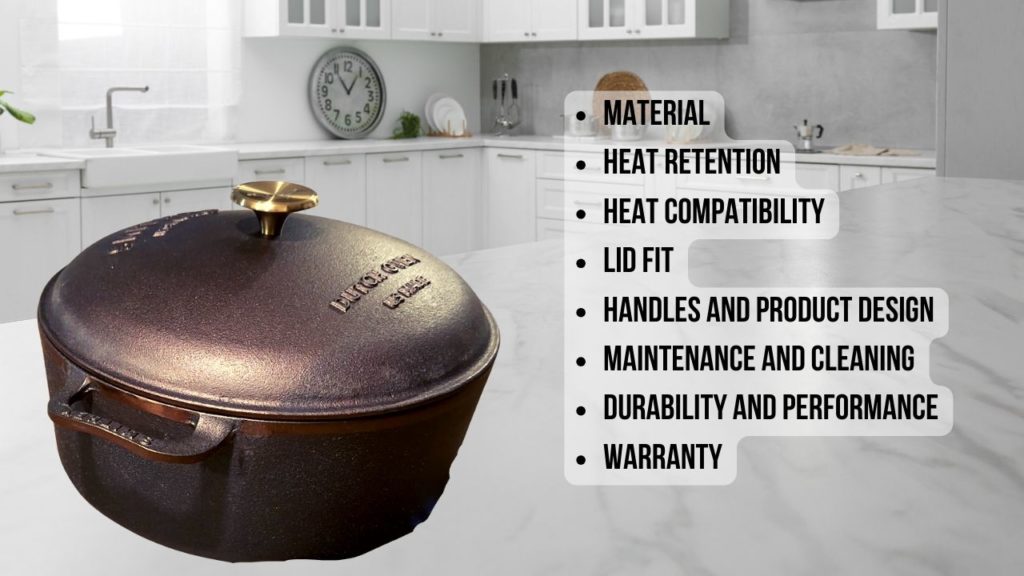 I tested Smithey Dutch Oven as soon as I got it, and I considered the following parameters in our test process:
Material

Heat retention

Heat compatibility

Lid fit

Handles and product design

Maintenance and cleaning

Durability and performance

Warranty
I decided to put it to the ultimate test by cooking a Red Wine Braised Short Rib. Check out my detailed Smithey Dutch Oven Review below.
Materials of Smithey Dutch Oven
The Smithey Dutch Oven is crafted from premium quality cast iron. Dishes are cooked evenly because the cast iron construction offers unmatched heat retention and distribution. However, this also means it's a bit heavy and can be challenging to use for some people.
The cast iron body of the Smithey Dutch Oven evenly distributes heat from the base to the sides. It ensures consistent cooking temperatures and reduces the risk of hot spots. This process produces perfectly braised short ribs with tender, succulent meat, and rich flavors.
However, the weight of cast iron can be considered a drawback for some people. It might be difficult to maneuver the dutch oven, especially when it is loaded with ingredients. Cast iron also takes a little longer to heat up compared to materials like stainless steel or aluminum. This material is ideal when braising, where slow, even cooking is desired.
Heat Retention
Smithey Dutch Oven's heat retention is remarkable. The cast iron body holds heat exceptionally well, and it allows precise temperature control throughout the cooking process.
This process is especially crucial for cooking braised short ribs, where maintaining a steady simmer is needed for tenderizing the meat and developing deep flavors.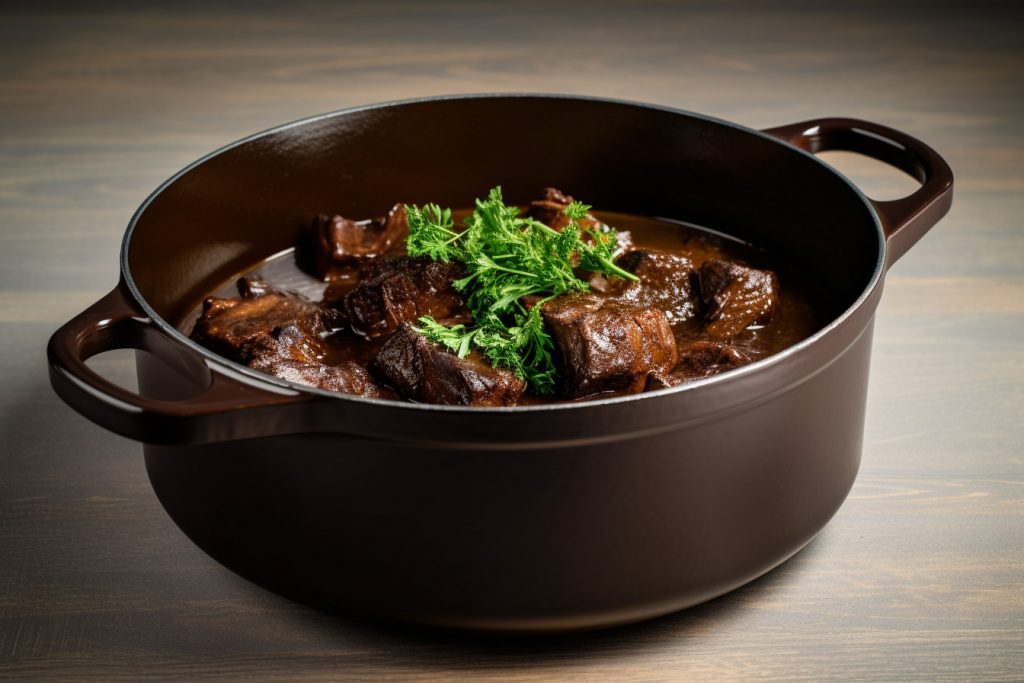 Testing Heat Compatibility of Smithey Dutch Oven
Due to its cast iron composition, Smithey Dutch Oven is compatible with various heat sources, from stovetops to ovens and open flames.
This versatility is perfect for achieving the desired sear on the short ribs before transitioning seamlessly into slow braising in the oven.
Lid Fit
The Smithey Dutch Oven has a tight-fitting lid which is significant in creating a near-perfect cooking environment.
The self-basting spikes underneath the lid ensure consistent distribution of moisture and flavors.
This process enhances the overall taste and texture of the dishes. It's worth noting that the lid's handle can get quite hot during extended cooking periods, so using a reliable oven mitt is essential.
Handles and Smithey Dutch Oven Product Design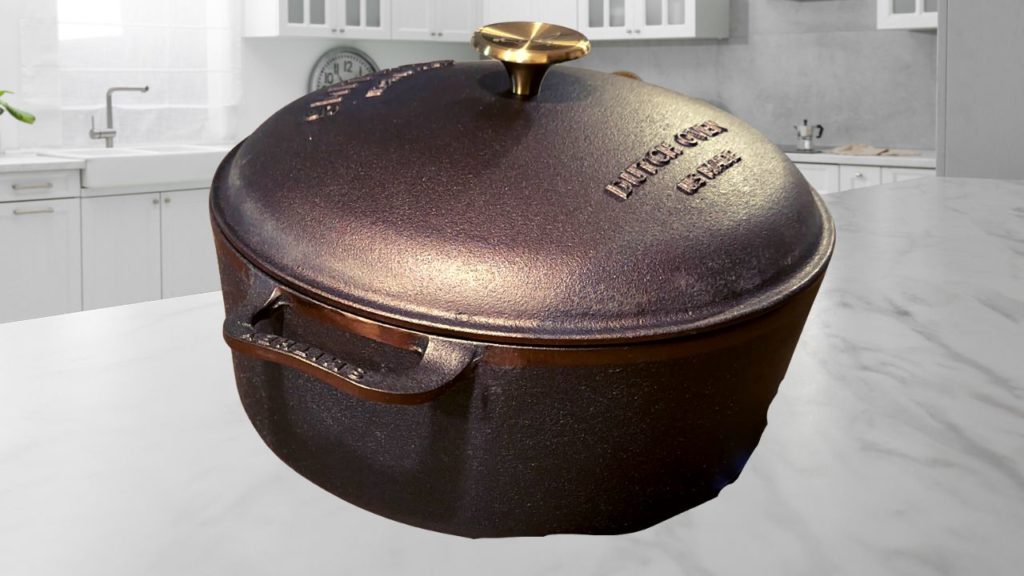 The Dutch oven's handles are well-designed, providing a comfortable grip and easy maneuverability. The ergonomic design enhances user experience, even when handling a heavy pot laden with succulent short ribs and rich braising liquid.
The product's overall aesthetics are a masterpiece, blending old-world charm with contemporary elegance. The Smithey Dutch ovens are authentic showcase pieces in any kitchen.
Maintenance and Cleaning
The Smithey Dutch Oven is the only dutch oven in the market with a fully polished cast iron interior. This unique feature renders the dutch oven naturally nonstick and simplifies the cleaning process, all while ensuring it remains stain-free and resistant to chipping.
While the cast iron material requires a bit more care than nonstick alternatives, the Smithey Dutch Oven's smooth interior enamel makes for relatively easy cleaning.
I only need to do a quick soak and gentle scrub with a non-abrasive sponge to clean it up and remove cooking residues. Proper drying and a light oil coating prevent rust and keep the dutch oven in prime condition.
Durability and Performance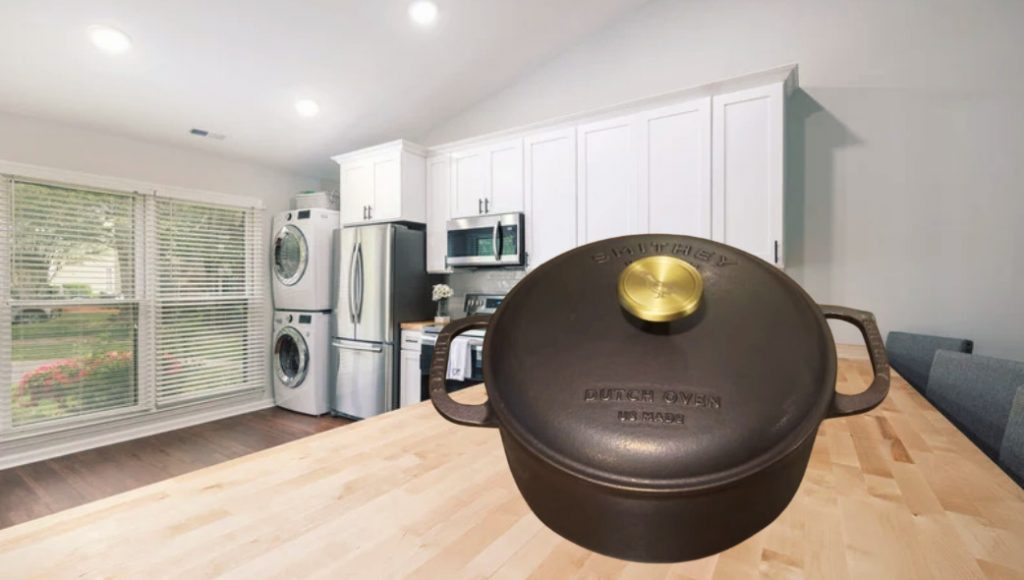 From the moment I held the Smithey Dutch Oven, its sturdiness and build quality was immediately evident. Smithey stands to its commitment to durability, as Smithey Dutch Oven is crafted meticulously with premium materials.
The dutch oven's performance is impressive and definitely worth buying as a long-term investment. It can last long with proper care and maintenance. It even has the potential to be an heirloom that you can pass down to family members of the next generation. 
With its durability and performance, I can confidently say that the Smithey Dutch Oven will remain a steadfast companion in my culinary path. 
Warranty Provided by Smithey Dutch Oven
Smithey stands behind the quality of their cookware and will do what it takes for their customers' satisfaction. This guarantee reflects a profound dedication to delivering cookware that lives up to its promises.
The warranty's clear and concise promise to replace a defective Smithey Dutch Oven demonstrates the brand's integrity in standing behind its product. The dutch oven will also be repaired or replaced if it fails after "honest and normal use."
Sizes, Shapes, and Colors Available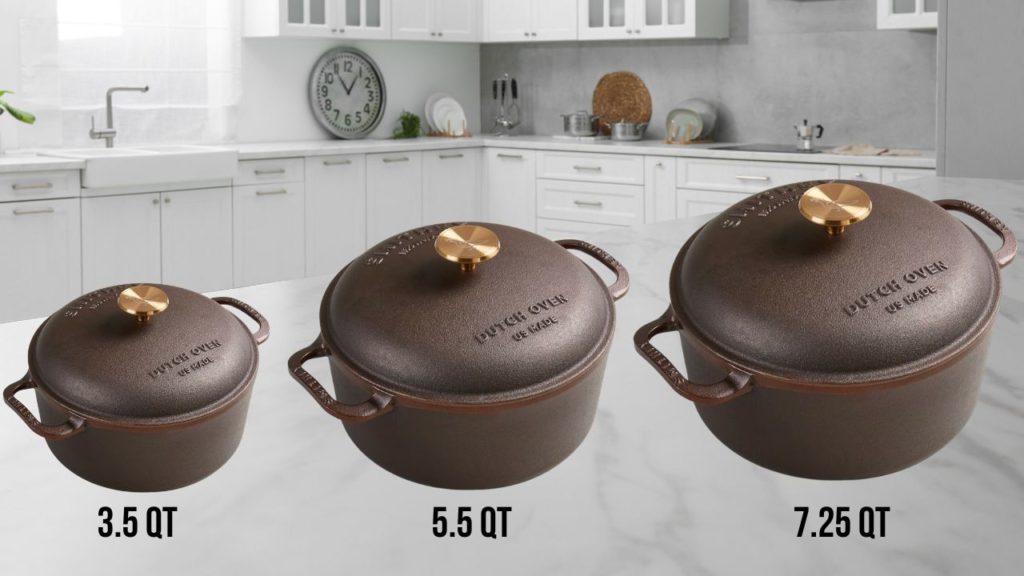 The Smithey Dutch Ovens are only available in circular shapes and timeless cast iron designs. But they are available in a variety of capacities.
You can purchase your Smithey Dutch Oven in the following sizes:
The 3.5 Quart Dutch oven is ideal for cooking meals for two to four people. Smithey Dutch Oven is also available in 5.5 Quart if you prefer a more spacious dutch oven.
The most recent addition to the Smithey Dutch Oven family is the 7.25 Quart Dutch Oven. It has a broad base that offers an expanded surface area, enhancing the capability for perfect searing and browning meats and vegetables.
You can also request to add engravings with an additional fee of $40.00. This feature is ideal if you are planning to give this dutch oven as a gift or want to customize your own.
Drawbacks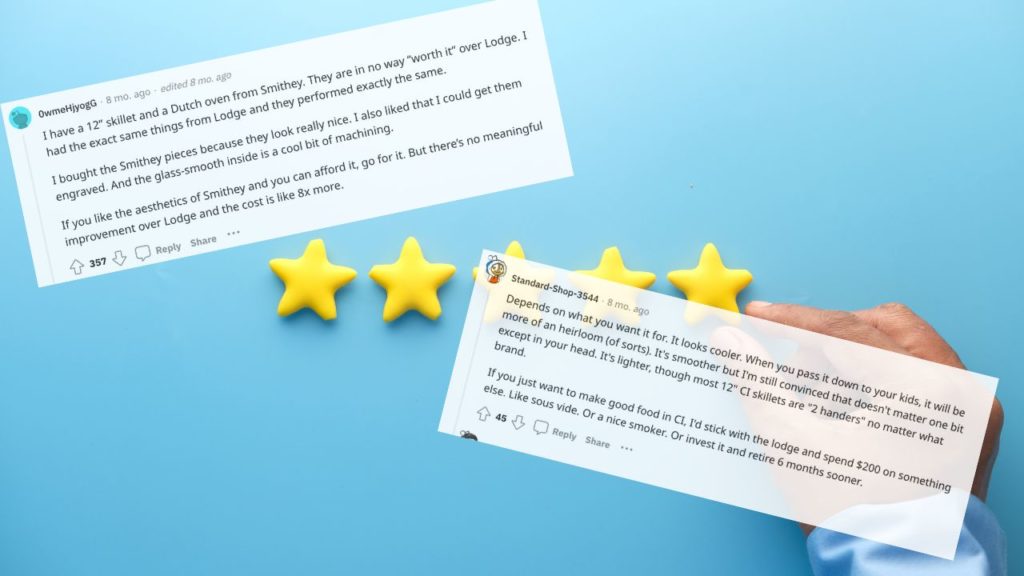 While the Smithey Dutch Oven is a remarkable piece of cookware with numerous benefits, there are a few considerations to keep in mind.
The cast iron construction makes it relatively heavy, which might be a concern for those who prefer lighter cookware. Additionally, the interior surface requires gentle care to prevent chipping or scratching.
Famous American restauranteur David Chang is an avid Smithey Ironware fan. He used Smithey's 5.5-quart Dutch oven to braise in a series of Instagram posts. He was amazed at the perfected cooking of chuck roast.
Users of Smithey Dutch Ovens are very fond of the products. Although, some Reddit Smithey Dutch Oven reviews say that if you can get a long-lasting vintage dutch oven for a lower price from garage sales, then that is better. 
Conclusion
The Smithey Dutch Oven stands as a true culinary masterpiece. As a seasoned restaurant chef who deeply appreciates functional elegance, I can confidently assert that the Smithey Dutch Oven is a worthy addition to any kitchen.
This dutch oven's ability to transform ingredients into exquisite dishes, its durability, and the brand's dedication to customer satisfaction collectively make this product worth the investment.
The minor drawbacks, like the weight and maintenance, are all outweighed by the dutch oven's outstanding cooking performance, durability, and overall quality.
I highly recommend this dutch oven as it enhances your cooking and is worth your money, too.