One of the things I've learned as a seasoned chef for more than ten years is that cooking tools and kitchenware are significant factors in cooking delicious meals. Personally, I find the dutch oven to be an essential item in any kitchen.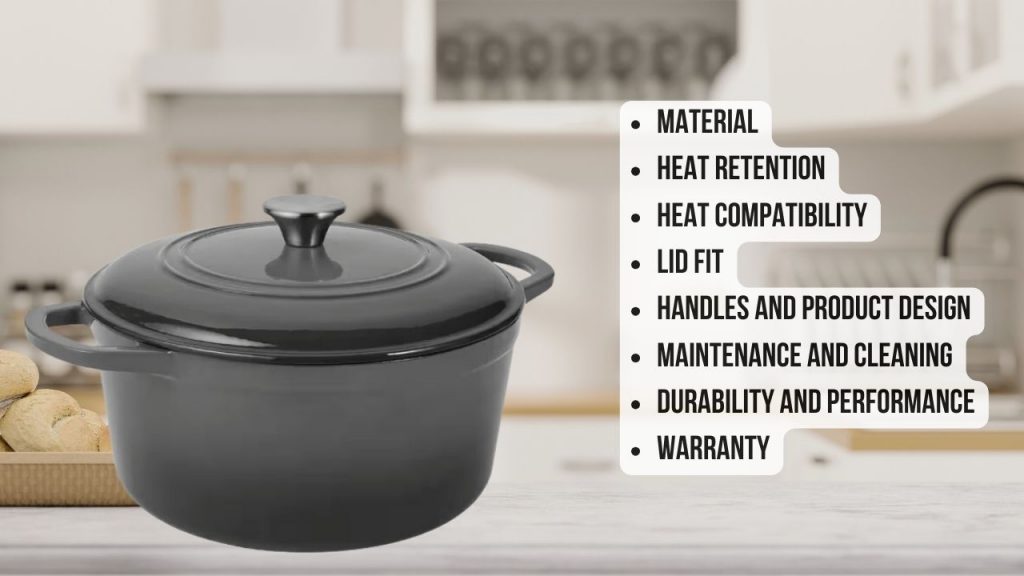 Recently, I had the opportunity to test the Our Table Enameled Cast Iron Dutch Oven. In this review, I'll break down its performance based on various parameters, such as the following:
Material

Heat retention

Heat compatibility

Lid fit

Handles and product design

Maintenance and cleaning

Durability and performance

Warranty
I tested this dutch oven by making a Red Wine Braised Short Rib. Check out my in-depth review of Our Table Dutch Oven below.
Materials
The Our Table Dutch Oven is crafted from high-quality cast iron, known for its excellent heat retention and distribution properties. Cast iron is a classic choice for dutch ovens because it holds and evenly distributes heat. This material ensures that your meals are perfectly cooked, with flavors sealed in and meats tenderized.
My Red Wine Braised Short Rib turned out nice with tender meat and succulent flavors. However, its cast iron can be quite heavy, which might be a drawback for some users.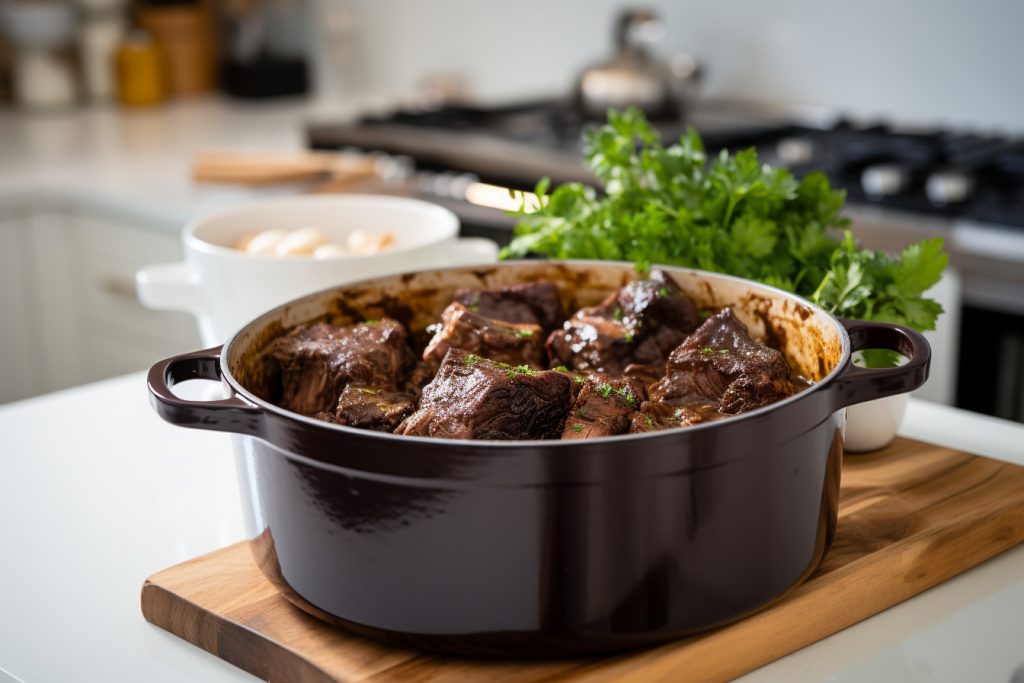 Heat Retention of Our Table Dutch Oven
The dutch oven's heat retention capabilities are commendable. It retains heat well, which means you can maintain a consistent temperature for extended periods. This cookware is ideal for slow-cooking dishes like braised short ribs, as we tested it. Just be cautious when handling, as the exterior can get extremely hot.
Heat Compatibility
The Our Table Dutch Oven is compatible with various heat sources. It is suitable for all kinds of stoves, including induction. It is also oven-safe up to 450 degrees F. I was also able to use it on top of a BBQ grill.
This versatility allows users to use the dutch oven with different cooking methods. However, the enamel coating on the interior might show signs of wear over time if exposed to high heat for extended periods.
Lid Fit
While the Our Table Dutch Oven lid fits firmly, I noticed some slight steam leaking while braising the short ribs. This drawback can have an impact on the overall cooking process, mainly when moisture loss is an issue in recipes. However, this minor flaw did not affect my Red Wine Braised Short Ribs, as they still turned out tender and savory.
Our Table Dutch Oven's Handles and Product Design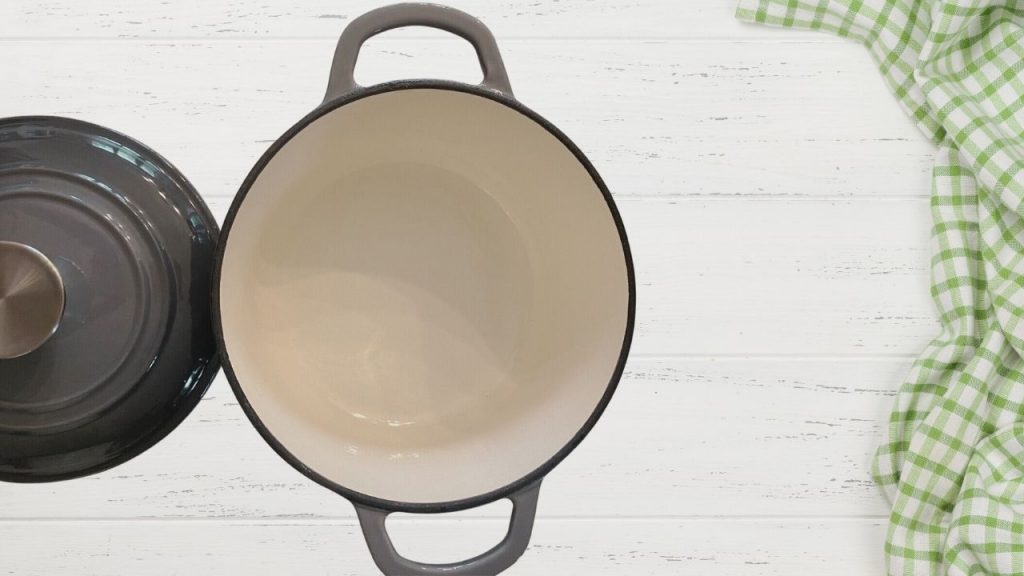 The Our Table Dutch Oven features sturdy, ergonomic handles that are easy to grip. It can be difficult to hold the handles with other dutch ovens, particularly when I'm wearing oven mitts. But with Our Table, handling it is not an issue.
Our Table Dutch Oven's classic design is both functional and aesthetically pleasing. The only downside I can say is the weight of the dutch oven. Its heftiness can be a bit cumbersome for some users.
Testing Maintenance and Cleaning of Our Table Dutch Oven
Cleaning the Our Table Dutch Oven can be a bit of a chore compared to other dutch ovens I've used. The enamel interior tends to stick, and stubborn stains can require some elbow grease to remove. Additionally, it's not dishwasher safe, so you'll need to hand wash it. This can be time-consuming for some people, but personally, I actually prefer handwashing my dutch ovens.
Durability and Performance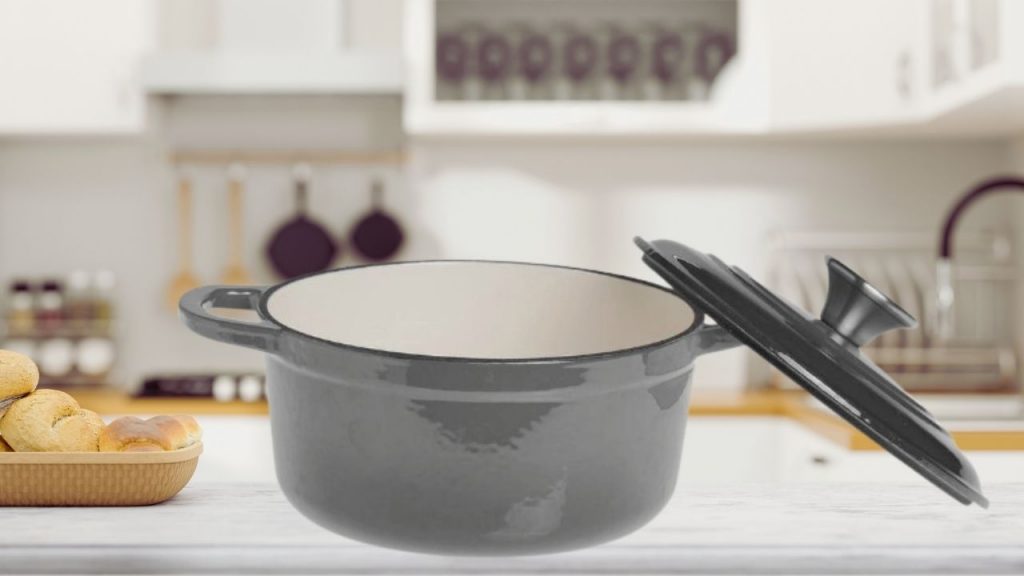 In terms of durability and performance, the Our Table Dutch Oven stands up to the test. With proper care, this dutch oven can last for a long time. It performed admirably in our cooking tests, as I was able to make delicious, tender short ribs with a rich, flavorful sauce.
However, it is worth mentioning that some users say that they had issues with rust and enamel chipping after using the Our Table Dutch Oven oven a few times.
Our Table's Warranty
The dutch oven comes with a limited warranty. It doesn't offer the same extensive warranty as the other brands. I also read complaints from some users that they could not get their money back after the product failed to meet their expectations.
Sizes, Shapes, and Colors Available of Our Table Dutch Oven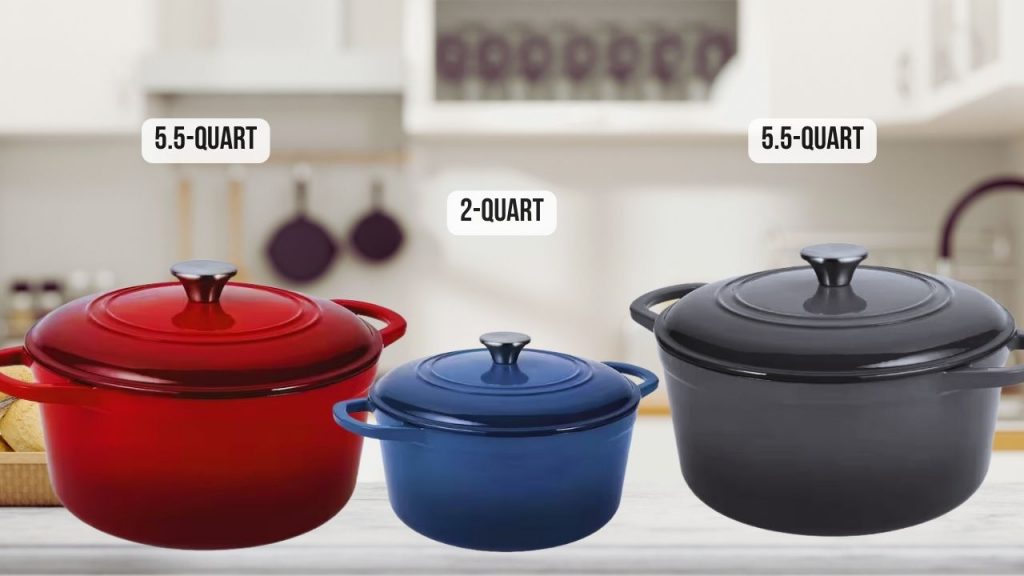 Our Table Dutch Oven is available in classic round shape and has different sizes and colors. You can choose from the following size options depending on your needs and preferences:
2-quart Dutch Oven

: This smaller size is perfect for cooking for one or two people or for preparing side dishes and smaller portions. It's an excellent choice for those with limited kitchen space or for recipes that don't require a large capacity.

5.5-quart Dutch Oven

: If you're cooking for a family or hosting dinner parties, the 5.5-quart dutch oven is an excellent option. It provides ample space for larger cuts of meat, stews, soups, and other dishes that require a generous capacity.
This dutch oven also comes in a selection of colors to match your kitchen and personal style. The available color options include:
With these options, you can confidently select the Our Table Dutch Oven that best suits your cooking needs and adds a touch of flair to your kitchen space.
Drawbacks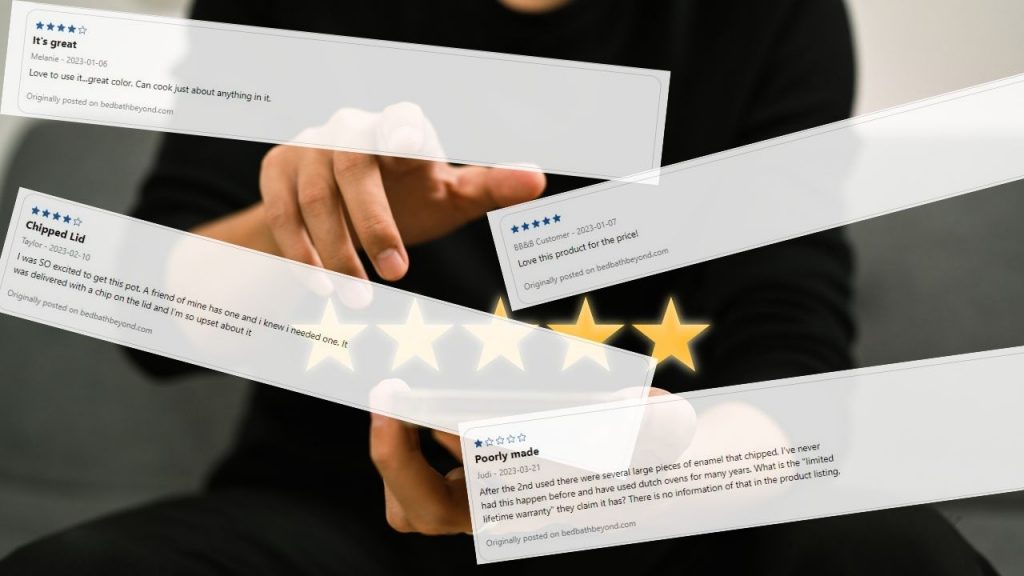 While the Our Table Dutch Oven certainly has its merits, it's essential to consider some drawbacks mentioned on different platforms like Reddit and other e-commerce platforms.
The most common issue that users report is the enamel chipping and rust building. Some even reported receiving the dutch oven with chips already.
Although I did not experience this issue, what I find disappointing in the Our Table Dutch Oven is its lid fit issues. Steam leakage may lead to potential moisture loss during cooking. While this wasn't a deal-breaker for most, it's worth noting.
Cleaning the dutch oven is also a concern for me and other users. They noted that the enamel interior can be prone to sticking, which makes cleaning a bit more labor-intensive than expected. The product is also not dishwasher safe, which may be inconvenient for those who prefer easy cleanup.
Some users also expressed concerns about the limited warranty coverage, which they believe doesn't offer the same level of confidence as warranties provided by other brands.
Conclusion
In this comprehensive review of the Our Table Enameled Cast Iron Dutch Oven, we've evaluated this cooking essential on various parameters. Here's a summary of the pros and cons:
Pros:
High-Quality Material

Excellent Heat Retention

Versatile Heat Compatibility

Sturdy Handles and Aesthetically Pleasing Design
Cons:
Weight

Enamel Chipping and Rust

Lid Fit Issues

Cleaning Challenges

Limited Warranty
From a chef's point of view, investing in a dutch oven should align with your specific cooking needs and preferences. If you prioritize excellent heat retention, durability, and a stylish addition to your kitchen, the Our Table Dutch Oven is a viable option. However, be mindful of the mentioned drawbacks and ensure they align with your expectations before purchasing.