As a seasoned restaurant chef with over a decade of experience, I've worked with various kitchen tools and cookware, including dutch ovens. In my search for the best dutch ovens, I discovered the Caraway Dutch oven, which is known for its commitment to sustainability and non-toxic materials in its cookware.
The Caraway Dutch oven is a stylish and modern take on the classic dutch oven. Its contemporary look intrigued me, so I immediately ordered one. After receiving it, I immediately unboxed and tested it to see if it worked as efficiently as my other dutch ovens.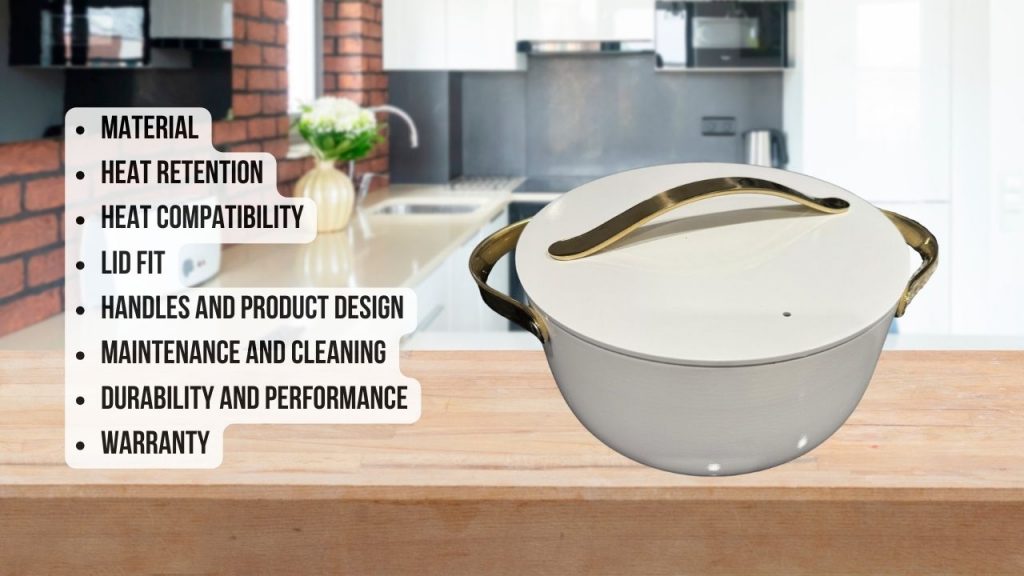 Similar to my previous reviews, I tested the Caraway Dutch oven according to the following important parameters:
Material

Heat retention

Heat compatibility

Lid fit

Handles and product design

Maintenance and cleaning

Durability and performance

Warranty
I tested this dutch oven by cooking Red Wine Braised Short Ribs. Check out my detailed Caraway Dutch Oven Review below.
Materials
The Caraway Dutch Oven is crafted from high-quality cast aluminum, which offers the perfect balance of durability and heat distribution. It's lighter than traditional cast iron, making it easier to handle.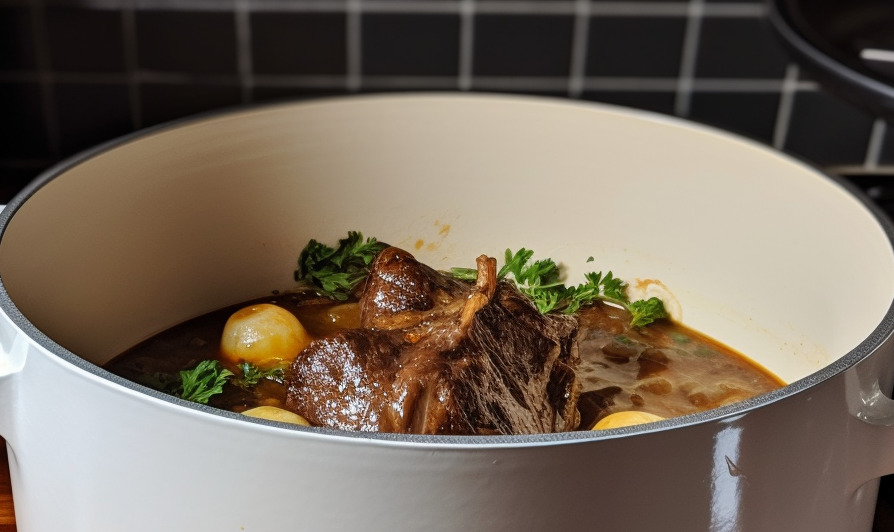 Heat Retention
The Caraway Dutch Oven has great heat retention. It keeps a steady and consistent temperature, making it ideal for slow-cooked stews, braises, and soups. However, I've experienced fewer temperature fluctuations, which is crucial for chefs perfecting their dishes.
Heat Compatibility of Caraway Dutch Oven
This dutch oven is compatible with most cooking surfaces, including gas, electric, and induction stovetops. You can safely put it inside the oven as it can withstand high temperatures up to 550 degrees Fahrenheit. 
The versatility of the Caraway Dutch oven is a godsend for professional chefs and home cooks alike. I can seamlessly transition from stovetop to oven, which is a must for many of my signature dishes.
Lid Fit
The well-fitting lid of the Caraway Dutch Oven seals in moisture and flavor, enhancing the quality of the dishes I prepare. I've had no issues with steam escaping or ingredients drying out.
Caraway Dutch Oven's Handles and Product Design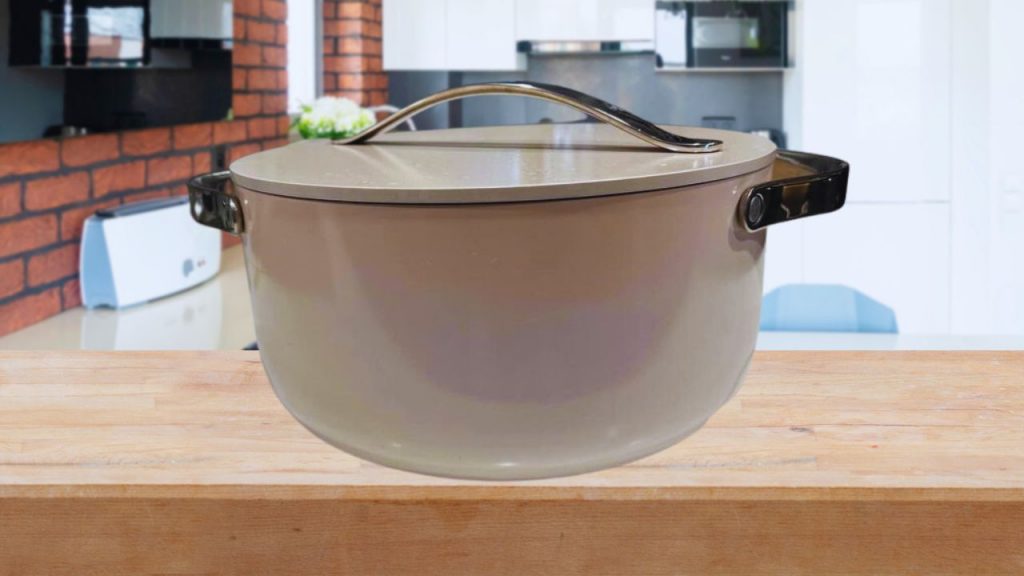 The design of the Caraway Dutch Oven is not only functional but also aesthetically pleasing. The ergonomic handles are cool enough to touch, even when cooking at high temperatures. The sleek, modern design of the oven makes it a stylish addition to your kitchen.
Maintenance and Cleaning
Cleaning and maintaining the Caraway Dutch Oven is a breeze. The nonstick ceramic coating helps prevent food from sticking and is easy to clean, even after long hours of cooking. It's also dishwasher safe so that you can save time, particularly in a busy restaurant kitchen.
Durability and Performance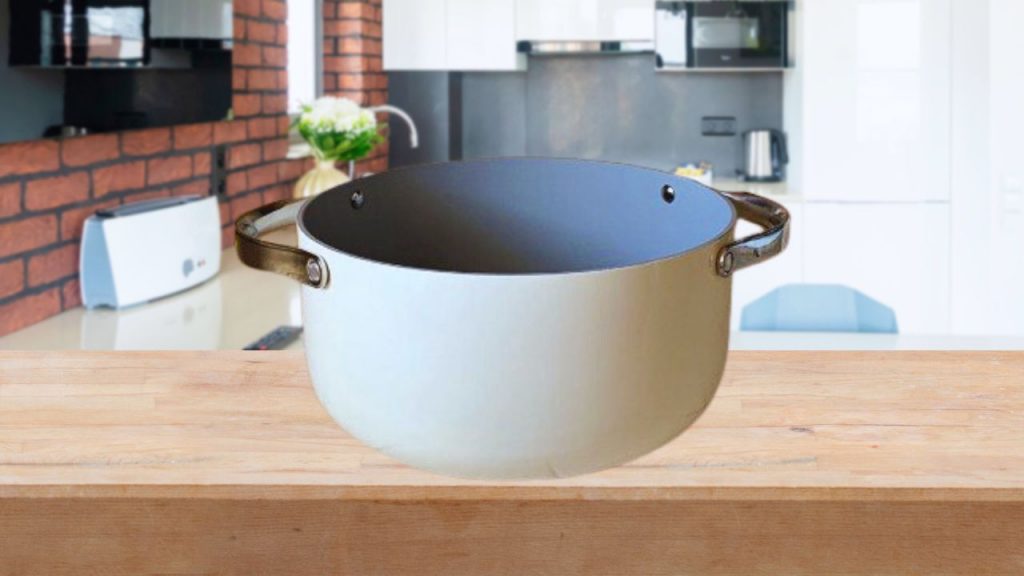 After months of rigorous use, I can confidently say that the Caraway Dutch Oven has held up remarkably well. It shows minimal signs of wear and tear and continues to perform at a high level.
Caraway's Warranty
Caraway's commitment to quality is evident in the lifetime warranty that accompanies this dutch Oven. This level of assurance is invaluable for professional chefs and serious home cooks, ensuring that this piece of cookware is worth the money.
Sizes, Shapes, and Colors Available
The Caraway Dutch oven comes in a round shape and is available in 6.5-quartz size. It is offered in several stunning colors, including the following:
Cream

Navy

Gray

Sage

Terracotta

Marigold

Black

White
Drawbacks of Using Caraway Dutch Ovens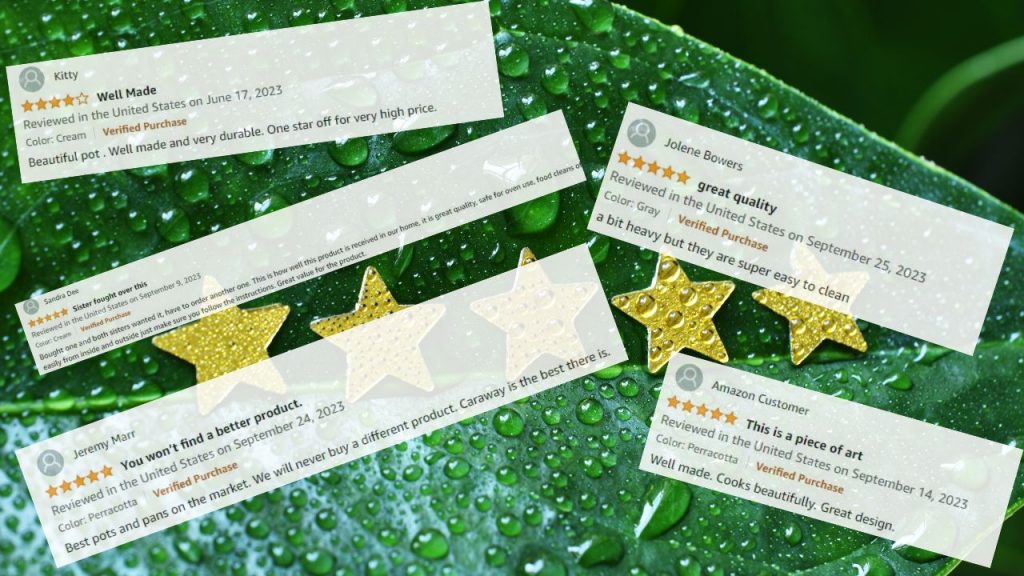 While the Caraway Nonstick Ceramic Dutch Oven Pot offers several positive attributes, there are some drawbacks I have noted from my experience and also other users' online reviews.
As I have mentioned, the Caraway Dutch Oven is lighter and thinner, unlike traditional cast iron dutch ovens known for their robust and heavy build. This could be a drawback for those who prefer the durability and heat retention of heavier cookware. 
One recurring issue I noted from Amazon is the susceptibility to staining. This can be a downside, especially for those who value the appearance of their cookware. Stains may affect the aesthetic appeal of the dutch oven, which is a concern for many home chefs.
Some users have reported chips appearing in the interior cooking surface of the Caraway Dutch Oven. While this hasn't resulted in significant problems with food sticking, it does raise concerns about the long-term durability of the nonstick ceramic coating. This issue suggests that the materials used may not be as robust as expected, which can be a drawback for those seeking long-lasting cookware.
Another drawback mentioned on Reddit is that the Caraway Dutch Oven may take a longer time to reach the desired cooking temperature. This dutch oven may disappoint individuals looking for quick and efficient cooking.
While the Caraway Dutch Oven offers aesthetic appeal and non-toxic materials, some users have found the price higher considering the materials used. The investment might not align with the expectations of those who are seeking a more budget-friendly option.
Conclusion
The Caraway Dutch Oven is a noteworthy addition to the world of cookware, offering a blend of style, functionality, and commitment to non-toxic materials. To summarize, here are the highlights and drawbacks of this dutch oven:
Pros:
Oven-safe up to 550°F

Well-fitting lid that seals in moisture and flavor

Aesthetic and ergonomic design

Easy-to-clean nonstick ceramic coating
Cons:
The Caraway Dutch oven is lighter and thinner than traditional cast iron Dutch ovens.

The dutch oven can be susceptible to staining, potentially affecting its appearance over time.

Some users have reported chipping on the interior cooking surface.

It may take longer to reach the desired cooking temperature, which could be a drawback for those seeking quick and efficient cooking.

The price may be relatively high, given the materials used.
In my professional opinion, the Caraway Dutch Oven is a strong choice for those who prioritize style, non-toxic materials, and versatility in their kitchen cookware. Its lightweight design, even heat distribution, and aesthetic appeal make it a valuable addition to modern kitchens.
However, it may not fully satisfy the expectations of those seeking the heavyweight performance and durability associated with traditional dutch ovens. Before deciding, it's best to weigh the advantages and disadvantages of the Caraway Dutch oven against your specific culinary needs and preferences.