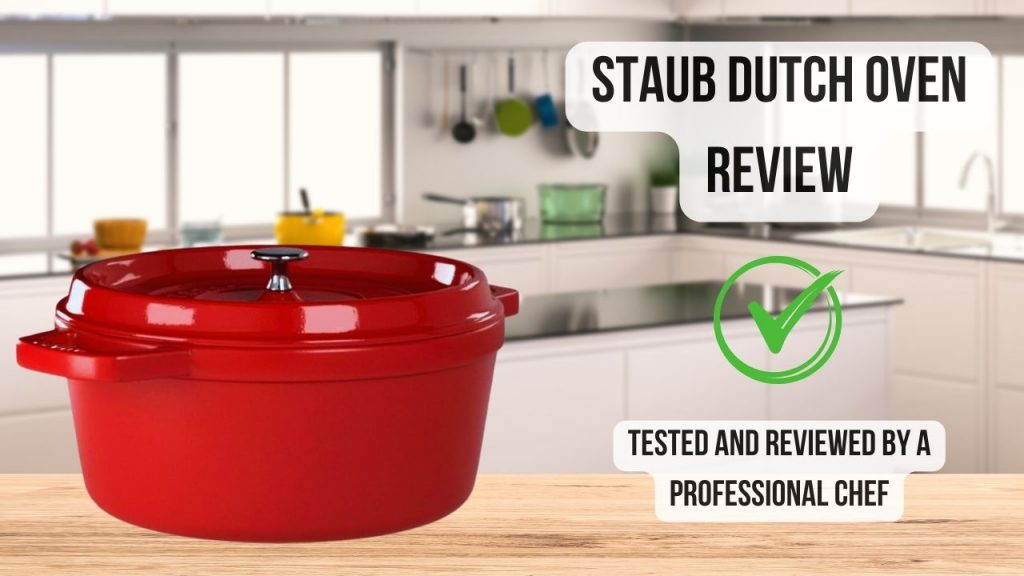 I have been working as a restaurant chef for over ten years. With extensive experience, I can say that quality cookware is essential in creating perfect dishes. Today, I'm excited to share my review of a popular dutch oven choice among chefs and home cooks, the Staub Dutch Oven.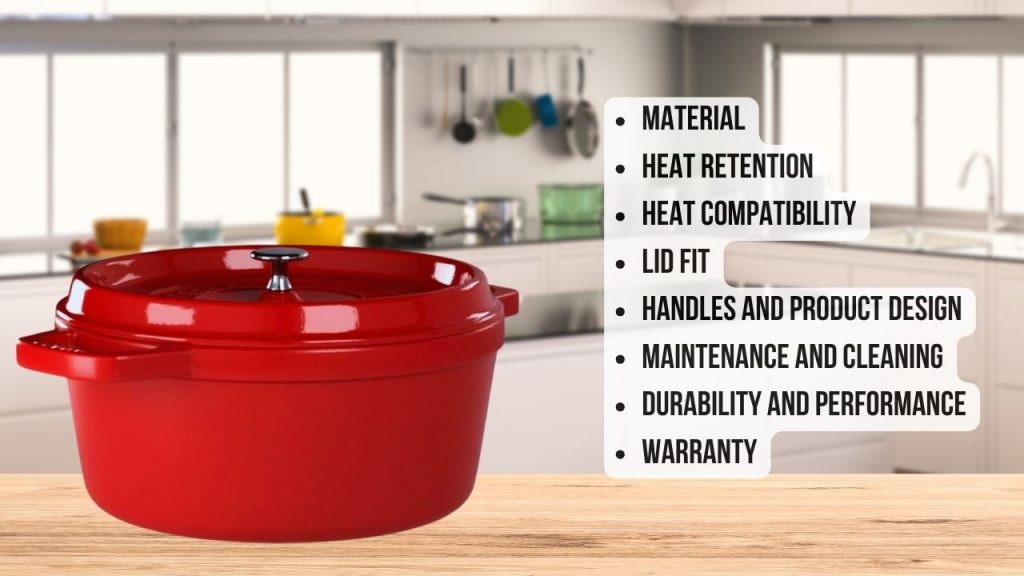 Staub is a renowned brand for its quality cookware, which is always compared to Le Creuset. I bought the Staub 5-quartz Round Cocotte Dutch Oven, and I was eager to put this product to the test. I evaluated its performance based on important factors such as: 
Material

Heat retention

Heat compatibility

Lid fit

Handles and product design

Maintenance and cleaning

Durability and performance

Warranty
To test this dutch oven, I prepared a classic Red Wine Braised Short Ribs.
Materials
The Staub Dutch Oven is crafted from high-quality cast iron, which is known for excellent heat retention and even heat distribution. It also has an enameled cast iron interior, which prevents food from sticking and makes for easy cleaning.
Heat Retention of Staub Dutch Oven
In the cooking test, the Staub Dutch Oven excelled in heat retention. It maintained a consistent temperature throughout the cooking process. The short ribs were cooked evenly and to perfection. This factor is crucial for braising and slow-cooking dishes, like the Red Wine Braised Short Ribs, where maintaining a steady low simmer is key.
Heat Compatibility
The Staub Dutch Oven is suitable for a wide range of cooking methods. It performed exceptionally well on both the stovetop and oven. It allowed me to sear the short ribs on the stovetop and then transfer the pot directly into the oven for braising. The dutch oven's ability to handle high temperatures without warping or losing its non-stick properties is commendable.
Lid Fit
The snug-fitting lid of the Staub Dutch Oven creates a self-basting environment. It ensures that the moisture and flavors are retained within the pot. The tight seal prevented excess evaporation, resulting in fork-tender, succulent meat.
Staub Dutch Oven's Handles and Product Design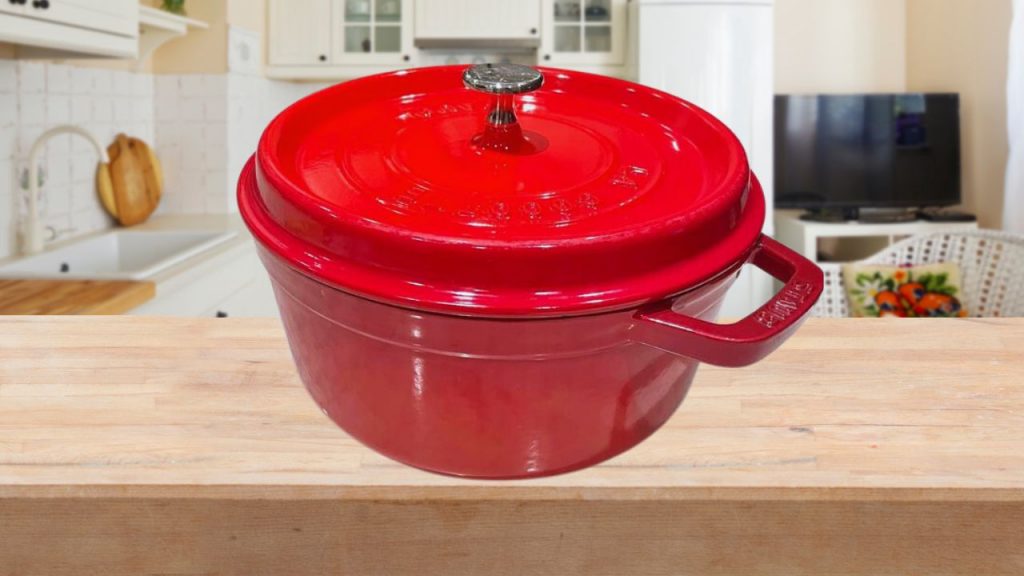 The Staub Dutch Oven has ergonomic handles. However, I find the space a bit narrow, so lifting the pot is a little tricky, especially if you are wearing oven mitts.
Overall, the product design is stylish and aesthetically pleasing. The striking enameled exterior adds a touch of elegance to the kitchen, making it a versatile piece for both cooking and serving.
Maintenance and Cleaning
The Staub Dutch Oven is easy to maintain. The enamel interior resists staining and is incredibly easy to clean. Even after slow-cooking the short ribs for hours, I only had to soak it quickly and gently scrub the pot. 
Durability and Performance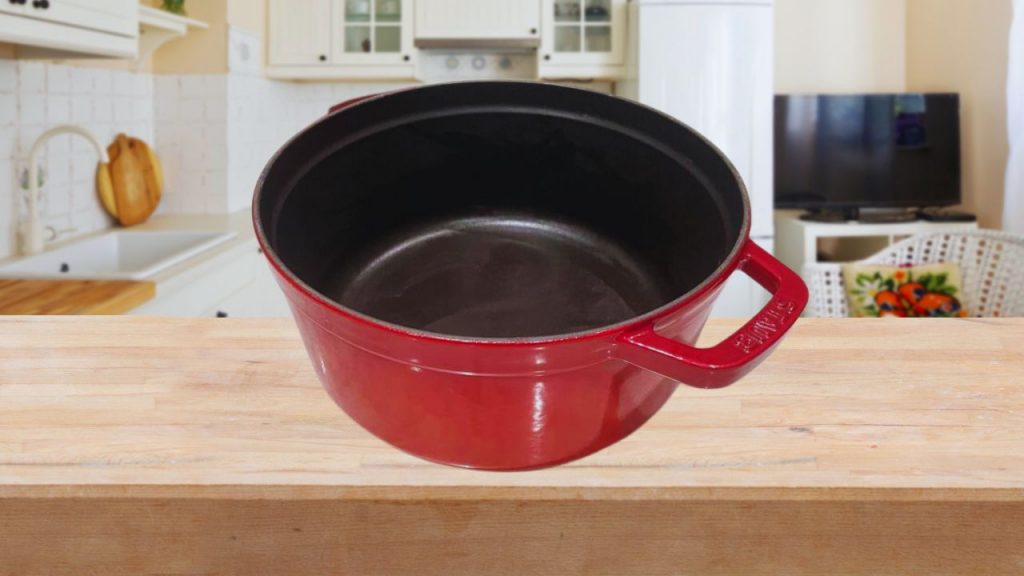 The Staub Dutch Oven's robust construction and enamel coating ensure it can withstand the rigors of professional kitchen use. I believe that it will continue to perform at its peak for many years to come.
Staub's Warranty
Staub offers a limited lifetime warranty for Staub cast iron cookware. The warranty covers functional, material, and manufacturing defects on Staub's cast iron cookware. It is valid for products purchased in the USA, Canada, or the UK.
Sizes, Shapes, and Colors Available
Staub Dutch oven is available in many sizes, shapes, and color variants. You can choose from the following options:
Shape
Size
Colors

Round Cocotte

2.75-quartz

4-quartz

5.5-quartz

7-quartz

8.75-quartz

13.25-quartz

Basil

Black Matte

Blueberry

Cherry

Burnt Orange

Dark Blue

Graphite Grey

Grenadine

Lilac

Turquoise

White

White Truffle

Round Cocotte Shallow

Basil

Black Matte

Dark Blue

Graphite Grey

Grenadine

Metallic Blue

Oval Cocotte

Basil

Black Matte

Cherry

Burnt Orange

Dark Blue

Graphite Grey

Grenadine

Turquoise
Drawbacks of using Staub Dutch Ovens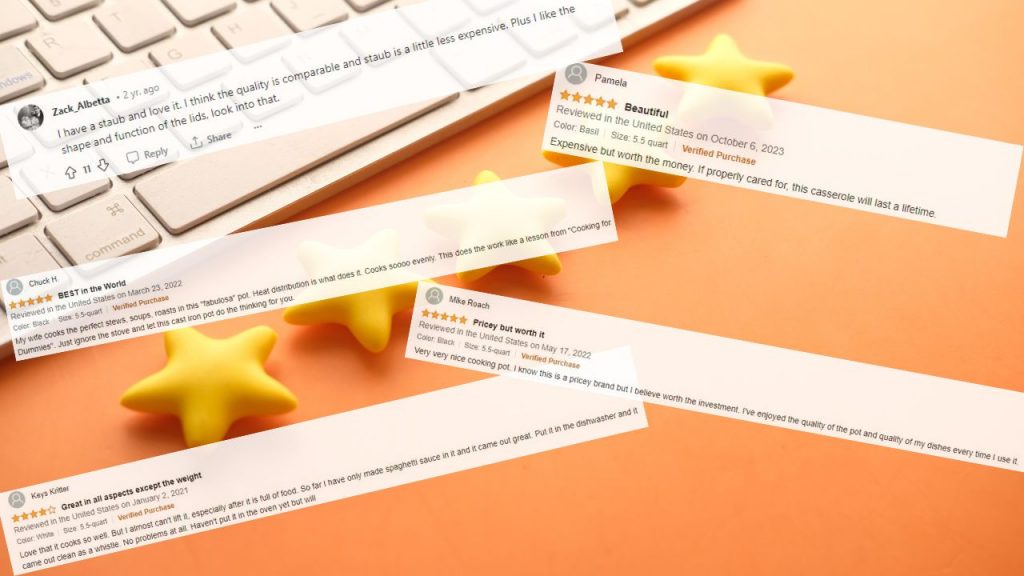 While I love using Staub Dutch oven, there are a few drawbacks that you should know before purchasing one. For me, the only minor flaw I can say is the narrow handles, although it is not much of a deal breaker. Finding negative online comments about Staub was also difficult, but I found a few on Amazon and Reddit.
On Amazon, one customer mentioned that the small lid knobs make them harder to grip, especially when using bulky oven mitts. A larger, more user-friendly knob would provide a more secure grip.
One Reddit user also shared the same concern as me. They said that the space between the Staub handles and the pot makes it a bit challenging to grip and maneuver, especially when the pot is hot and heavy.
Another observation from Amazon reviews is that the black interior of the Staub Dutch Oven can make it harder to see a color change in the food being cooked. This is only a minor inconvenience, particularly when you rely on visual cues to determine the doneness of your dishes.
Despite these minor flaws, Staub cookware is popular worldwide. Many renowned chefs like Paul Bocuse use Staub cookware. This reflects the brand's reliability and longevity.
Conclusion
Staub Dutch oven is a remarkable cookware that is worth the investment. To summarize, here are the pros and cons of this dutch oven.
Pros:
Exceptional heat retention due to cast iron construction.

Versatile and suitable for various cooking methods.

Snug-fitting lid for effective self-basting.

Aesthetically pleasing and stylish product design.

Easy maintenance and cleaning with a stain-resistant enamel interior.

Built to last with a robust construction and enamel coating.

Generous limited lifetime warranty.

Many sizes, shapes, and color options are available.
Cons:
Narrow handles may pose some challenges when lifting with oven mitts.

Small lid knobs can be harder to grip, especially with bulky oven mitts.

Difficulty in discerning color changes in food due to the black interior.
From a chef's perspective, the Staub Dutch Oven shines in many aspects, such as heat retention, compatibility, and design. It's a versatile and reliable piece of cookware suitable for professional kitchens and home cooking.
While the narrow handles and small lid knobs present minor inconveniences, these are easily manageable. 
Overall, I recommend the Staub Dutch Oven for its exceptional cooking performance and stylish design. This dutch oven is a valuable addition to any kitchen.