One of the delicious and easy ways to cook a potato is by baking it. These are cooked in commercial potato ovens that provide a nutritious and fast way to cook your lovely potatoes! These potato ovens can be used in places where you can get baked potatoes such as restaurants, food courts, and food trucks. They are also low-maintenance ovens that are offered in different capacities and with different features. They make cooking potatoes not only a feast to the stomach but also a feast to the eyes. They are also comfortable to use and are mobile.
How do Potato Ovens Work?
Potato ovens work just like how other ovens work. You just need to put the potatoes in with all the toppings or fillings that you want to include. Then, set the timer and control the heat using the knobs or options in the oven. The number of baked potatoes you can make depends on how big or small your oven's capacity is.
Now that you know the basics of potato ovens and how do they work, let's tackle next the best commercial potato ovens in the market nowadays.
Remta Makina Commercial Baked Potato Oven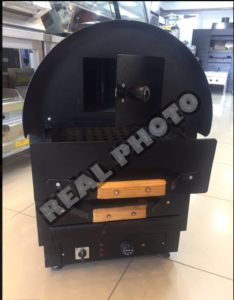 First on our list is the commercial potato oven by Remta Makina that is available in black. Its outer structure is made of cast iron while the inside is structure is made of stainless steel. It has 2 drawers for cooking potatoes and works with natural and propane gas for baking. It needs 5 kW to operate using LPG and 4.3 kW on natural gas. It can cook 26-30 potatoes per batch and weighs 54 kg. You can set the temperature of the oven by adjusting the knob and a safety valve and an ignition button are also included in the oven. More information.
Big Ben Mobile Potato Baking Oven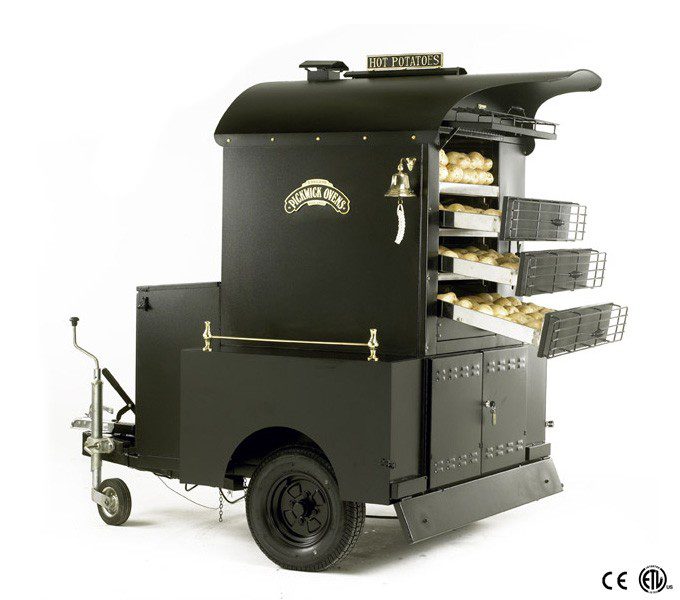 Second on our list is the potato baking oven by Big Ben. This mobile commercial potato oven can cook up to 230 potatoes in a batch on the 3 large-capacity stainless steel strays and is in black finish. In an hour, it can bake up to 150 x 120 gm potatoes and use only 8-10 kg of gas daily. It is fired by LPG and is meant to be used in outside places like parks and plazas. It is made of stainless steel and heavy gauge galvanized steel and is with solid brass fittings. This oven also comes with stainless steel sinks that can dispense hot drinks for your customers. A brass bell is also included in a whole setup which lets your customer know that their orders are ready. The potato oven is also easy to control and ignite. More information.
King Edward Classic Compact Potato Baker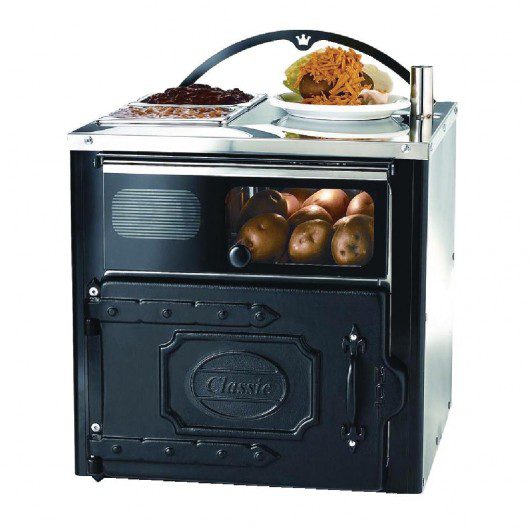 Another potato baking oven on our list is the classic compact potato baker manufactured by King Edward. It has a temperature range of 0 to 250°C and weighs 38 kg. It works using 2.7 kW electricity and 11.7 A current. It can cook and display 20 potatoes weighing 226 g each for an hour. It also has a built-in Bain Marie that is perfect for your hot toppings and preparation and two trays used for cooking the potatoes. This potato oven is suitable to place on a countertop or back bar and is offered in a textured black finish. It also shows the potatoes being cooked on the illuminated display area. A removable glass with a sneeze screen is also included in this oven. You can write your menu on this glass and can be wiped off daily so that you can customize your menu. More information.
Conclusion
Commercial potato ovens are an innovative way to produce baked potatoes whether they are for business or your consumption. With the information included in this article. I hope it helped you to gain information on potato ovens and how do they work. If you are planning to buy one, I hope this article has helped you to compare the specifications and features of each best commercial potato oven being offered in the market nowadays. 
READ ALSO: Best Commercial Deck Ovens: Buying Guide And TOP-7 Ovens On The Market