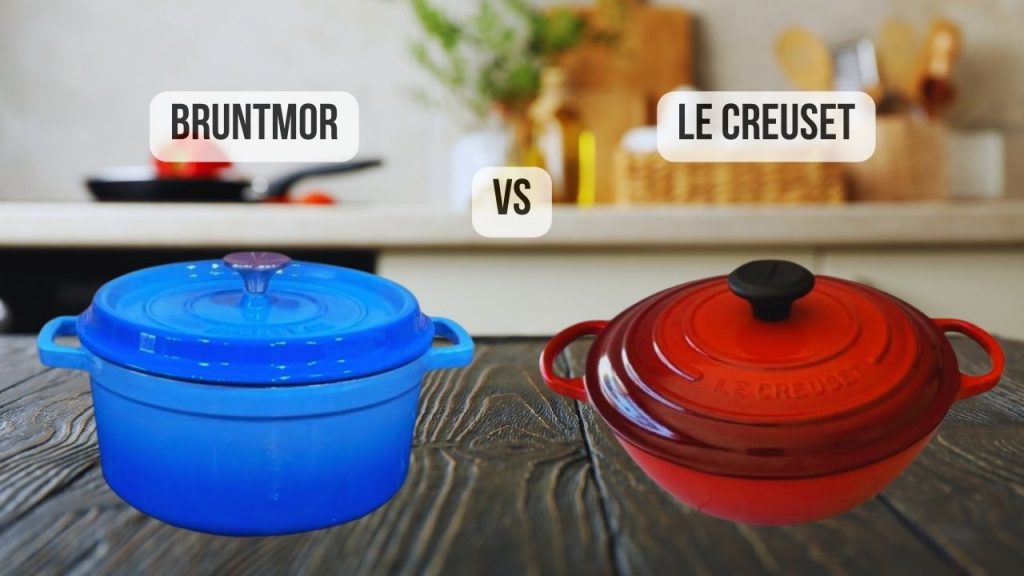 When it comes to Dutch ovens, the choices can be overwhelming. But worry not! As a seasoned restaurant chef with a decade of experience, I'm here to guide you through a head-to-head comparison between the Le Creuset Dutch Oven and the Bruntmor Dutch Oven. We'll weigh them on ten fundamental aspects to see which one stands out.
Here's what we'll look at:
Material
Weight
Heat retention and compatibility
Lid fit
Handles and product design
Colors
Maintenance and cleaning
Durability and performance
Warranty
Price
So, let's roll up our sleeves and dive into the details to discover which Dutch oven could be the best addition to your kitchen arsenal.
Le Creuset VS Bruntmor: Material
| Le Creuset | Bruntmor |
| --- | --- |
| The Le Creuset Dutch Oven is expertly fashioned from high-quality cast iron, which is evident in its sturdy build. Each item in Le Creuset's cast iron cookware collection undergoes a meticulous production process, individually cast using sand molds and subjected to rigorous inspection by skilled French artisans. | Despite its affordable price, the Bruntmor Dutch Oven surprised me with its impressive build and overall quality. It has high-quality cast iron construction and an enamel-coated surface. |
Le Creuset VS Bruntmor: Weight
| Le Creuset | Bruntmor |
| --- | --- |
| Le Creuset Dutch ovens are solid and weighty, which is great for heat retention. However, handling it may be a bit heavy, especially when full. | Compared to Le Creuset, the Bruntmor Dutch oven is heavier because it is made of cast iron. |
Le Creuset VS Bruntmor: Heat Retention and Compatibility
| Le Creuset | Bruntmor |
| --- | --- |
| Regarding heat retention, the Le Creuset Dutch Oven consistently maintains its desired temperature without needing constant adjustments. Moreover, the Le Creuset Dutch Oven offers exceptional heat compatibility. I seamlessly transitioned from stovetop to oven for versatile cooking methods. | The Bruntmor Dutch Oven excels in heat retention, maintaining even heat for consistent cooking, particularly when braising short ribs. It performs well across different heat sources, including gas, electric, and induction. |
Le Creuset VS Bruntmor: Lid Fit
| Le Creuset | Bruntmor |
| --- | --- |
| Le Creuset lids are known for their tight fit, which helps trap moisture and flavor. They have a unique design that allows for self-basting, ensuring succulent dishes. This Dutch oven is certainly built to withstand long periods of slow cooking. | The lid of this Dutch oven fits tightly. As a result, it forms a tight seal that traps moisture and flavor inside. |
Le Creuset VS Bruntmor: Handles and Product Design
| Le Creuset | Bruntmor |
| --- | --- |
| Le Creuset's ergonomic and heat-resistant handles make it easy to carry and serve directly from the oven to the table. The elegant design of this Dutch oven enhances the sophistication of any kitchen. It has many vibrant color options for a personalized touch to match your décor. | The Bruntmor Dutch oven features ergonomic handles that make it easy to handle, even when it's full. Its overall design is reminiscent of Staub, offering a classic and elegant style. |
Le Creuset VS Bruntmor: Colors
| Le Creuset | Bruntmor |
| --- | --- |
| Le Creuset's extensive color palette is one of the standout features that set their Dutch ovens apart. The brand is known for offering an array of vibrant and elegant colors to cater to various tastes and kitchen aesthetics. | Bruntmor has you covered with its diverse color choices. The available color palette includes eye-catching options like Pumpkin Spice, Purple, Silver, Red, Duke Blue, Olive Green, and Turquoise. |
Le Creuset VS Bruntmor: Maintenance and Cleaning
| Le Creuset | Bruntmor |
| --- | --- |
| The Le Creuset Dutch Oven is simple to clean, and it's dishwasher safe. Its enamel coating on the interior and exterior makes cleaning a breeze. I simply soaked it and gently scrubbed it with a quality cast iron scrubber with no significant challenges. | Cleaning the Bruntmor Dutch Oven is generally straightforward thanks to its enamel coating. Nevertheless, it's worth noting that red wine-based dishes may lead to staining that becomes progressively more challenging to remove after multiple uses. |
Le Creuset VS Bruntmor: Durability and Performance
Le Creuset
Bruntmor
Le Creuset is renowned for its exceptional durability due to its robust construction and premium enamel. The cast iron walls display remarkable resistance to warping, and the triple-layered enamel is highly resilient and resistant to chipping or scratching unless subjected to significant misuse.

My Le Creuset Dutch Oven has shown no signs of wear or performance decline, even after numerous uses. Although the initial cost might be higher, Le Creuset proves to be an enduring kitchen treasure that can be handed down to future generations.

The Bruntmor Dutch Oven performs its intended functions effectively, enduring heavy use and high temperatures without showing wear or performance decline. While it's durable and long-lasting, it may not match the durability of top-tier Dutch oven brands.
Le Creuset VS Bruntmor: Warranty
| Le Creuset | Bruntmor |
| --- | --- |
| Le Creuset typically offers a limited lifetime warranty, which is a testament to its quality and durability. The comprehensive lifetime warranty ensures that if your Dutch Oven falls within its coverage, Le Creuset is dedicated to resolving any potential issues that may arise. | Bruntmor provides a one-year limited warranty for their Dutch Oven, which is the standard duration. However, an extended warranty would provide added reassurance to customers. |
Le Creuset VS Bruntmor: Price
| Le Creuset | Bruntmor |
| --- | --- |
| Le Creuset Dutch ovens are generally more expensive. However, the price point reflects Le Creuset's premium quality and brand reputation. | The Bruntmor Dutch Oven is an affordable option for individuals seeking to elevate their dishes without spending too much. |
Cooking Test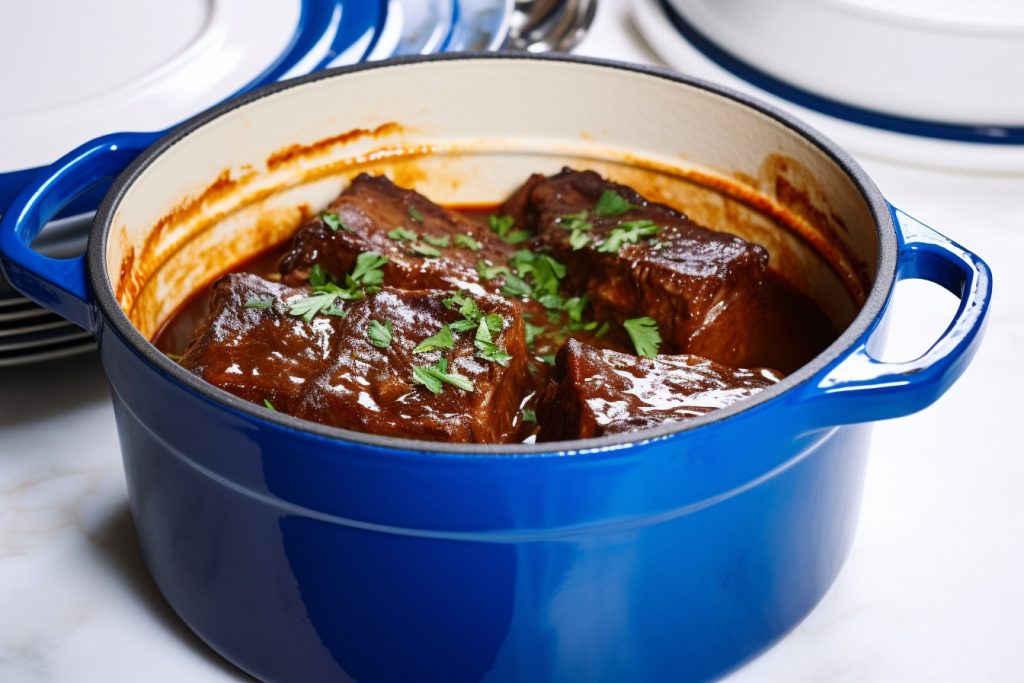 I conducted a thorough cooking test using Red Wine Braised Short Ribs to evaluate and compare the performance of the two Dutch ovens. This culinary exercise enabled me to examine their proficiency across several important criteria:
Browning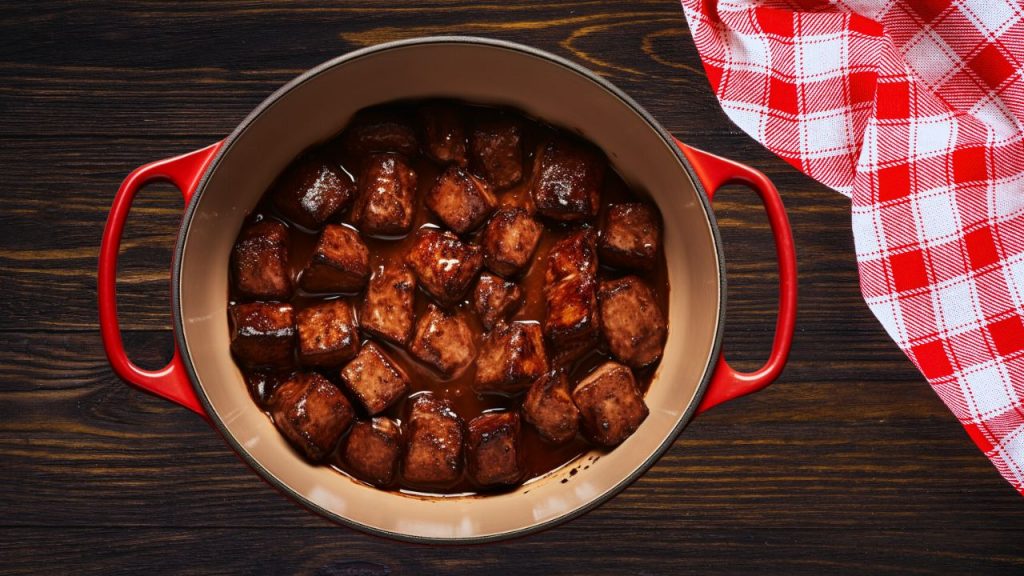 The Bruntmor Dutch Oven has excellent browning capabilities. It's superior heat retention and even distribution create a perfect environment for achieving a deep and flavorful sear on meats and other ingredients.
Le Creuset did an excellent job of browning the short ribs to perfection. Because of its cast iron design and improved heat dispersion, it was easy to achieve even and consistent searing. As a result, the short ribs had wonderfully caramelized skin, demonstrating the type of Maillard reaction that enriches the entire flavor profile of the dish.
Moisture Retention
The Bruntmor Dutch Oven keeps moisture locked in, making it ideal for dishes like braised short ribs or stews, ensuring succulent results.
Le Creuset's Dutch oven showcased its prowess in retaining moisture throughout cooking. The tight-fitting lid and excellent heat retention created an environment where the ribs cooked gently and slowly. The meat juices within the pot were preserved and ensured the meat remained tender and succulent.
Final Flavor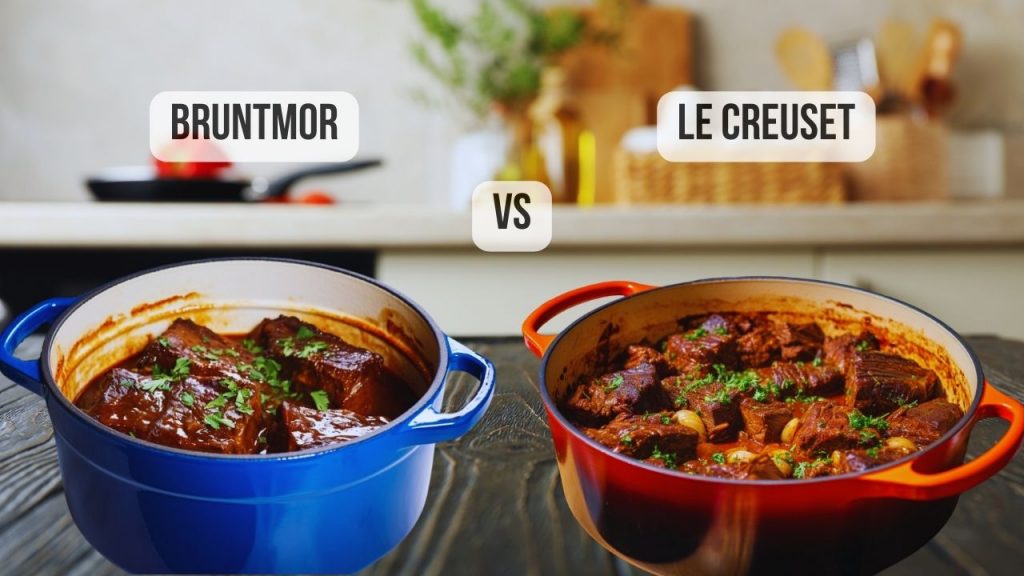 Le Creuset left a distinctive impact on the final flavor of our Red Wine Braised Short Ribs. The Dutch oven intensified and developed the dish's flavors to a level only high-quality cookware can achieve.
The slow simmering process combined all ingredients, resulting in a rich and deep flavor profile. The depth of flavor was a testament to Le Creuset's superior cooking capabilities, elevating the dish to a restaurant-quality standard.
The cast iron construction enhances the final flavor of dishes cooked in the Bruntmor Dutch Oven. It imparts a rich and deep flavor to the food, especially in slow-cooked dishes.
How We Tested
To ensure an equitable and detailed comparison of the Bruntmor and Le Creuset Dutch Ovens, we adopted a structured testing method that scrutinized their cooking efficiency under a range of conditions.
Our evaluation began with an examination of their searing effectiveness. We seared various meats and other ingredients to determine how well each Dutch oven could produce a rich, uniform sear, maintaining identical cooking durations and temperatures for an even comparison.
Following that, we turned our attention to how effectively each Dutch oven preserved moisture during cooking. We observed and contrasted the level of moisture retention in each, assessing their performance in maintaining juiciness.
Finally, to discern the influence on the overall taste of the meals, we prepared the same recipes in both Dutch ovens. We conducted a taste test of the finished dishes from each, noting any nuances in flavor and depth.
Conclusion
In the bustling world of kitchenware, where the options for Dutch ovens seem infinite, our exhaustive comparison between the Le Creuset and Bruntmor Dutch Ovens stands to simplify your decision. Having weighed both contenders against ten pivotal aspects, the verdict is clear.
Throughout the cooking test, both Dutch ovens exhibited admirable qualities. Bruntmor proved its mettle in browning and moisture retention, holding its own with respectable performance. However, the true culinary craftsmanship shone through with Le Creuset. Its superior browning, unparalleled moisture retention, and the enriched final flavor of the dishes set a high bar.
Le Creuset's Dutch Oven not only met but exceeded expectations in every category, from material quality and design to durability and even warranty. It's a premium product with a price that's justified by its lifelong durability and the value it brings to every meal.
In conclusion, while Bruntmor offers a solid option, Le Creuset emerges as the clear winner in this culinary showdown. It is more than just a cooking vessel; it's a legacy piece, an heirloom in the making, promising to grace your kitchen and your meals with its exceptional quality for generations. With Le Creuset, you're not just investing in a Dutch oven; you're investing in a tradition of gastronomic excellence.