The Ooni oven is one of the pizza ovens that people are raving about the most. Ooni is a portable pizza oven that can be used outdoors for gatherings and social events. It cooks your pizza in 60 seconds and warms up to 950°F in 20 minutes. It has a pizza stone, which creates the delicious, crispy crust that a traditional wood-fired pizza oven produces. I used them in my restaurant as well as tried a few Ooni oven models in my backyard.
Ooni has been in the market for a decade now. The oven gained worldwide attention right away and quickly exceeded its financial target.
After using several Ooni ovens for years now, I believe it is a good time for me to review their ovens. This Ooni ovens review is based on the following factors:
Fuel type

Pizza size

Weight

Heat up time

Max temperature

Material

Fuel or gas consumption
Read on below to check my review of the Ooni oven models I have personally tried throughout my years of cooking.
Ooni Karu 16 Multi-Fuel Pizza Oven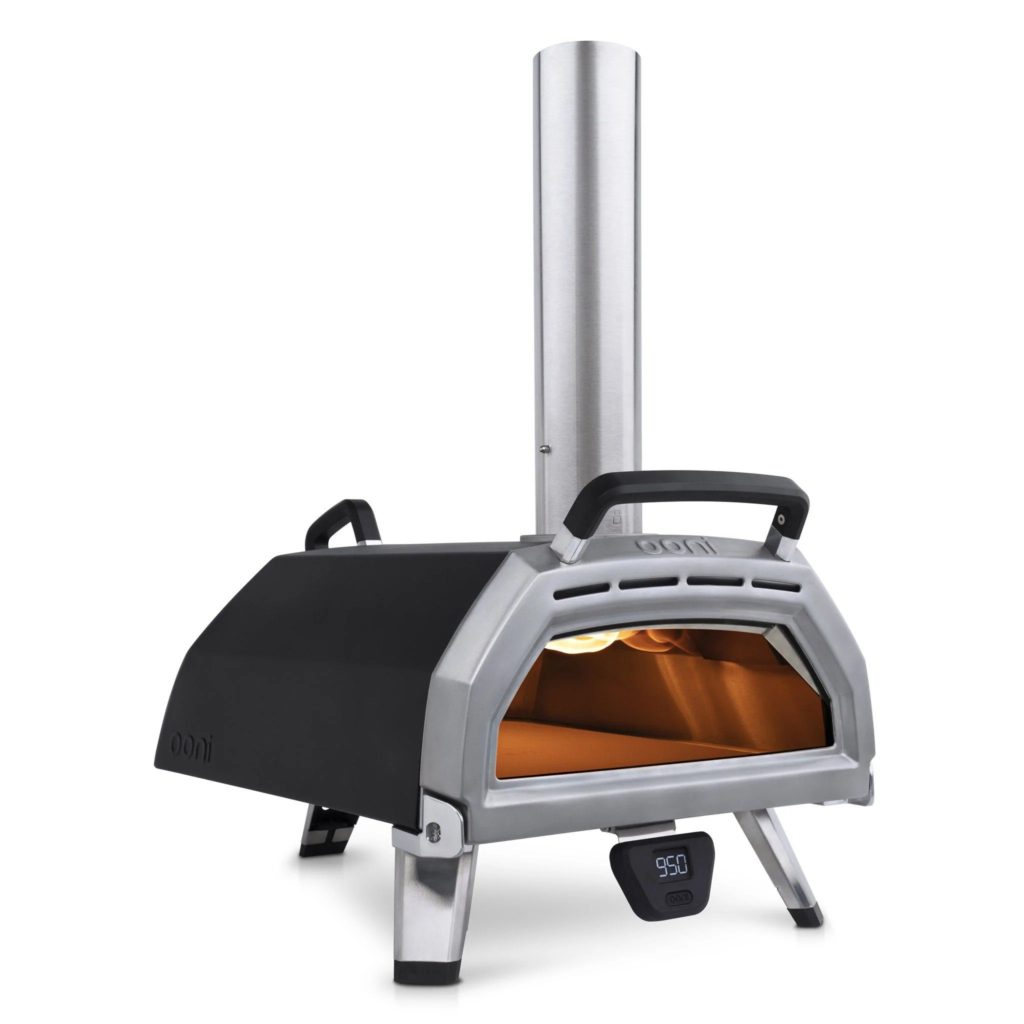 The Ooni Karu 16 differentiates from its rivals thanks to its intriguing features. Out of the box, it is nearly ready for use. To begin, merely extend the legs and place the pizza stone. 
It has a glass door with Ooni's ViewTechnology, a built-in digital temperature, and other features.
My Experience with Ooni Karu 16
I believe the Oonis have an amazing build quality, particularly the Karu 16. I have no issues with this especially when you take into account the cost.
Karu 16 has sliding ceiling vents and an integrated chimney baffle. Two separate adjustments can be done to regulate the airflow using these vents and the baffle. These vents allow you to regulate the flow of air into and out of the Ooni oven and create the ideal temperature for the particular pizza recipe you're making.
There will surely be some trial and error while using your Ooni for the first time, but you'll get better as you get used to it. Gas is the ideal option if you want to be able to take the pizza oven out of the box and control it right away.
Pizzas like Neapolitan pizza, which call for high heat and a strong flame, are ideal for cooking in this oven. 
I was particularly drawn to the Ooni because there is no requirement for cleaning other than the occasional wipe down of the outside since dust accumulates there.
Additionally, the cooking quality was excellent, which is crucial when choosing or testing a pizza oven. I was assured after baking a few pizzas in it that a portable pizza oven can produce pizza that is equally as tasty as one baked in a large, hefty wood-fired oven.
However, Karu 16 has the drawback of being big and heavy. Due to its size, which is 33 x 32 x 20 inches, it occupies a substantial amount of room. It weighs somewhere between 60 and 70 pounds.
Typically, this oven isn't very portable. Apart from that, the product does not come with a gas burner connection. If you want to utilize gas as fuel, you must buy it separately.
Fuel type:

The Ooni Karu models use wood, charcoal, and gas.

Pizza size:

This oven is suitable for 16" size pizzas and big enough to feed a big group.

Weight:

The Ooni Karu 16 weighs 60 to 70 pounds.

Heat up time:

For Ooni ovens, it takes up to 20 minutes for the oven to heat up.

Max temperature:

The oven can heat up to 900 degrees Fahrenheit.

Material:

Instead of the brushed 430-grade stainless body used in the earlier Ooni pizza ovens, the main body now has a powder-coated carbon steel and stainless steel shell. This updated body is more durable and provides far superior insulation.

Fuel or gas consumption:

Wood: Approximately 2.2kg for 10 pizzas

Gas: 0.50 kg/hr
My Final Rating for Ooni Karu 16 Multi-Fuel Pizza Oven: 4.7 out of 5
Ooni Karu 12 Multi-Fuel Pizza Oven
Ooni Karu is a compact multi-fueled pizza oven that weighs 26 lbs (12 kg), making it slightly heavier than the Koda or the Fyra but still portable enough to relocate in your backyard or take with you on excursions.
It is portable and very easy to take on your camping trips. You can easily assemble and transport this oven in no time! You can buy an Ooni carry cover to make the oven easier for you to carry.
Fuel type
Like the Karu 16, Karu 12 is also versatile as you can either use wood, charcoal, or gas when cooking.
Pizza size
You can make 12-inch pizzas in this oven with its 13-inch wide extra thick cordierite baking stone which retains heat longer.
Weight
It weighs 26.4 pounds but powerful enough to be at par with larger ovens.
Heat up time
The heat-up time takes up to 20 minutes. This model has improved heat retention through advanced insulation.
Max temperature
The temperature can go higher than 450 degrees Celsius (900 degrees Fahrenheit).
Material
The Karu 12 is really well constructed and sturdy because the primary body/shell is comprised of carbon and stainless steel. 
Fuel or gas consumption
Wood: Approximately 1.5kg for 10 pizzas
Gas: 0.34 kg/hr
My Experience with Ooni Karu 12
The Ooni Karu 12's portability and ease of setup are two things I adore. Regarding cleaning, there is little concern — all you have to do is wipe it off.
If you appreciate adaptability, this oven allows you to cook with the finest of both wood and charcoal. The results were mainly favorable for all fuel choices, particularly gas and charcoal. My pizza crusts were thoroughly baked and crunchy, and the toppings were likewise cooked to perfection. It also roasts meat and veggies well.
If you prefer a portable oven for camping, this oven is an excellent choice. However, using wood on Karu might be difficult at first. It may take time to perfect how to maintain a consistent temperature. You must also learn to continuously check on the pizza to rotate it at the proper moment.
Also, the infrared thermometer and gas burner adapter is not included, raising the overall cost of the equipment.
Rating: 4.6 out of 5
Ooni Koda 16 Gas-Powered Pizza Oven
This model is a bigger version of the original Ooni Koda with revolutionary features including the L-shape burner for consistent cooking and greater heat retention. This L-shaped burner cooks pizzas in 60 seconds without having to turn them around every now and again.
A very minimal setup is necessary for the Koda 16. To keep the oven firmly in position, you only have to fold out its three legs and have slip-resistant material on the bottom. Then, you can slide the pizza stone into the oven's interior.
Fuel type
You can use propane gas or natural gas on an Ooni Koda 16 pizza oven.
Pizza size
You can make 16'' pizzas in this beautifully designed oven.
Weight
The oven weighs 40.1 lbs (18.2 kg), which is lighter than you might anticipate given that it is a larger model. Even so, you may easily move it about as it is still a portable oven.
Heat up time
In a little less than 20 minutes, the Koda 16 can reach 700 degrees which is the ideal temperature for cooking pizza.
Max temperature
This oven can heat up to more than 450 degrees Celcius (900 degrees Fahrenheit).
Material
Ooni Koda 16 has a fiber-insulated inside, which enhances the oven's ability to hold heat. It includes 20 mm of ceramic insulation all the way around the shell.
It features a strikingly smooth silver surface with accents of black on the pizza oven, giving it a classy and opulent appearance.
Fuel or gas consumption
Wood: Approximately 1.5kg for 10 pizzas
Gas: 0.50 kg/hr
My Experience with Ooni Koda 16
Igniting the Ooni Koda 16 oven is simple. You just simply push in and turn the ignition button to the left for a few seconds to get the oven going. It immediately connected to the gas and ignited the L-shaped burners within the oven.
The Koda 16's L-shaped flame heats the back left corner of the oven. Being close to it is great for speedily cooking a pizza.  With a couple of spins, fresh dough produced by hand is cooked in two to three minutes. The dough is left with neatly puffed and speckles of char known as "leoparding."
If you want a gas-powered pizza oven with a huge inside space, this model is recommended for you. However, the main downside of the Koda 16 is it is quite pricey compared to other Ooni models. It also doesn't have a built-in thermometer so you have to buy it separately which will add cost to its already expensive price.
Rating:
4.5 out of 5
Ooni Koda 12 Gas-Powered Pizza Oven
The Koda 12 is one of the newest models in the Ooni pizza oven lineup, and it appears to be fairly remarkable. It heats quickly and cooks the pizzas swiftly. Its other key selling point is that it is small, compact, and extremely portable – it can be transported anywhere.
Fuel type
You can use propane gas for Ooni Koda 12.
Pizza size
The oven can fit 12" pizza per cooking.
Weight
The Koda 12 is lightweight and compact as it only weighs just over 20 pounds.
Heat up time
The heat-up time for this Ooni oven is less than 20 minutes.
Max temperature
The oven can reach high temperatures of more than 450 degree Celsius (900 degrees Fahrenheit).
Material
To provide excellent heat retention, the shell is built of strong powder-coated carbon steel and insulated with ceramic. The undercarriage is also made of stainless steel.
Fuel or gas consumption
0.63lb/0.28kg per hour
My Experience with Ooni Koda 12
The Koda 12 didn't pose any problems in terms of setup. It's simple to assemble because it comes fully completed as a single unit. Simply place the oven on a table, flip out the three permanently attached stand legs, insert the stone board inside the oven, and attach the gas regulator and line to a propane gas tank.
The Koda 12's gas burner is located in the back and is completely unique. It's a significant advance over the Ooni 3 gas burner, which featured two spherical holes through which the gas flowed straight down into the oven.
This Ooni oven heats up quickly. My Koda oven's stone reached about 800°F in less than 20 minutes, which is incredibly speedy given that most large pizza ovens require at least 1.5 hours, if not more, to reach the ideal temperature for baking pizzas.
What I don't like about this oven is how difficult it is to turn the pizza owing to the small size of the inside and the aperture. The interior is around 6 to 8 inches tall, which is a deliberate design decision aimed to keep the Koda compact and portable but makes turning the pizza inside difficult. It was simply too little for the 12-inch pizzas I'm making.
Rating:
4.5 out of 5
Ooni Fyra 12 Wood Pellet Pizza Oven
The Ooni 3 oven, one of the brand's best-selling models, was replaced by the Ooni Fyra oven. Unlike its predecessor, it only burns wood pellets as fuel and has been upgraded with a more creative look and a number of performance upgrades.
A higher fuel hopper that can contain more fuel, a new viewing hole, and a sturdy casing that maintains more heat than the Ooni 3 are some of the improvements. Despite the fact that it took a few tries to get the pizzas just perfect, they were quite delicious.
Fuel type
Wood pellets via a gravity-fed hopper
Pizza size
Ooni Fyra 12 fits 12-inch pizza.
Weight
The Fyra is lightweight and small. It only weighs 22 pounds (10 kgs) and can be readily carried by one person.
Heat up time
Heating up can take up to 20 minutes.
Max temperature
The Fyra 12 can heat up to 950°F (510°C).
Material
The shell's material is insulated 430-grade powder-coated carbon steel. This steel makes the Fyra's shell stronger than the Ooni 3, and its corrosion resistance and castability are excellent, allowing it to be fit for outdoor use for extended periods of time.
Fuel or gas consumption
Wood pellet: 1kg per hour
My Experience with Ooni Fyra 12
The oven itself was quite simple to assemble. There are only a few components to attach, and it simply takes a few minutes with no special tools. All that's needed is to fold down the legs, slide in the stone oven foundation, and twist the chimney and hopper pipe into place on top.
Cleaning the Fyra isn't that difficult. There is very little mess to worry and cleaning is mostly done by the powerful heat within the oven.
I was able to make great pizzas using the Ooni Fyra 12. The results are quickly puffed, spotted, and baked no matter what kind of dough you use (I've tested both homemade and store-bought varieties).
The combination of wood pellets and a fire starter couldn't be easier, and if you keep the hopper full to the brim, you'll be rewarded with consistent, extremely high temperatures.
When I used the Fyra for the first time, I was worried about not moving the pie properly around the oven, but the entire procedure was simple to follow.
The baking stone warms up consistently and did a good job of maintaining heat as well. Because the Fyra heats and cooks so quickly, you'll need to pay close attention when cooking your pizzas because they could wind up entirely burned if you don't watch them for even a short period of time.
Although the device only burns wood pellets, if you are a fan of burning solely wood, the Ooni Fyra will be perfect for you.
Rating: 4.9 out of 5
Ooni Pro 16 Multi-Fuel Pizza Oven
The largest Ooni model is Ooni Pro. It is ideal for large families or people who frequently assemble outside. Its adaptability is the key selling point or what we found most alluring. It is a multi-fuel pizza oven with the ability to cook on charcoal, wood pellets, wood chunks, and propane gas. It is Ooni's most adaptable pizza oven.
Fuel type
You can use charcoal, wood pellets, wood chunks, and propane gas on Ooni Pro 16.
Pizza size
This oven is large enough to fit a 16" pizza.
Weight
It is the least portable model of all the Ooni pizza ovens due to its about 57-pound weight, which is double that of the other variants.
Heat up time
The oven needed roughly 20 minutes to reach 900°F while using gas. When we utilized charcoal and wood pellets, it took the oven about 25 minutes to reach 430°C. The oven took a while to heat up completely when using the wood chunks.
Max temperature
Regardless of the fuel source utilized, the Ooni Pro was able to heat up to 900°F (482°C), much like the other Ooni pizza ovens.
Material
The Ooni Pro's overall construction quality is quite impressive. It is a reliable and strong pizza oven. The exterior of the body is composed of brushed 430 stainless steel, while the interior's roof is built of thick ceramic fiber insulation.
Fuel or gas consumption
Wood: 5lbs for 10 pizzas
Gas: 1.04 lb/hr
My Experience with Ooni Pro 16
Setting up the Ooni Pro is simple because most of the components just clicked into place. To screw in various sections, an Allen key is provided. Basically, the main body's legs must be opened up during the assembling procedure. Next, position the chimney before using the clip to firmly fasten it to the main structure.
Among the Ooni pizza ovens, the Ooni Pro airflow technology was by far the best. In my usage, the Ooni Fyra's chimney and vent in the back did an excellent job of moving air about inside the vehicle.
Wood pieces are the fuel that may be a little difficult for you to manage since it smolders, especially when you add a new piece or more. The temperature can be more easily controlled using a gas burner.
Like the majority of the other pizza ovens, the Ooni Pro performs a respectable job of maintaining its cleanliness. There is no need to sanitize the cooking surface because the high temperatures it runs at burn up almost everything.
The only regular problem is ash buildup from using wood, charcoal, or wood pellets for cooking.
The absence of the gas attachment from the Ooni Pro 16 is a drawback. A few customers argued that the product ought to include the gas attachment for free given how expensive it is.  Also, while it is easy to use if you are experienced with Ooni ovens, I find that this model is more challenging to learn how to use compared to other Ooni models.
Rating: 4.7/5