If you are into baking professionally, or just simply love watching baking shows, you might have seen or heard something about commercial deck ovens.
To define a deck oven, it is an oven that is using conduction heat for commercial baking. This oven has a controlled heat environment inside and can be adjusted based on what you are cooking or your preference. Inside deck ovens, the heat was directly transferred from the stone to the products being baked.
Who Needs a Commercial Deck Oven?
A commercial deck oven is used for baking, so basically, this oven is for bakers and pastry chefs, especially high-skilled ones. Most often, commercial deck ovens are found in a professional pastry kitchen or a bakery. This oven is perfect for those who have a business as a baker because it isn't cheap to buy a deck oven and it is used to produce batches after batches of baked bread. They are also used to cook yummy pizzas!
What Are The Advantages of Commercial Deck Ovens?
As someone who never bakes or not into baking, I thought that ovens used in the bakery are all the same. But guess what, they are not! Some ovens do have an edge over others, just like commercial deck ovens.
Deck ovens are easier to control when talking about the heat. Since it has two slobs, which are the upper and lower, the baker or the user can control these parts independently! This means you can have a different temperature for the bottom and upper part of the oven.
Commercial deck ovens also use energy efficiently. Using these ovens can save you up to 75% of consuming fuel comparing to using other types of ovens. Its design also contributes to it being energy-efficient. With this advantage also comes another one – it means that it has low operational costs and you can save some money. These ovens are also sustainable and durable, which means your money won't be a waste when buying one.
What Are The Types Of Commercial Deck Ovens?
Commercial deck ovens offer a variety that is perfect for every baking situation or requirement you need. Here are some of them
Steam Commercial Deck Oven
Commercial deck ovens with steam use a tube and have the ability to convert water into steam. This converted steam will then go through the tubes and be distributed inside the oven. When the baking is done and the oven is being cooled, this steam will then be transformed back or be condensed into water. The condensed water then will be reheated to be used for the next baking session. This type of commercial deck oven is perfect if you want baked goods with a crust that is rich in flavor.
Electric Commercial Deck Oven
This type of deck oven uses electricity to power up the oven. It is cheaper than gas ovens and is low maintenance since you just need to plug it in any electric socket for it to operate. Using this an electric commercial deck oven is the best when you want the outside of your baked goods to be crisp since the air inside this oven is usually dry, making the baked goods that way. Users or operators can easily set the different temperature manually if you have a multi-decker electric commercial oven. This is such a good thing especially if you want to bake different items on each deck at the same time.
The next type of commercial deck oven is the gas-operated one. Turning on a gas commercial deck oven allows the gas to flow to the open from the supply. Heat is then regulated inside the oven which makes sure that the bread or goods are baking baked. When done baking, the gas supply will be cut off and the inside of the oven will start to cool down.
Thermal Oil Commercial Deck Oven
A thermal oil commercial deck oven works when the oil is heated from a heating unit. This unit is normally placed far away from the oven itself. The heated oil will be then pumped into the ovens and it will move around the cooking chambers of the oven. This kind of deck oven consumes less energy than other types since it can hold heat inside the oven for a longer period. However, they require a lot of maintenance work and are large.
Commercial Double Deck and Multi-deck Oven
This type of deck oven can be any of the deck oven types discussed above. A double-decker means it has two decks in which you can bake while a multi-decker simply means the deck oven can have 3 or more decks. Depending on what time of deck oven it is, like gas or electric, these decks can be manipulated or operated as a whole or each deck. Commercial double deck and multi-deck oven are helpful and perfect if you are cooking a lot and in big batches.
What are the Things to Consider before getting a Commercial Deck Oven?
Buying a commercial deck oven will not be like a walk in the park for your wallet. Since it is not cheap to buy one, you need to take note that it should cater to your needs in baking. You also need to know what are the things that you should consider before buying:
Size Matters
Knowing the size that fits your baking needs and baking space is important before deciding to buy a deck oven. You also need to consider if you are doing a big production of baked goods or not. If you do, chances are you need a deck oven that has multiple deckers or drawers for doing a big batch of baking.
Assembling
You also need to check if you want an oven that is already assembled and delivered to your bakery. Most often, electric ovens are delivered like this. There are also types of deck ovens such as gas deck ovens that need to be installed by certain companies. The problem with ovens that need installation first is the time used for installing which is downtime for your production.
Is it User-friendly?
You just bought that most expensive deck ovens but your staff is having a hard time understanding how to operate it. This is such a bummer, right? This is why you need to check if the deck oven you are eyeing is easy to use. You also need to check if the parts like the loaders are easy to put in in the oven.
Now that we've learned the basics about commercial deck ovens, we'll talk about the deck ovens that are available in the market right now.
TOP-5 Commercial Deck Ovens In 2021
Blodgett 961-961-951 Gas Double Deck Oven
This gas deck oven made by Blodgett has double decks with iron frames. Its tubular door handle has a heavy chrome plated finish and the front, top, sides, and back portions of the oven are made of stainless steel and are also insulated. It has a total weight of 11140 lbs and has an interior width of 42 inches.  Its liquid thermostat range is from 200 to 500°F and has adjustable stainless steel legs. It features a free-floating and easy to remove burner that is duplex type, adjustable shutters for air mixers and locking device, and easy to open burner doors. The valves in the oven are accessible through a compartment located on the front part which is ventilated. These valves include the safety pilot, main gauge, and main gas valves and are located within the section body.
PROS
Insulated front, top, sides, and back parts
Adjustable air mixer shutters
Orifices on the burners are removable
Removable burners
CONS
Heavy
A well-ventilated area is needed
Bakers Pride 452 Double Deck Natural Gas Commercial Oven For Pizza
Next on the list is the commercial gas double deck oven made by Baker's Pride. Its exteriors are made of type 403 stainless steel and while the interiors are made of 16 gauge stainless steel which is resistant to high heat. The exterior and the doors of the oven are also insulated. The legs also have rollers or wheels which is so convenient if you want to move the deck oven from one place to another. This gas deck oven features heat control dampers located both on the top and bottom of the oven that is independent and can be controlled by an operator. The thermostat of the oven can be controlled from 300 to 650°F.
PROS
Moveable because of the wheels on the legs
Independent heat control damper
Removable diverters
Spring balanced insulated doors
CONS
No automatic oven starter
Doyon 3T Artisan Stone Deck Oven
The 3T artisan stone deck oven from Doyon has four options. These are the single deck, double deck, triple deck, and four deck types. Each deck can hold up to 3 pans with 18 by 26 in dimension. This electric deck oven has electronic control that is digital with 3 zones and is available in 240V and 480V voltage input. It features steam injection on each deck that is manual and self-contained. It also has three temperature ranges starting from low which is from 250 to 300°F, the medium that is from 350 to 425°F, and high temperature ranging up to 575°F.
PROS
Has a lot of number of deck options
Digital electronic control for decks
Manual steam injection for each deck
Thermal insulated
CONS
Can be pricey depending on the number of decks
Marathoner Gold Series Electric Convection Double Oven EB/20SC
Next is the electric double-deck oven manufactured by Southbend. It features bakery depth that is extra deep and comes with 11 position rack guides and 5 oven racks that are plated. It is also offered in voltages option for the input including 208V, 220-240V, and 240V and is also accepting customization for voltage input options. Its thermostat is ranged from 140 to 500°F.
PROS
Has lights inside the oven
Fan mode to force cool down the temperature
Electrical cook timer for 60 minutes
CONS
Heavy
Fewer options when choosing the number of decks
Waring WPO500 Commercial Single Deck Pizza Oven With Electric Countertop
This single deck pizza oven by Waring Commercial operates and is powered by electricity. It has one ceramic deck which is 18 inches in dimensions. Its top and bottom elements also have independent thermostatic controls each. The top is made of stainless steel while the sides and doors are made up of aluminium. Its temperature range starts from 150 to 840°F.
PROS
Has adjustable legs
Interior has light
Independent thermostatic controls
CONS
Small
Less production
Can't handle batch production
Bakers Pride 450 Single Deck Gas Commercial Pizza Oven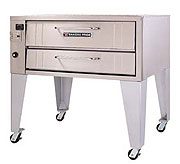 This is another deck oven made by Bakers Pride. It only has a single deck and has front, sides, and back parts that are made of stainless steel. It features a unique convention-style on its heat circulation system which allows uniform heat in the baking chamber. It also has two options for gas, one is natural gas and the other is LP gas. It also has a temperature range of 300-650°F.
PROS
Stackable
Flame diverters are removable
Provides uniform burner flame
CONS
Legs don't have caster wheels
Less production of baked goods
Blodgett 911 Gas Double Deck Oven
Last but not least is the double-deck oven by Blodgett. It has an interior width of 33 inches and weighs 895 lbs. The top, back, sides, and bottom doors are insulated and are easy to open. It also has a liquid pressure thermostat temperature range of 200 to 500°F. This oven is also made of steel and has a combustion chamber made of aluminium steel.
PROS
Adjustable air shutters on air mixers
Aluminized steel interior
CONS
Temperature range is short
Heavy
Conclusion
I hope you learned a lot about commercial deck ovens in this article. With all this information you have now, I bet it will be easier for you to decide what is the best commercial deck oven for you and your baking needs.