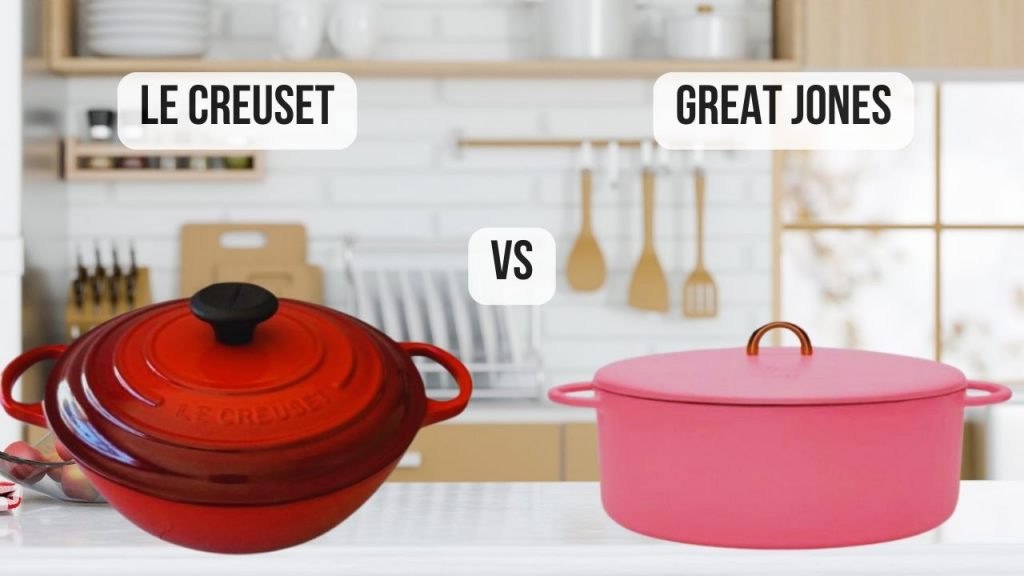 Embarking on a quest to discover the perfect Dutch oven can be as crucial for home cooking as it is in a professional kitchen. As a seasoned restaurant chef with a decade of experience, I understand that the choice between one Dutch oven and another can make a significant difference in your cooking results. Today, I'm zooming in on two notable contenders in the Dutch oven arena: the classic Le Creuset Dutch Oven and the chic Great Jones "The Dutchess" Dutch Oven. Both have made a name for themselves, but how do they truly stack up? I will guide you through a clear-cut comparison, focusing on the pivotal aspects that matter most:
Material
Weight
Heat retention and compatibility
Lid fit
Handles and product design
Colors
Maintenance and cleaning
Durability and performance
Warranty
Price
Le Creuset Dutch ovens are renowned cookware for their exceptional quality and versatility. These Dutch ovens are a favorite among professional chefs and home cooks alike as they can elevate your dishes.
The Dutchess Dutch Oven by Great Jones is a culinary workhorse that combines quality craftsmanship and timeless design. This pot is not only incredibly functional, but it's also a striking display piece that you won't want to stow away. I will briefly discuss its built and cooking performance below.
By examining each of these attributes, we'll unearth the distinct characteristics that may influence your decision. Whether you're simmering stews, baking bread, or searing meats, choosing the right Dutch oven is essential. So let's dive into the specifics to see which Dutch oven—Le Creuset or The Dutchess—could become your reliable kitchen companion.
Le Creuset VS Great Jones: Material
| Le Creuset Dutch Oven | Great Jones "The Dutchess" |
| --- | --- |
| The Le Creuset Dutch Oven is expertly fashioned from high-quality cast iron, which is evident in its sturdy build. Each item in Le Creuset's cast iron cookware collection undergoes a meticulous production process, individually cast using sand molds and subjected to rigorous inspection by skilled French artisans. | The Dutchess boasts high-quality enameled cast iron construction, ensuring even heat distribution for slow cooking. Its 4.75-inch walls protect against splattering and allow for ample food portions. Its spacious oval shape accommodates large cuts of meat, making it ideal for braising. |
Le Creuset VS Great Jones: Weight
| Le Creuset | Great Jones |
| --- | --- |
| Le Creuset Dutch ovens are solid and weighty, which is excellent for heat retention. However, handling it may be a bit heavy, especially when full. | Great Jones "The Dutchess" Dutch Oven is a bit hefty but not as heavy as other premium Dutch oven brands. So far, the weight is manageable, as I can lift and maneuver it without too much effort. |
Le Creuset VS Great Jones: Heat Retention and Compatibility
| Le Creuset | Great Jones |
| --- | --- |
| Regarding heat retention, the Le Creuset Dutch Oven consistently maintains its desired temperature without needing constant adjustments. Moreover, the Le Creuset Dutch Oven offers exceptional heat compatibility. I seamlessly transitioned from stovetop to oven for versatile cooking methods. | The Dutchess Dutch Oven excels in heat retention. It maintains steady temperatures for tender and flavorful slow-cooked dishes. It's also highly compatible with various heat sources, including gas, electric, induction, and ovens up to 500°F (260°C), facilitating seamless transitions between stovetop and oven cooking for various recipes. |
Le Creuset VS Great Jones: Lid Fit
| Le Creuset | Great Jones |
| --- | --- |
| Le Creuset lids are known for their tight fit, which helps trap moisture and flavor. They have a unique design that allows for self-basting, ensuring succulent dishes. This Dutch oven is certainly built to withstand long periods of slow cooking. | This Dutch oven performs well overall, but the lid fit has a slight issue, as it tends to trap steam, leading to some excessive condensation. However, this is a minor concern and doesn't significantly affect the cooking process. |
Le Creuset VS Great Jones: Handles and Product Design
| Le Creuset | Great Jones |
| --- | --- |
| Le Creuset's ergonomic and heat-resistant handles make it easy to carry and serve directly from the oven to the table. The elegant design of this Dutch oven enhances the sophistication of any kitchen. It has many vibrant color options for a personalized touch to match your décor. | This Dutch oven's ergonomic handles make it easy to handle, even when full, and they are mitt-friendly. Its retro-inspired oval shape and vibrant color options provide a stylish yet contemporary appearance. Additionally, the sleek, glossy enamel finish enhances its aesthetic appeal. |
Le Creuset VS Great Jones: Colors
| Le Creuset | Great Jones |
| --- | --- |
| Le Creuset's extensive color palette is one of the standout features that set their Dutch ovens apart. The brand is known for offering an array of vibrant and elegant colors to cater to various tastes and kitchen aesthetics. | The Dutchess is available in a variety of elegant and eye-catching color options, including Sapphire Blue, Forest Green, Golden Yellow, Dusty Pink, Black, and White. You can select which color suits your kitchen best. |
Le Creuset VS Great Jones: Maintenance and Cleaning
| Le Creuset | Great Jones |
| --- | --- |
| The Le Creuset Dutch Oven is simple to clean, and it's dishwasher safe. Its enamel coating on the interior and exterior makes cleaning a breeze. I simply soaked it and gently scrubbed it with a quality cast iron scrubber with no significant challenges. | Cleaning the Great Jones Dutch Oven is effortless due to its enameled interior. It is also dishwasher-safe, which is time-saving. Food residue comes off easily, and unlike traditional cast iron, it doesn't need seasoning, making it low-maintenance. |
Le Creuset VS Great Jones: Durability and Performance
| Le Creuset | Great Jones |
| --- | --- |
| Le Creuset is renowned for its exceptional durability due to its robust construction and premium enamel. The cast iron walls display remarkable resistance to warping, and the triple-layered enamel is highly resilient and resistant to chipping or scratching unless subjected to significant misuse. My Le Creuset Dutch Oven has shown no signs of wear or performance decline, even after numerous uses. Although the initial cost might be higher, Le Creuset proves to be an enduring kitchen treasure that can be handed down to future generations. | I find the Great Jones Dutch oven to be durable. Its construction seems sturdy enough to last years as long as it is properly maintained and cared for. In terms of performance, it is consistent and reliable in delivering excellent dishes. |
Le Creuset VS Great Jones: Warranty
| Le Creuset | Great Jones |
| --- | --- |
| Le Creuset typically offers a limited lifetime warranty, which is a testament to its quality and durability. The comprehensive lifetime warranty ensures that if your Dutch Oven falls within its coverage, Le Creuset is dedicated to resolving any potential issues that may arise. | Great Jones offers a lifetime warranty on their cookware, covering manufacturing defects and faults in materials and crafts under everyday consumer use. |
Le Creuset VS Great Jones: Price
| Le Creuset | Great Jones |
| --- | --- |
| Le Creuset Dutch ovens are generally more expensive. However, the price point reflects Le Creuset's premium quality and brand reputation. | The Dutchess generally costs less compared to Le Creuset, but its enhanced features and lifetime warranty may justify the higher cost compared to more budget-friendly options, offering long-term value. |
Cooking Test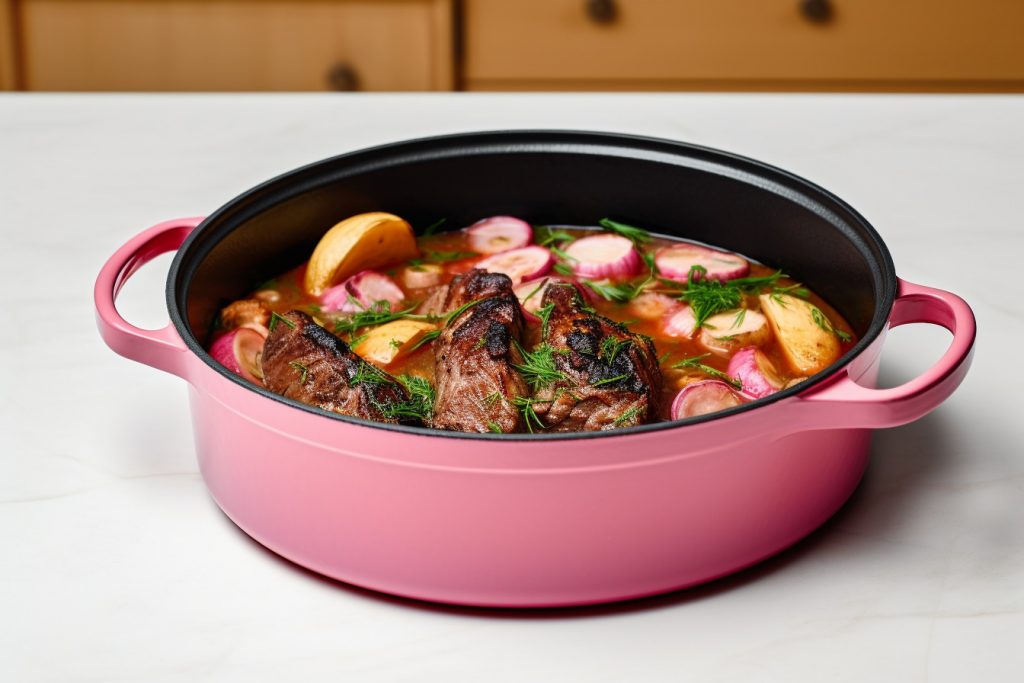 During our cooking test, we put the Great Jones and Le Creuset Dutch ovens head-to-head by cooking up some succulent Red Wine Braised Short Ribs. We aimed to compare their performance specifically in terms of browning, moisture retention, and the final flavor of the dish.
Browning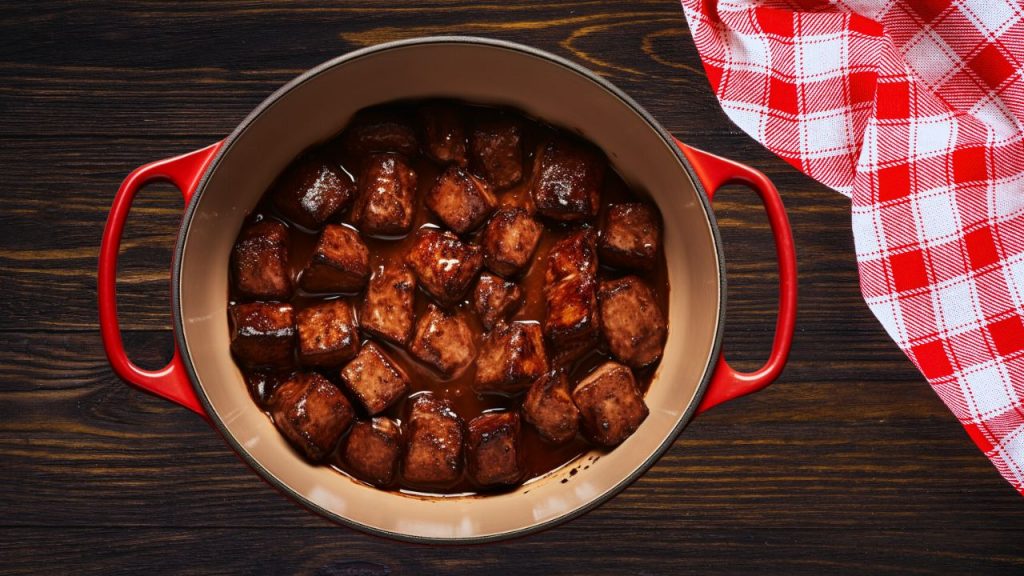 When it comes to browning, both Dutch ovens performed admirably. The Great Jones evenly and consistently browned the short ribs, creating a rich, flavorful base for our braising liquid. The heat distribution in this cookware options was impressive, ensuring the meat achieved a desirable sear.
Le Creuset did an excellent job of browning the short ribs to perfection. Because of its cast iron design and improved heat dispersion, it was easy to achieve even and consistent searing. As a result, the short ribs had wonderfully caramelized skin, demonstrating the type of Maillard reaction that enriches the entire flavor profile of the dish.
Moisture Retention
Maintaining moisture is paramount when slow-cooking dishes like Red Wine Braised Short Ribs. The Great Jones "The Dutchess" demonstrated remarkable moisture retention capabilities.
Le Creuset's Dutch oven showcased its prowess in retaining moisture throughout cooking. The tight-fitting lid and excellent heat retention created an environment where the ribs cooked gently and slowly. The meat juices within the pot were preserved and ensured the meat remained tender and succulent.
Final Flavor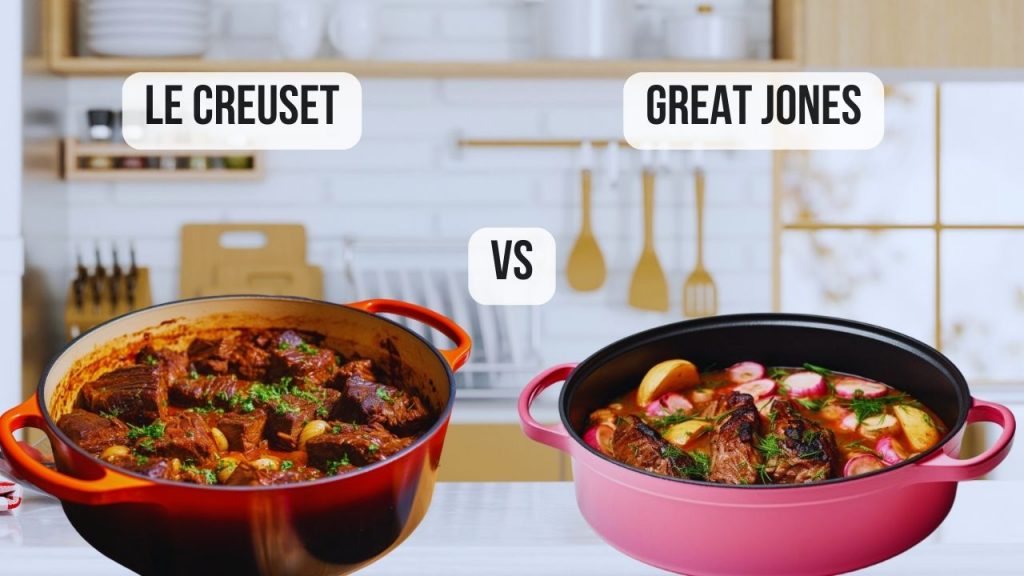 Both Dutch ovens produced outstanding results, with the dishes having a remarkable depth of flavor. The even cooking and moisture retention characteristics contributed to a succulent, tender, and intensely flavorful end product. It was difficult to tell the difference in the final flavor between the two Dutch ovens, as both had exceeded expectations.
How We Tested
Our cooking test was designed to rigorously assess the performance of both Dutch ovens in an authentic kitchen setup.
We began by positioning the Dutch ovens on the stovetop, heating them up to the required level. In each pot, we seared the short ribs to perfection, observing how well they conducted heat and seared the meat, an important aspect of flavor development.
Once we achieved an even browning on the ribs, we introduced the rest of the ingredients necessary for the Red Wine Braised Short Ribs, this included the braising liquids and herbs. We were meticulous in following the recipe steps for both Dutch ovens, keeping the heat controlled and steady during the entire cook.
As the ribs slowly cooked, our attention was on the moisture retention capabilities of each oven, noting how effectively their lids locked in steam and moisture to ensure a juicy result.
Finally, upon completing the cooking time, we carefully evaluated the braised ribs from each Dutch oven. The tenderness, depth of flavor, and overall quality were scrutinized to determine how each oven contributed to the finished dish.
Conclusion
In the quest for the ultimate Dutch oven, our comprehensive test revealed clear differences between Le Creuset and Great Jones. Each brand brought its unique strengths to the table, but one emerged as the leader in multiple key categories.
The Le Creuset Dutch Oven, with its superior heat distribution, resulted in exceptional browning, a foundational step that underpins the complex layers of flavor in any dish. Its robust construction and impeccable moisture retention were evident throughout the cooking process, resulting in meat that was not only tender but also infused with a depth of flavor that only a finely tuned cooking vessel can achieve.
The Great Jones "The Dutchess" is undoubtedly a formidable opponent, marrying functionality with style. Its performance was commendable, particularly in moisture retention, yielding a final dish that was both delicious and visually appealing.
In the final analysis, the Le Creuset Dutch Oven takes the crown. Its unparalleled performance in our cooking test, paired with its proven track record in kitchens around the world, secures its place at the pinnacle of Dutch oven craftsmanship. Whether for the amateur cook or the seasoned chef, Le Creuset is the definitive choice, promising to bring out the best in any recipe and to endure as a cherished tool for generations of food lovers.