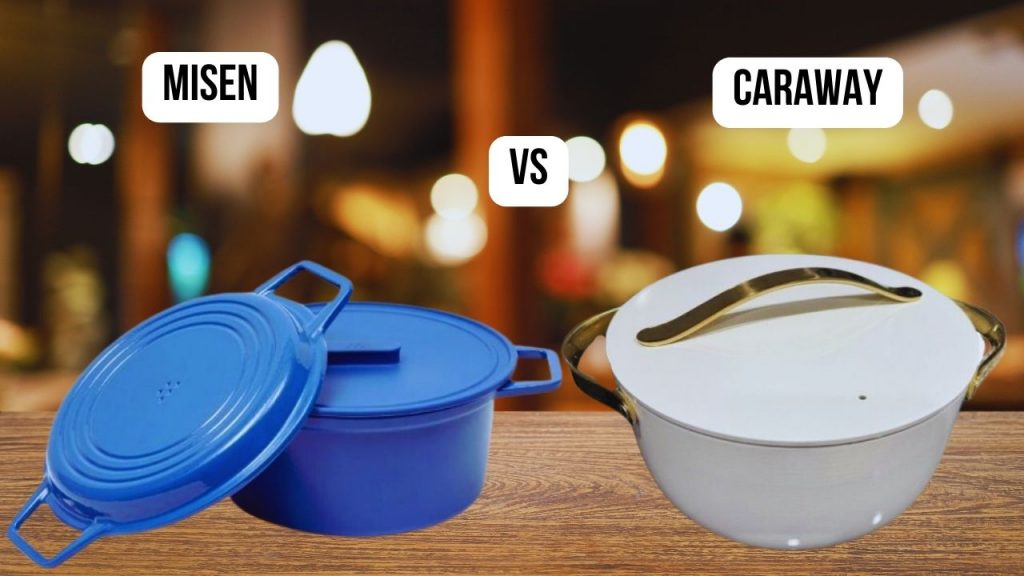 As someone deeply immersed in the culinary world with a decade of restaurant chef experience, I've encountered a myriad of kitchen tools and cookware. Today, let's delve into the realm of Dutch ovens, focusing our attention on the Misen Dutch Oven and the Caraway Dutch Oven. These two options have gained popularity among home cooks and chefs alike. To guide you in making an informed choice, we'll scrutinize them across key parameters:
Material
Weight
Heat retention and compatibility
Lid fit
Handles and product design
Colors
Maintenance and cleaning
Durability and performance
Warranty
Price
The Caraway Dutch oven offers a modern and chic version of the traditional Dutch oven. Its sleek and contemporary appearance piqued my interest, so I bought one to test it.
Misen Dutch Oven is a versatile and highly-regarded cookware. It has garnered attention from culinary enthusiasts and professional chefs alike for its quality and craftsmanship.
In the following sections, we'll closely examine each Dutch oven, unraveling their nuances to unveil the distinctions that set them apart and determine which one stands out as the superior choice.
Caraway VS Misen: Material
| Caraway | Misen |
| --- | --- |
| Caraway Dutch Ovens are made from lightweight cast aluminum with a non-toxic ceramic nonstick layer. | The Misen Dutch Oven is constructed from robust cast iron with a non-reactive enamel interior. It offers durability and easy maintenance. However, I advise you to handle it carefully, as the exterior enamel coating is prone to chipping despite its elegant appearance. |
Caraway VS Misen: Weight
| Caraway | Misen |
| --- | --- |
| Caraway Dutch Ovens are significantly lighter than their cast iron counterparts, making them more manageable for everyday cooking. | It is relatively lighter than many other cast iron Dutch ovens, making it more manageable for daily use in the kitchen. |
Caraway VS Misen: Heat Retention and Compatibility
| Caraway | Misen |
| --- | --- |
| While Caraway Dutch Ovens perform well in heat retention, they may not hold heat as long as cast iron. They are compatible with various heat sources, including stovetops and ovens. | The Misen Dutch Oven excels in heat retention, maintaining consistent temperatures for optimal results when braising or slow-cooking dishes. Additionally, it offers remarkable heat compatibility, suitable for various stovetops and ovens up to 500°F, and the unique grill lid feature makes it versatile for different cooking techniques. |
Caraway VS Misen: Lid Fit
| Caraway | Misen |
| --- | --- |
| The Caraway Dutch Oven's tightly fitting lid traps moisture and preserves the flavor of the dishes I prepare. | The Misen Dutch Oven has a tight-fitting lid that traps moisture and flavors. Adding the grill lid enhances the preservation of steam, similar to a pressure cooker, which accelerates the tenderizing process and intensifies the flavors of your dishes by preventing evaporation. |
Caraway VS Misen: Handles and Product Design
| Caraway | Misen |
| --- | --- |
| Caraway Dutch Ovens feature ergonomic stainless steel handles that stay cool on the stovetop. Their design is modern and sleek, fitting well in contemporary kitchens. | The Misen Dutch Oven has ergonomic handles that allow me to securely grip the pot even when wearing oven mitts. The overall design of this Dutch oven offers aesthetic appeal and practicality with its sleek, minimalist design. |
Caraway VS Misen: Colors
| Caraway | Misen |
| --- | --- |
| Caraway offers a limited but attractive color selection to match various kitchen aesthetics. | The Misen Dutch Oven is available in various attractive colors, including Blue, Red, Green, Gray, and classic Black. Hence, you can choose the one that best complements your kitchen decor and personal style. |
Caraway VS Misen: Maintenance and Cleaning
| Caraway | Misen |
| --- | --- |
| It's easy to maintain and clean the Caraway Dutch Oven. Even after lengthy cooking sessions, the nonstick ceramic coating makes cleaning up easy and helps avoid food sticking. It is also dishwasher safe, so you can save time cleaning it. | Cleaning the Misen Dutch Oven is straightforward as it's dishwasher safe, but avoiding abrasive cleaning tools to protect the enamel coating is recommended. |
Caraway VS Misen: Durability and Performance
| Caraway | Misen |
| --- | --- |
| While Caraway Dutch Ovens may not match the lifelong durability of cast iron, they offer excellent performance and can serve you well for many years if maintained properly. | The Misen Dutch Oven is impressive with its capability to withstand high temperatures. I believe this Dutch oven can last for years with proper care and maintenance. |
Caraway VS Misen: Warranty
| Caraway | Misen |
| --- | --- |
| Caraway provides a one-year warranty, which offers confidence in the product's quality. | The Misen Dutch Oven comes with a limited lifetime warranty, but it's not as comprehensive as warranties from other brands. The warranty won't cover defects resulting from regular dishwasher usage, so handwashing is highly advisable. While handwashing is best for cast iron cookware, it can be less convenient for some users. |
Caraway VS Misen: Price
| Caraway | Misen |
| --- | --- |
| Caraway Dutch Ovens are more reasonably priced. Its price point makes it a desirable choice for people seeking quality without going over budget. | Misen's affordability is positioned as an appealing aspect. While it may not be as expensive as some premium Dutch oven models, it strikes a good compromise between quality and affordability. |
Cooking Test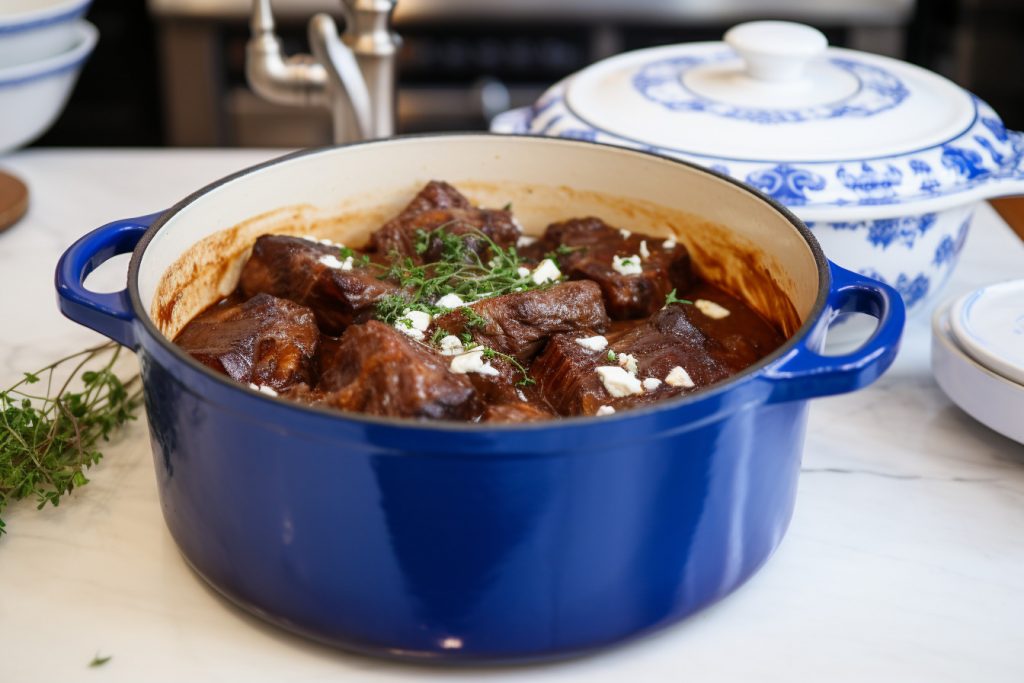 In a direct cooking comparison between the Misen and Caraway Dutch ovens, we subjected them to a rigorous test with the preparation of Red Wine Braised Short Ribs, evaluating their performance based on three crucial parameters.
Browning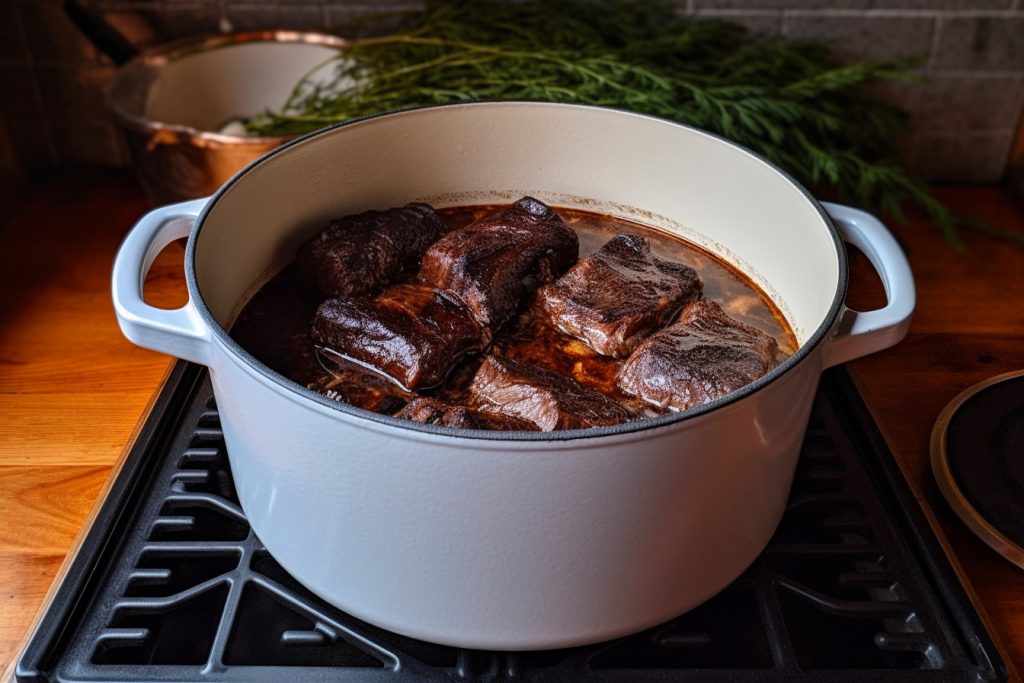 Both Dutch ovens performed admirably in browning the short ribs. However, it was evident that Caraway exhibited a more consistent heat distribution, leading to a more uniform browning of the short ribs.
Moisture Retention
The Caraway Dutch Oven exhibited exceptional moisture retention. Its snug-fitting lid sealed in the moisture perfectly, preventing significant evaporation during the slow cooking process. This resulted in incredibly tender and succulent short ribs.
Final Flavor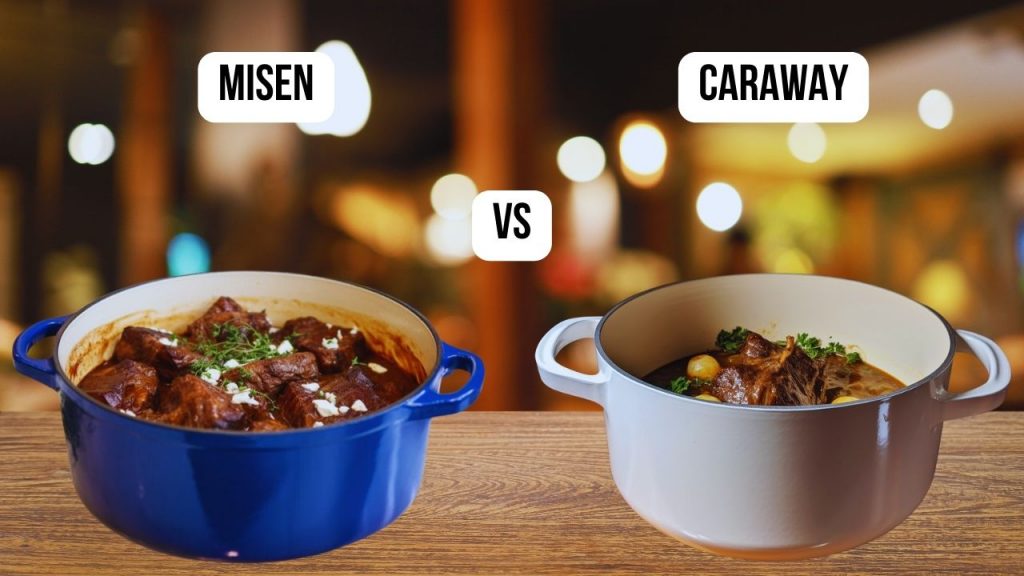 Both Dutch ovens delivered delicious final flavors, with the rich and intensely flavored short ribs. However, the Caraway's superior moisture retention contributed to slightly more concentrated and intense flavors in the dish.
How We Tested
I conducted a comprehensive evaluation of both the Misen and Caraway Dutch ovens. To ensure an equitable comparison, I preheated both on a stovetop, guaranteeing they reached the desired cooking temperature.
The initial step involved searing the short ribs, allowing me to assess their browning capabilities. Both Dutch ovens performed exceptionally well, showcasing even heat distribution and consistent browning.
As the short ribs were introduced into each Dutch oven, the braising process commenced. This phase provided an opportunity to evaluate their moisture retention capabilities, a crucial factor for achieving tenderness and juiciness in the final dish.
Throughout the braising duration, careful attention was given to the fit of the Dutch ovens' lids. The goal was to identify any noticeable steam or moisture loss, as these factors can significantly influence the ultimate texture of the dish.
Upon completion of the braising, a thorough assessment was made of the final flavor and tenderness of the Red Wine Braised Short Ribs prepared in each Dutch oven. Particular emphasis was placed on the intensity of flavors and the effectiveness of the meat tenderization process.
This meticulous testing process provided valuable insights into the operational performance of both the Misen and Caraway Dutch ovens in a real cooking scenario.
Conclusion
After a thorough examination and hands-on testing of the Misen and Caraway Dutch ovens, it is evident that both options have their strengths and attributes. However, in the quest for a superior Dutch oven, the Caraway emerges as the standout winner.
The Caraway Dutch Oven, with its modern design, lightweight construction, and consistent heat distribution, provides an exceptional cooking experience. It excels in browning capabilities, moisture retention, and the preservation of intense flavors, as demonstrated in our Red Wine Braised Short Ribs test.
Furthermore, the Caraway Dutch Oven offers an appealing combination of durability, ease of maintenance, and an attractive price point. Its limited but stylish color selection adds a touch of aesthetics to various kitchen settings.
While the Misen Dutch Oven is a commendable and versatile cookware option, the Caraway's overall performance, especially in critical cooking aspects, positions it as the top choice for those seeking a reliable and efficient Dutch oven. In the Caraway versus Misen comparison, Caraway stands out as the preferred option for both home cooks and culinary enthusiasts, providing an excellent balance of quality, functionality, and value.