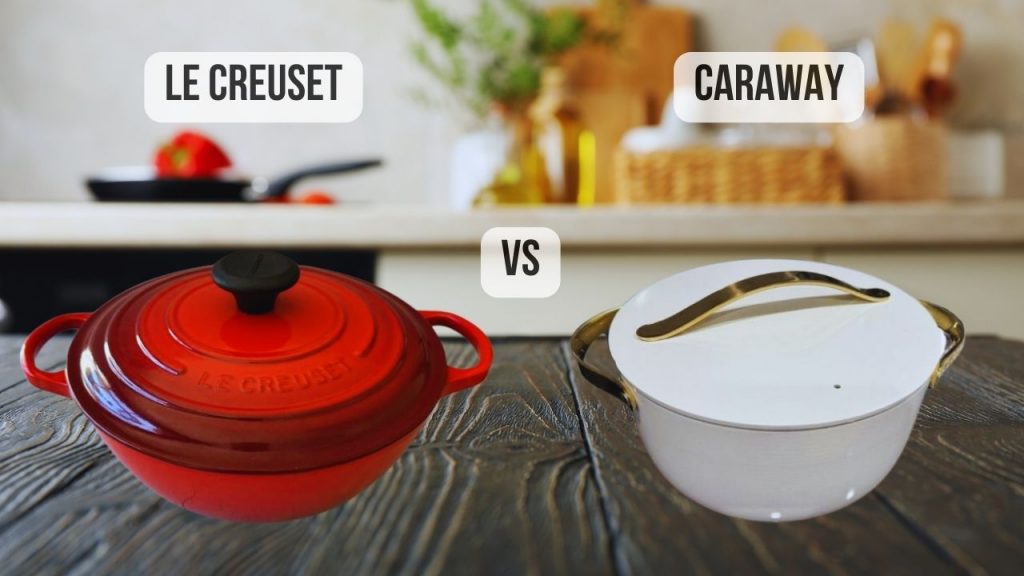 Having spent over ten years in the hustle and heat of professional kitchens, I've learned that the right cookware is not just a necessity, but a partner in culinary creation. Today, I'm taking a close look at two titans in the realm of cookware: Le Creuset and Caraway Dutch ovens.
This comparison is grounded on key aspects that are critical for anyone from a home cooking enthusiast to a professional chef, namely:
Material
Weight
Heat retention and compatibility
Lid fit
Handles and product design
Colors
Maintenance and cleaning
Durability and performance
Warranty
Price
Le Creuset Dutch ovens are renowned cookware for their exceptional quality and versatility. These Dutch ovens are a favorite among professional chefs and home cooks alike as they can elevate your dishes.
The Caraway Dutch oven offers a modern and chic version of the traditional Dutch oven. Its sleek and contemporary appearance piqued my interest, so I bought one to test it.
By examining these features, I aim to provide a straightforward analysis that will guide you toward the Dutch oven that best suits your kitchen needs. Let's delve into the specifics and see what Le Creuset and Caraway have to offer.
Le Creuset VS Caraway: Material
| Le Creuset | Caraway |
| --- | --- |
| The Le Creuset Dutch Oven is expertly fashioned from high-quality cast iron, which is evident in its sturdy build. Each item in Le Creuset's cast iron cookware collection undergoes a meticulous production process, individually cast using sand molds and subjected to rigorous inspection by skilled French artisans. | Caraway Dutch Ovens are made from lightweight cast aluminum with a non-toxic ceramic nonstick layer. |
Le Creuset VS Caraway: Weight
| Le Creuset | Caraway |
| --- | --- |
| Le Creuset Dutch ovens are solid and weighty, which is excellent for heat retention. However, handling it may be a bit heavy, especially when full. | Caraway Dutch Ovens are significantly lighter than their cast iron counterparts, making them more manageable for everyday cooking. |
Le Creuset VS Caraway: Heat Retention and Compatibility
Le Creuset
Caraway
Regarding heat retention, the Le Creuset Dutch Oven consistently maintains its desired temperature without needing constant adjustments.

Moreover, the Le Creuset Dutch Oven offers exceptional heat compatibility. I seamlessly transitioned from stovetop to oven for versatile cooking methods.

While Caraway Dutch Ovens perform well in heat retention, they may not hold heat as long as cast iron. They are compatible with various heat sources, including stovetops and ovens.
Le Creuset VS Caraway: Lid Fit
| Le Creuset | Caraway |
| --- | --- |
| Le Creuset lids are known for their tight fit, which helps trap moisture and flavor. They have a unique design that allows for self-basting, ensuring succulent dishes. This Dutch oven is certainly built to withstand long periods of slow cooking. | The Caraway Dutch Oven's tightly fitting lid traps moisture and preserves the flavor of the dishes I prepare. |
Le Creuset VS Caraway: Handles and Product Design
Le Creuset
Caraway
Le Creuset's ergonomic and heat-resistant handles make it easy to carry and serve directly from the oven to the table.

The elegant design of this Dutch oven enhances the sophistication of any kitchen. It has many vibrant color options for a personalized touch to match your décor.

Caraway Dutch Ovens feature ergonomic stainless steel handles that stay cool on the stovetop. Their design is modern and sleek, fitting well in contemporary kitchens.
Le Creuset VS Caraway: Colors
| Le Creuset | Caraway |
| --- | --- |
| Le Creuset's extensive color palette is one of the standout features that set their Dutch ovens apart. The brand is known for offering an array of vibrant and elegant colors to cater to various tastes and kitchen aesthetics. | Caraway offers a limited but attractive color selection to match various kitchen aesthetics. |
Le Creuset VS Caraway: Maintenance and Cleaning
| Le Creuset | Caraway |
| --- | --- |
| The Le Creuset Dutch Oven is simple to clean, and it's dishwasher safe. Its enamel coating on the interior and exterior makes cleaning a breeze. I simply soaked it and gently scrubbed it with a quality cast iron scrubber with no significant challenges. | It's easy to maintain and clean the Caraway Dutch Oven. Even after lengthy cooking sessions, the nonstick ceramic coating makes cleaning up easy and helps avoid food sticking. It is also dishwasher safe, so you can save time cleaning it. |
Le Creuset VS Caraway: Durability and Performance
Le Creuset
Caraway
Le Creuset is renowned for its exceptional durability due to its robust construction and premium enamel. The cast iron walls display remarkable resistance to warping, and the triple-layered enamel is highly resilient and resistant to chipping or scratching unless subjected to significant misuse.

My Le Creuset Dutch Oven has shown no signs of wear or performance decline, even after numerous uses. Although the initial cost might be higher, Le Creuset proves to be an enduring kitchen treasure that can be handed down to future generations.

While Caraway Dutch Ovens may not match the lifelong durability of cast iron, they offer excellent performance and can serve you well for many years if maintained properly.
Le Creuset VS Caraway: Warranty
| Le Creuset | Caraway |
| --- | --- |
| Le Creuset typically offers a limited lifetime warranty, which is a testament to its quality and durability. The comprehensive lifetime warranty ensures that if your Dutch Oven falls within its coverage, Le Creuset is dedicated to resolving any potential issues that may arise. | Caraway provides a one-year warranty, which is shorter than Le Creuset's, but still offers confidence in the product's quality. |
Le Creuset VS Caraway: Price
| Le Creuset | Caraway |
| --- | --- |
| Le Creuset Dutch ovens are generally more expensive. However, the price point reflects Le Creuset's premium quality and brand reputation. | Compared to Le Creuset, Caraway Dutch Ovens are more reasonably priced. Its price point makes it a desirable choice for people seeking quality without going over budget. |
Cooking Test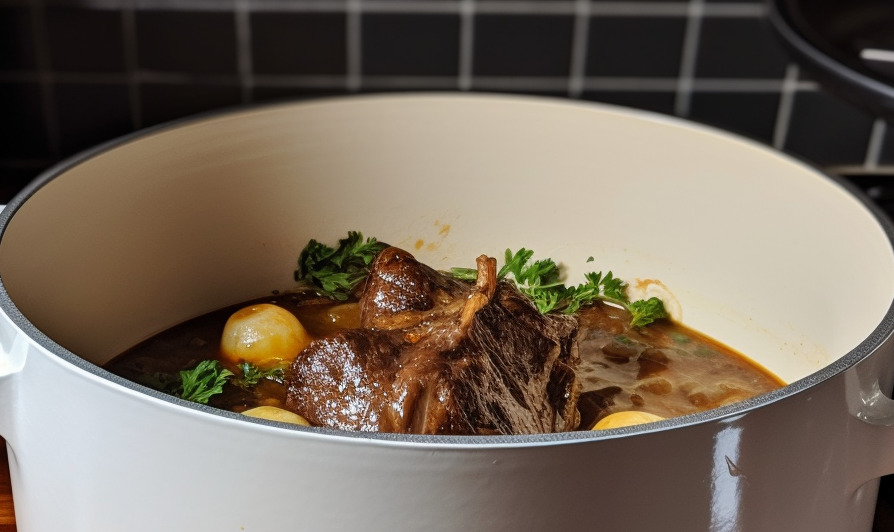 I put both the Le Creuset and Caraway Dutch Ovens through their paces by cooking up a savory batch of Red Wine Braised Short Ribs. This hands-on kitchen trial allowed me to assess several important factors to offer a detailed comparison.
Browning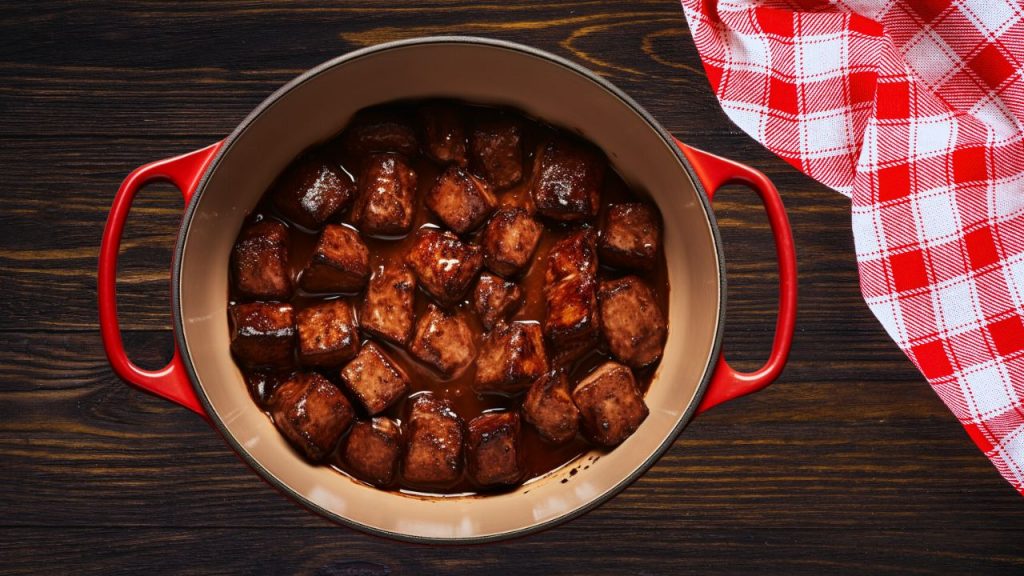 The initial step in the cooking process involved browning the short ribs. I carefully observed and compared the performance of both Dutch ovens to see how evenly and effectively they allowed the meat to sear. So far, both Dutch ovens have produced a beautiful sear on the ribs, enhancing the overall flavor and texture of the final dish.
Moisture Retention
Braising is all about preserving the moisture within the dish. I paid close attention to how well each Dutch oven retained moisture during the slow cooking process. Maintaining a consistent and moist environment is crucial for achieving succulent and tender short ribs.
In this category, the ribs from the Le Creuset stood out. The meat is more tender and juicer. The texture is also smooth and goes well with all the other ingredients.
Final Flavor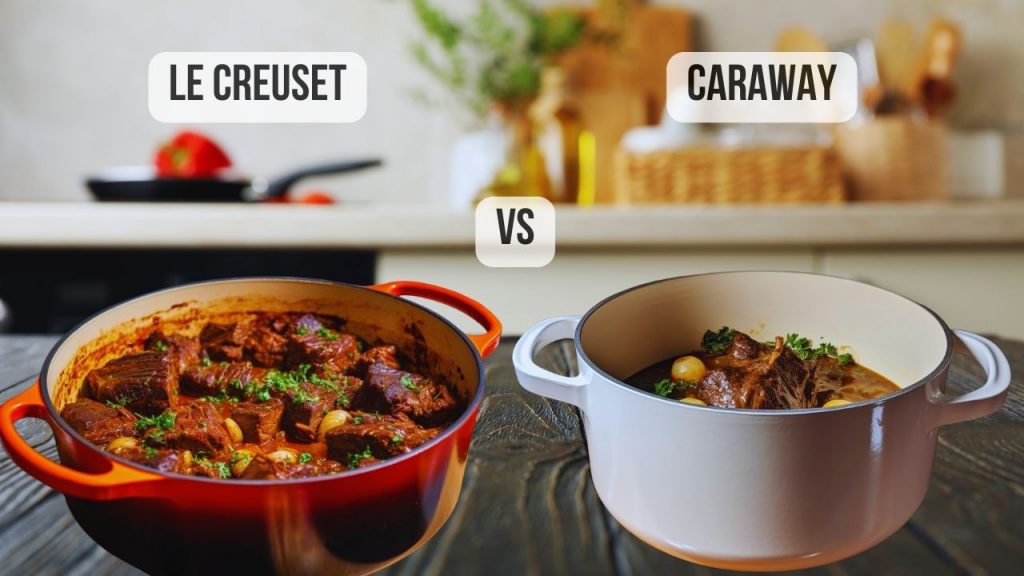 Ultimately, the most critical factor is the flavor of the Red Wine Braised Short Ribs. Both of the Dutch ovens created a rich and flavorful sauce. But the depth of flavor was a testament to Le Creuset's superior cooking capabilities, elevating the dish to a restaurant-quality standard.
How We Tested
To thoroughly compare the Le Creuset and Caraway Dutch Ovens, we chose to make Red Wine Braised Short Ribs, a dish that truly tests a cookware's capabilities in heat distribution, moisture retention, and flavor concentration. We cooked this challenging recipe in both Dutch ovens under the same kitchen conditions to gauge their performance accurately.
During the cooking trial, we meticulously monitored each Dutch oven as it progressed through the essential cooking phases, from the initial searing to the slow braising. We took note of any discernible differences in how they operated, along with any unique aspects of design and ease of use.
Our goal is to provide consumers with a thorough and enlightening evaluation of both the Le Creuset and Caraway Dutch Ovens.
Conclusion
In concluding our in-depth comparison of Le Creuset and Caraway Dutch ovens, it is clear that there is a distinguished leader between the two: Le Creuset. With a legacy forged in the flames of countless kitchens, the Le Creuset Dutch oven has emerged as the superior choice, a culinary champion that stands above in this cookware contest.
After a series of tests and hands-on cooking experiences, it is evident that Le Creuset's superior material quality, exceptional heat retention, and unmatched durability contribute to its standing. Its ability to evenly brown meat, retain moisture for the perfect braise, and consistently deliver deep, complex flavors is second to none. The craftsmanship involved in producing each Le Creuset Dutch oven ensures that each piece is not just a utensil but a legacy in its own right—capable of being passed down and cherished through generations.