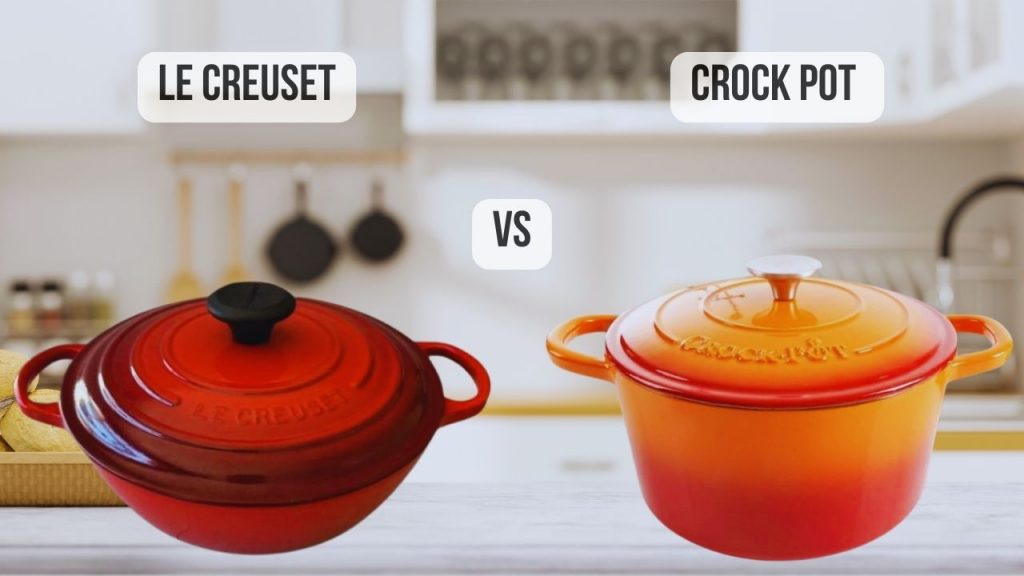 As a seasoned restaurant chef with a decade of experience, I understand that choosing the right kitchen tools is critical. In the spotlight today are two contenders for the title of best Dutch oven: the Le Creuset Dutch Oven and the Crock Pot Dutch Oven. These two are more than just pots; they're the cornerstone of hearty stews, braises, and a multitude of other dishes that come from the kitchens of both home cooks and professional chefs alike. In this article, we'll dig into the nuts and bolts of both these brands by examining their:
Material
Weight
Heat retention and compatibility
Lid fit
Handles and product design
Colors
Maintenance and cleaning
Durability and performance
Warranty
Price
Le Creuset Dutch ovens are renowned cookware for their exceptional quality and versatility. These Dutch ovens are a favorite among professional chefs and home cooks alike as they can elevate your dishes.
Crock-Pot is a well-established and iconic brand with a long history, celebrated as the pioneer of the slow cooker. Let's find out why this Dutch oven is a popular option among home cooks. 
Stick with me as we pit these kitchen staples against each other, breaking down their features and performance to help you decide which Dutch oven will best suit your cooking adventures.
Le Creuset VS Crock Pot: Material
| Le Creuset Dutch Oven | Crock Pot Dutch Oven |
| --- | --- |
| The Le Creuset Dutch Oven is expertly fashioned from high-quality cast iron, which is evident in its sturdy build. Each item in Le Creuset's cast iron cookware collection undergoes a meticulous production process, individually cast using sand molds and subjected to rigorous inspection by skilled French artisans. | The Crock-Pot Enameled Cast Iron Dutch Oven is made of strong and durable cast iron. The enamel coating adds an elegant touch, prevents rust, and makes cleaning easy. |
Le Creuset VS Crock Pot: Weight
| Le Creuset | Crock Pot |
| --- | --- |
| Le Creuset Dutch ovens are solid and weighty, which is excellent for heat retention. However, handling it may be a bit heavy, especially when full. | Crock-Pot is not as heavy as you expect it to be. It's easier to lift and maneuver without difficulty. |
Le Creuset VS Crock Pot: Heat Retention and Compatibility
| Le Creuset | Crock Pot |
| --- | --- |
| Regarding heat retention, the Le Creuset Dutch Oven consistently maintains its desired temperature without needing constant adjustments. Moreover, the Le Creuset Dutch Oven offers exceptional heat compatibility. I seamlessly transitioned from stovetop to oven for versatile cooking methods. | The Crock Pot Dutch Oven is great in heat retention, maintaining a steady temperature. It is highly compatible with various heat sources, including gas, electric, ceramic, and induction cooktops, and it can handle high oven temperatures up to 500°F (260°C). |
Le Creuset VS Crock Pot: Lid Fit
| Le Creuset | Crock Pot |
| --- | --- |
| Le Creuset lids are known for their tight fit, which helps trap moisture and flavor. They have a unique design that allows for self-basting, ensuring succulent dishes. This Dutch oven is certainly built to withstand long periods of slow cooking. | The Crock-Pot Dutch Oven includes a self-basting heavy lid, which helps maintain even heat distribution and preserve moisture. |
Le Creuset VS Crock Pot: Handles and Product Design
| Le Creuset | Crock Pot |
| --- | --- |
| Le Creuset's ergonomic and heat-resistant handles make it easy to carry and serve directly from the oven to the table. The elegant design of this Dutch oven enhances the sophistication of any kitchen. It has many vibrant color options for a personalized touch to match your décor. | The Dutch oven's robust, user-friendly handles and thoughtful design ensure easy handling. Overall, its design is both functional and aesthetically pleasing. |
Le Creuset VS Crock Pot: Colors
| Le Creuset | Crock Pot |
| --- | --- |
| Le Creuset's extensive color palette is one of the standout features that set their Dutch ovens apart. The brand is known for offering an array of vibrant and elegant colors to cater to various tastes and kitchen aesthetics. | The Crock-Pot Enameled Dutch Oven comes in various appealing colors, allowing you to select the one that complements your kitchen decor. Available colors include Aqua Blue, Blush Pink, Pistachio Green, Scarlet Red, Teal Ombre, Lavender Purple, Sapphire Blue, Slate Gray, and Sunset Orange. |
Le Creuset VS Crock Pot: Maintenance and Cleaning
| Le Creuset | Crock Pot |
| --- | --- |
| The Le Creuset Dutch Oven is simple to clean, and it's dishwasher safe. Its enamel coating on the interior and exterior makes cleaning a breeze. I simply soaked it and gently scrubbed it with a quality cast iron scrubber with no significant challenges. | It is advisable to handwash this Dutch Oven due to its enamel coating. Cleaning it is simple, as food residue doesn't stick much on its surface. I usually wash it with a gentle soak and scrub. To prevent scratches, avoid using metal utensils. |
Le Creuset VS Crock Pot: Durability and Performance
| Le Creuset | Crock Pot |
| --- | --- |
| Le Creuset is renowned for its exceptional durability due to its robust construction and premium enamel. The cast iron walls display remarkable resistance to warping, and the triple-layered enamel is highly resilient and resistant to chipping or scratching unless subjected to significant misuse.My Le Creuset Dutch Oven has shown no signs of wear or performance decline, even after numerous uses. Although the initial cost might be higher, Le Creuset proves to be an enduring kitchen treasure that can be handed down to future generations. | The Crock Pot Dutch Oven can withstand frequent use without chipping or cracking. It consistently delivers exceptional cooking results during the six months of using it. |
Le Creuset VS Crock Pot: Warranty
| Le Creuset | Crock Pot |
| --- | --- |
| Le Creuset typically offers a limited lifetime warranty, which is a testament to its quality and durability. The comprehensive lifetime warranty ensures that if your Dutch Oven falls within its coverage, Le Creuset is dedicated to resolving any potential issues that may arise. | While a one-year warranty backs this Dutch oven, it might not offer the same level of coverage as some other Dutch oven brands. However, considering its price point, the warranty is reasonable. |
Le Creuset VS Crock Pot: Price
| Le Creuset | Crock Pot |
| --- | --- |
| Le Creuset Dutch ovens are generally more expensive. However, the price point reflects Le Creuset's premium quality and brand reputation. | The Crock-Pot is more affordable than the Le Creuset. It is ideal for home cooks looking for a Dutch Oven without breaking the bank. |
Cooking Test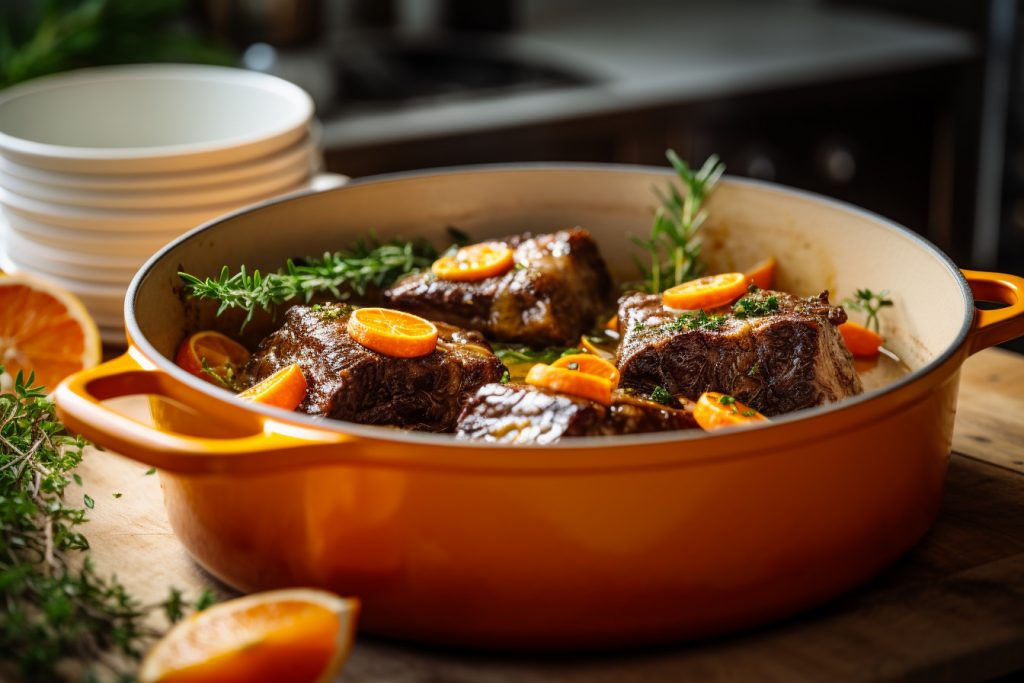 To put the two Dutch ovens through their paces, I cooked up a batch of Red Wine Braised Short Ribs. This demanding recipe served as the perfect benchmark to evaluate each pot's functionality. During the process, I closely monitored the following critical aspects:
Browning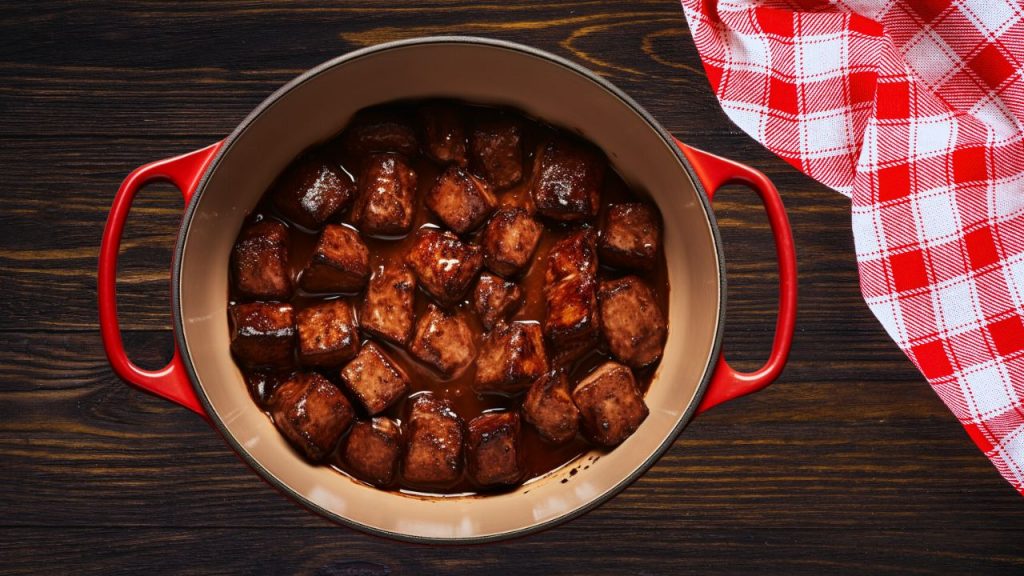 Le Creuset did an excellent job of browning the short ribs to perfection. Because of its cast iron design and improved heat dispersion, it was easy to achieve even and consistent searing. As a result, the short ribs had wonderfully caramelized skin, demonstrating the type of Maillard reaction that enriches the entire flavor profile of the dish.
On the other hand, the Crock-Pot performed admirably. It evenly and consistently browned the short ribs, creating a rich, flavorful base for our braising liquid. 
Winner: Le Creuset
Moisture Retention
Le Creuset's Dutch oven showcased its prowess in retaining moisture throughout cooking. The tight-fitting lid and excellent heat retention created an environment where the ribs cooked gently and slowly. The meat juices within the pot were preserved and ensured the meat remained tender and succulent.
Crock-Pot was able to keep the steam inside the pot during the cooking process. The ribs turned out tender and juicy. 
Winner: Le Creuset
Final Flavor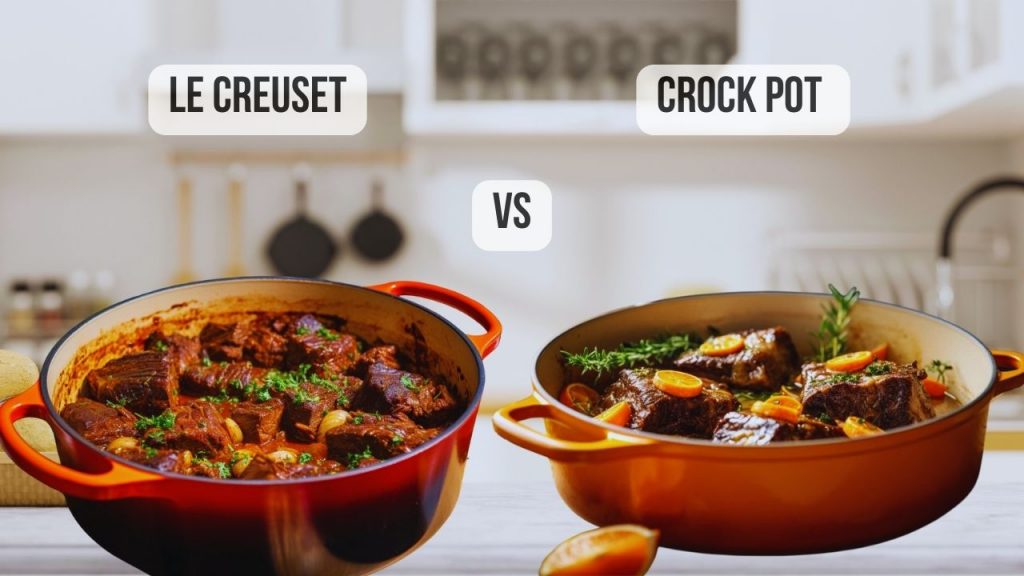 Le Creuset left a distinctive impact on the final flavor of our Red Wine Braised Short Ribs. The Dutch oven intensified and developed the dish's flavors to a level only high-quality cookware can achieve.
The slow simmering process combined all ingredients, resulting in a rich and deep flavor profile. The depth of flavor was a testament to Le Creuset's superior cooking capabilities, elevating the dish to a restaurant-quality standard.
The Crock-Pot produced outstanding results, with the dishes having a remarkable depth of flavor. The even cooking and moisture retention characteristics contributed to a succulent, tender, and intensely flavorful end product.
Winner: Le Creuset
How We Tested
To thoroughly assess the Dutch Ovens, we embarked on a methodical examination of their culinary effectiveness.
We initiated the process by heating each Dutch oven to a suitable temperature for searing short ribs, paying close attention to how uniformly and effectively they browned the meat—a key step for flavor development.
Following this, we proceeded to the slow-cooking phase, where the ability of each Dutch oven to retain moisture was scrutinized. Our aim was to determine if the pots maintained a tight seal, ensuring the ribs remained juicy and flavorful over the extended cooking duration.
In the final stage of our test, we focused on the pots' capacity to meld and enhance the flavors of the ingredients. The richness and complexity of the taste in the completed dish were decisive in our evaluation.
Conclusion
After a thorough and rigorous comparison, it's time to draw conclusions from our Dutch oven face-off. As a seasoned restaurant chef, I appreciate the nuances that each piece of cookware can bring to a dish. We've seen how both the Le Creuset and Crock Pot Dutch ovens perform under the stress of a demanding recipe—Red Wine Braised Short Ribs—and we've scrutinized every aspect of their cooking capabilities.
Le Creuset has proven to be the superior Dutch oven. Its impeccable heat distribution, moisture retention, and flavor enhancement are unmatched. The meat seared in the Le Creuset Dutch oven was not only perfectly browned but also retained its succulence throughout the slow-cooking process. The final dish boasted a depth of flavor that only a cooking vessel of the highest caliber can produce—rich, layered, and worthy of a fine dining establishment.
The Crock Pot, while more accessible in price and still a reliable option for many kitchens, fell short of Le Creuset's performance. It's a commendable contender, especially for those who are budget-conscious, but when it comes to the ultimate culinary experience, Le Creuset carries the day.